The Western media reported that a decision was made in Russia to render assistance in supplying weapons for the Libyan general Khalif Haftar's military units. Haftar is a man who visited Moscow last year during which he tried to negotiate military assistance from the Russian Defense Ministry in the fight against terrorism. For a long time, Moscow's reaction to Huftar's request, which was considered an opposition-oriented commander in relation to the pro-Western Cabinet in Tripoli, was not known.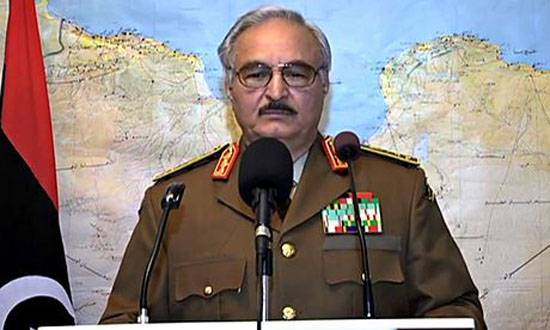 It is noteworthy that the statements about Russia's readiness to deliver
weapon
Haftar, published in the British press - in particular, in The Times.
A British newspaper article states that Haftar is trying to circumvent the arms embargo with contacts with Russia, which the West has imposed on all those Libyan forces that are in opposition to the appointees of the West itself.
Earlier it became known that the Libyan General Khalif Havtar visited the Russian aircraft carrier "Admiral Kuznetsov", which is currently making the transition from the shores of Syria to the basing station in the Federation Council of the Russian Federation.
This visit to the aircraft carrier of the Russian Navy, apparently, gave rise to the idea in the Western media that Russia is ready to provide armed units of Khaftar with Russian-made weapons. At the same time, it is also suggested that "instead of fighting terrorism, Haftar's troops will concentrate on opposing the pro-Western government of Libya."