According to the representative of the Baltic
fleet
captain of the first rank Roman Martov, the final stage of state tests of the patrol ship of project 11356 Admiral Makarov, which included firing at sea ranges, began. After their completion, the transfer of the ship to the customer, the Ministry of Defense of the Russian Federation, will begin. It was planned that the frigate would be transferred to the Navy at the end of 2016, but due to bad weather conditions the deadline was shifted to the end of the first quarter of 2017.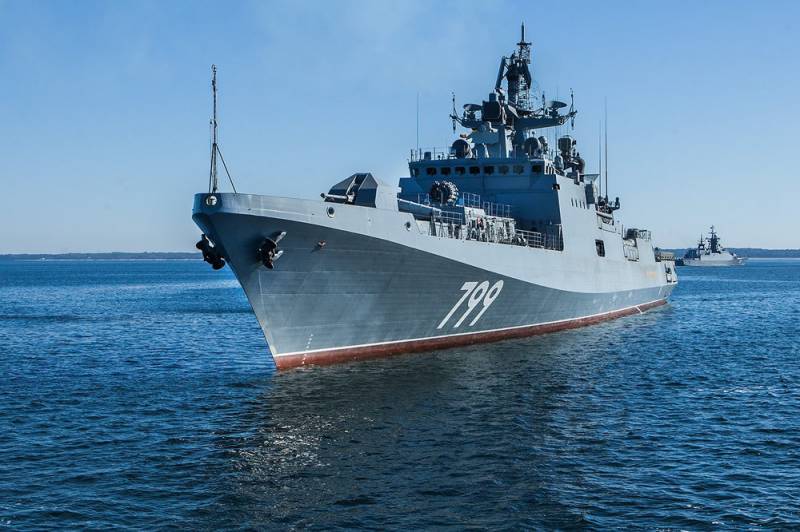 "Admiral Makarov" was laid at the Baltic Yantar Shipbuilding Plant in Kaliningrad 29 February 2012, launched on September 2 2015. Last year, the fleet was replenished with the first two ships of this series - the frigates Admiral Grigorovich and Admiral Essen.
The 11356 project ships are designed to counter surface ships and submarines, to repel attacks of air attack weapons, both independently and as part of formations. They have universal missile and artillery weapons and modern radio equipment for anti-submarine and air defense. Ships of this series have a displacement of about four thousand tons, the length of 125 meters, speed - up to 30 nodes.
The main problem for the continuation of the construction of ships of the 11456 project (the second three frigates) is the lack of gas turbine installations M7H1. They were produced by Zorya-Mashproekt. In 2014, Ukraine refused to ship them to Russia. Instead of Ukrainian turbines, a domestic installation is being developed based on the M-70FRU engines of the Rybinsk NPO Saturn. She can go on equipping Russian ships in the 2020 area of ​​the year. In anticipation of their receipt, in the framework of agreements with India on 2016, the intention to implement the frigates of the 11356 project was announced, but the corresponding contract has not yet been signed.