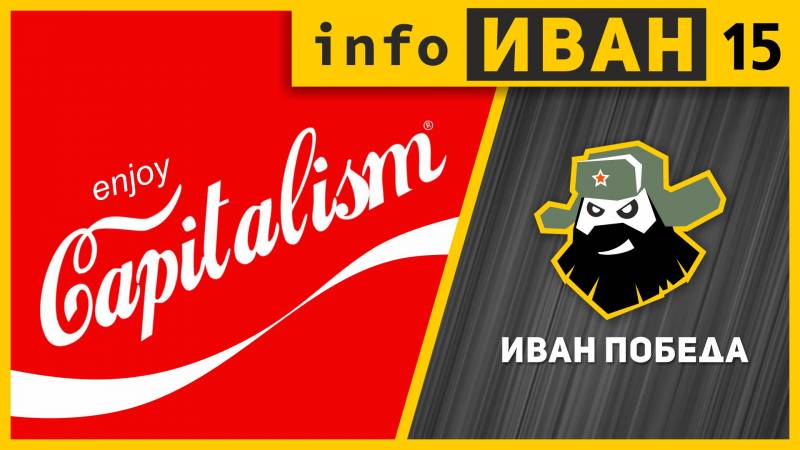 Hello to all ours and not to ours! And yes, I am today, something all evil, although I promised not to be angry.
The Gaidar Economic Forum is an amazing event for Russia. The forum is named in honor of Yegor Gaidar - one of the main ideologues of capitalism in Russia. It was his efforts and the efforts of his team that laid most of the current problems in the economy of our country.
And yet, be sure to remember about the millions of dead Russians, who over the years of the implementation of Gaidar's reforms did not fit into the market.
Oh well it's already
история
.
Rejoice, because the main thing happened! Capitalism in Russia is officially built.
And again a small excursion into the recent past. In 90, the factories, factories, enterprises and infrastructure created by the labor of millions of Soviet citizens were quietly taken away in their pockets.
Assets worth billions of money magically moved into the private hands of newly minted oligarchs and burzhuinov. Yegor Gaidar and the liberals who came to power personally answered for all this magic.
Let's define immediately, I am not against entrepreneurs and businessmen. I respect those who managed to create their own successful business from scratch. Who opens jobs, honestly pays taxes and works for the good of Russia.
But the previously listed are not related to entrepreneurs and businessmen.
Let's call a spade a spade. They are thieves who are not condemned and not punished until now. What should not be surprising, since in power and now sits a whole brood of these parasites and their offspring. Moreover, at the highest level. They are like nits on all financial flows ... and crap, crap, crap.
But back to the forum. Pathetic liberal parties between the thieves, created by thieves for thieves, served as the brightest economic event in Russia. It is on this site that sipping schnapps impressively, all these Grefs, Chubais, Kudrins and other "effective" managers, and in fact the parasites who stuck to the state budget, ponder how they can equip this country. On the people they have long spat. They believed that they were untouchable. Therefore behave rude
arrogantly and do not hide their plans and goals.
For example, Russian First Deputy Prime Minister Igor Shuvalov spoke at the forum, saying that Russia could unilaterally lift counter sanctions from the west. And you need to prepare for this.
What's this? Surrender?
It seems that the bourgeois stratum, hoping to continue to eat and not answer for anything, decided to surrender the whole country so that everything would return as before.
Instead of being put under house arrest for theft of millions, Ulyukaev, his successor Maxim Oreshkin spoke at the forum. Coming from the Higher School of Economics (HSE), which is essentially a diagnosis. So, the Minister of Economic Development of Russia said that the state corporations are evil. That they are ineffective.
In the difficult period of global economic instability, when, on the contrary, you need to try to concentrate as much as possible economic tools, levers and assets under state control, this pretzel repeats the long-refuted liberal mantra, about the greater effectiveness of the private burzhuin before government control. And yes, if you do not understand. Oreshkin drowns for new privatization.
Apparently, myths and legends about the fabulous instant transformation of state property into private property are the main guiding beacons of the so-called economic elite of Russia. It is understandable, over the past 15 years, Russia has been digging for itself fat, has created many new tasty assets at the expense of the state budget that prevent all these parasites from sleeping:
- Rosatom is the world leader in nuclear energy with billions in revenues.
- Rostec is a successful state corporation for the export of weapons.
- Even Rosnano, recently launches profitable and profitable projects.
That is, these are serious assets, bringing billions to the budget.
But the Minister of Economic Development of Russia, Maxim Oreshkin, stubbornly hints that there is an urgent need to divide the state. assets between close thieves. The classical scheme of privatization of profits, nationalization of losses.
But this bastard does not think that the social obligations of the state only grow every year. Pensions, benefits, salaries for state employees are not one-time payments, but a constant item of expenditure.
And besides, it is the state corporations that guarantee the sovereignty of the country. Or forgotten 90 when military-industrial complex was privatized, plundered and destroyed by effective owners? How much later did it take time, effort and money to revive it? Again on the same rake?
I do not call for pogroms and revolutions, these are not effective methods for solving current problems. But we need to increase the responsibility of the government towards the country and the people. Need control and accountability. And not selective, but ubiquitous. We need equality before the law so that those who steal millions from the country's budget do not sit under house arrest, but sew mittens in the zone. Still simple! Justice is what we all need.
And the authorities should understand this.
P.S.
Perhaps I do not know all the information ... and the words of these state officials speaking at the Gaidar forum and making frankly sabotage statements are all some kind of cunning plan ... But in fact, they are all true patriots and are sick of our whole country and our people?
Everything! See you soon.