The Japanese Defense Ministry demonstrated a prototype of a new armored personnel carrier, designed to "resist the invasion of the islands." Reports about it Defense News.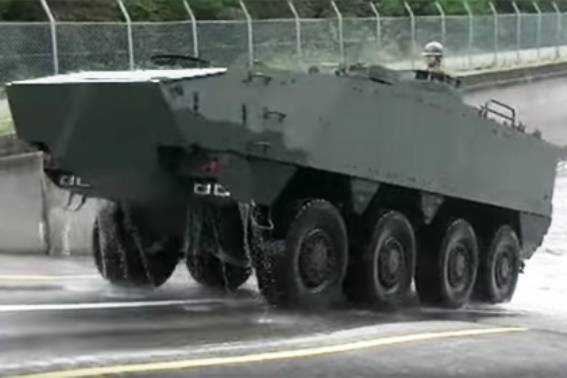 "The project of an improved wheeled armored vehicle, the Wheeled Armored Vehicle (Improved), was launched to create a replacement for the 96 type armored personnel carriers adopted by the Japan Self-Defense Forces in the 1996 year," writes the resource.
The Japanese command sees this armored vehicle as part of a new strategy involving "counteracting the invasion of the islands" (meaning the defense of the islands in the South China Sea, whose membership is disputed by China).
"In comparison with its predecessor, the 20-ton machine will receive improved protection (including mine protection), as well as a reinforced suspension. An armored personnel carrier with a crew of three can carry up to eight paratroopers. A new 10,8-liter horsepower 500 diesel engine is installed on the car, allowing it to reach speeds of up to 100 kilometers per hour while driving on the highway, "the material says.
State tests of armored vehicles should begin before 2019. According to their results, the issue of adopting an armored personnel carrier will be resolved.