The units of the army of South Ossetia will be part of the Armed Forces of the Russian Federation, said the Minister of Defense of the Republic, Ibrahim Gasseev.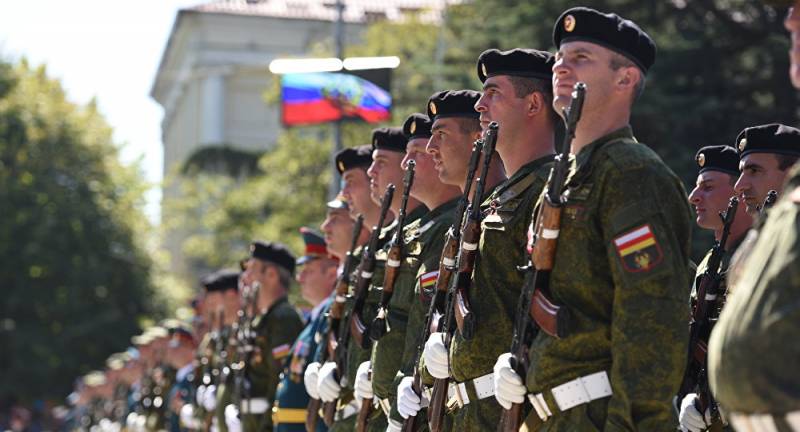 "The relevant agreement is already being prepared for signing. After it enters into force, the Russian side will recognize active military service in the republic's armed forces and South Ossetian military tickets ",
- quotes the Minister Republican Agency "Res".
At the same time, "all changes in the organizational and staffing structure after the signing of the agreement will be made by the republic's military," said Gasseev.
"Thus, the Ministry of Defense will keep combat units. This is our firm position, "he stressed.
According to the minister, the leadership of the republic is trying to ensure that when entering the service in the Russian army, military ranks and seniority in the army of South Ossetia are recognized.
"We will not allow our soldier, sergeant, officer with combat experience, battle wounds, government awards and considerable length of service to be equal to the 18-year-old conscript of the Russian army. We respect our servicemen and will continue to seek recognition of their merits, "he said.
Plans to include units of the South Ossetian army as part of the Armed Forces of the Russian Federation were announced as early as March 2015, when Moscow and Tskhinvali signed an agreement "On Alliance and Integration".
In particular, the second paragraph of the 2 article of the treaty stated that Russia would ensure the defense and security of South Ossetia, and for this purpose "separate units of the Armed Forces and the republic's security bodies are part of the Armed Forces and the security agencies of the Russian Federation by agreement of the parties ".
"The order of entry, operation, application and provision of these units is determined by a separate agreement, which the contracting parties undertake to enter into no later than six months from the date of entry into force of this agreement," the document says.
As noted by military expert Viktor Murakhovsky, Russia already has experience in recruiting citizens of another country. An example is the Crimea.
If units of the South Ossetian army join the Russian Armed Forces, the process leaders will most likely be guided by a model already worked out with Chechnya, "that is, it is not about recruiting recruits and then distributing them in Russia. No, they will form separate units on their territory, "the expert noted.