At his first press conference held in the status of an elected US president, Donald Trump spoke about the proposed foreign policy, including relations with Russia. Trump does not believe that there may be some kind of "reset", but he expects to "get along" with Putin. However, he may not get along with the owner of the Kremlin. It remains only to tell fortunes in the coffee grounds.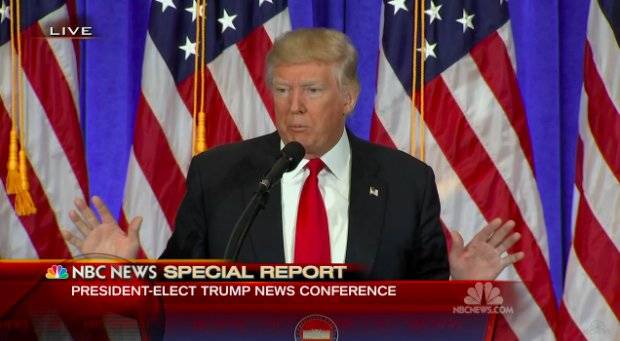 We decided to split the main foreign policy topics of the first D. Trump press conference in New York into three points. For the convenience of reading.
Item 1. "If Putin likes me ..."
This item is "hacker". At the beginning of the press conference, Mr. Trump promised to create protection against hackers: to organize a certain team, which will include the "best minds".
In one room, the "six greatest hacker minds" will gather, and they will be able to build a perfect defense. Trump did not fail to advertise his native Republican Party, while simultaneously ridiculing the Democrats: in his words, the servers of the Democratic Party were "completely open" to attack, and members of the Republican apparatus built a defense that the hackers could not crack. (The FBI, by the way, has a different opinion, but Trump said nothing about it.)
According to Trump, the hackers attacking the United States were from Russia and other countries. At the same time, the experts for some reason did not make a "far-reaching" conclusion from the attacks of non-Russian hackers.
A question was asked about the intelligence report on Russian hacking. Does Mr. Trump agree with the opinion that Putin himself is behind the hacker attacks?
The elected president said that everything was secret, but he responded about the report
"Bazfida"
calling it "fake
news
". In his opinion, this report was prepared by "sick people".
Further, the elect of the American people (more precisely, the electors) noted that hacking is terrible, but you can see what terrible and important things it revealed.
The question followed: "What do you think about Putin wanting to help you in the elections?"
Answer: "If Putin likes me, then it's rather good!"
"If Putin likes Donald Trump, I consider it an asset, not a vulnerability," Trump explained. - I will negotiate with Putin, but there is a great chance that we will not agree. And let's be honest: does anyone really think that Hillary would be a tougher negotiator than me? Enough".
"Did Russia have the right to conduct hacker attacks?"
You cannot call a direct answer: "I have no business in Russia and there are no debts there".
However, the question, we add, was from a series of absurd. Who in the world at all "has the right" to conduct hacker attacks? And who defines this right and gives? Is it not the UN?
After discussing Trump's income and his legal retirement, the main topic of the press conference was again returned to the intelligence officers, Russians and "Putin personally."
On the question of intelligence and the need for special services Trump did not give a clear answer. Apparently, he does not consider himself competent in this area. Instead of answering, the elected president turned to the previous hacker theme.
Question: "Do you trust the findings of the intelligence community?"
Answer: "Intelligence services are very important! I will instruct my people to prepare a report on hacker attacks within ninety days. "
He answered another question (about Trump's relationship with US intelligence officers): "It's very sad when intelligence reports get into the media! This is secret information. "
Will there be ideas for reforming intelligence services? Apparently not, since Mr. Trump greatly respects the intelligence community.
Then finally, Trump's personal position on hacker hacking and on the alleged involvement in Putin's hacking became clear.
"Russia will respect us more during my presidency," Trump said. And he added: "Putin should not have hacked us, and I think that from now on he will not hack us."
Item 2. There will be no "reset" with the Russians!
This is about the fact that Trump is not going to follow the course of former Secretary of State Hillary Clinton, at the time of which the so-called reset took place.
According to Donald Trump, the concept of "reset" is inappropriate in the context of the characteristics of the development of relations between the US and Russia.
"There is no reset button. We will either get along or not, "the elected president said at a press conference.
Trump repeated his thesis: "I don't know if I can get along with Putin, but I hope so."
In addition, answering one of the questions, Trump noted that he has no business ties with Russia. The billionaire assures that they will not create such connections: this will lead to a conflict of interest.
Trump also praised Rex Tillerson (the future secretary of state) for his speech to the senators.
Recall, Tillerson set out to include Russia in the list of major threats to the United States. Moreover, he accused Russia of ignoring American interests.
Item 3. A talented person is talented in everything.
Not without political bluster.
The elected president said that he would have done an excellent job in managing both his corporation and the state. He said to himself simply: "I am a talented person."
He immediately noticed that no one was interested in his tax papers, because he won.
It will probably be noted that in the same "bravura" and quite authoritarian style he will talk about foreign policy when he finds himself in the presidency.
True, such statements will require victory.
* * *
Trump's vision for a future strategy in short: Hillary's policy would seem mild compared to Donald's; relations will not be reset; not the fact that the United States will get on with the Russian Federation; Russian hackers participated in the attacks, but in the future Putin "will not hack us"; if Putin likes Trump, then that's good, it's Trump's asset; Trump is talented and knows how to manage everything that comes to hand, ending the state. When he learned to do this, it remains a mystery.
Sources of broadcast press conference: "Meduza", RIA News", Gazeta.ru, "Vedomosti".
Observed and commented on Oleg Chuvakin
- especially for topwar.ru