The head of the information support department of the press service of the Higher education system for the Pacific Fleet, Vladimir Matveyev, reports that in Primorye for the first time this year, training "air battles" were held with the participation of Su-35С fighters. From the statement of captain second rank Vladimir Matveev:
The pilots of the fighter regiment of the army of the Air Force and Air Defense of the Eastern Military District conducted the first flights in the new year with the working off of tactics of conducting air combat with planes of the enemy.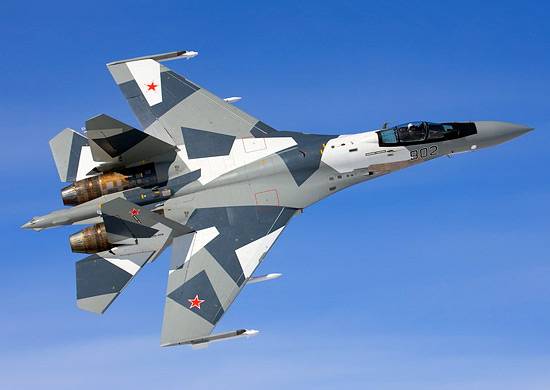 Reported on the performance of the crews of piloting aircraft using offensive and defensive maneuvers at various altitudes, and at different times of the day. In training air battles, other fighters were used. In particular, we are talking about the Su-30M2.
The crews were assigned, among other tasks, to search for, detect and destroy the airborne sides of a conditional enemy. Training maneuvers were held over the waters of the Peter the Great Bay and were linked to the terrain in the Amursky Bay area.
Vladimir Matveyev said that the command estimates the actions of the crews to intercept conditional violating aircraft as successful.
The park of the Primorsky Fighter Regiment by the Su-35С aircraft was fully staffed in March last year.