The naval minesweeper of the Black Sea was included in the eastern Mediterranean on the basis of the rotation program
fleet
"Kovrovets." From a statement by the official representative of the Black Sea Fleet, Captain 1st Rank Vyacheslav Trukhachev:
The anti-mine ship on the basis of the planned rotation will replace the group of the same type sea minesweeper "Ivan Golubets", which operated in the far operational zone for more than four months.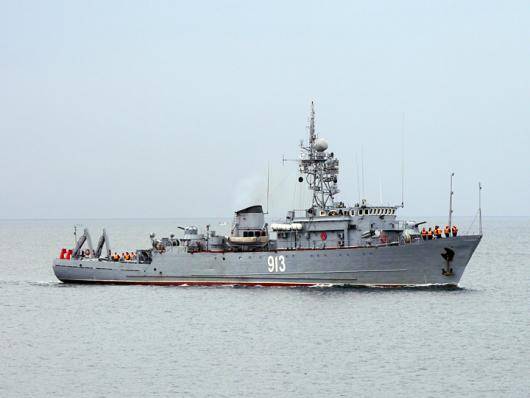 Previously, reports appeared with reference to sources in the Russian Defense Ministry that the Admiral Kuznetsov TARK and the nuclear-powered cruiser Peter the Great would depart from the Mediterranean to their home sites in the near future.
For reference: "Kovrovets" - minesweeper, tail number 913. It is used for wiring behind surface ship trawls, laying of fairways in minefields in the fields, as well as for setting minefields.
Of weapons:
2х4 PU X-LUM 9-32 "Strela-2" (16-9-X32),
2х2 30 mm AK-230М - 2000 shots - SU MP-104 "Lynx",
2х2 25 mm 2М-3М - 2000 shots,
2х1 14,5 mm MTPU-1 "Sting",
2х5 RBU-1200М "Hurricane" (68 RGB-12),
32 BB-1 or 7 min KMD-1000,
Mine finder KIU-1, BKT high-speed contact trawl, TEM-4 electromagnetic trawl, AT-3 acoustic trawl, ShZ-1 or ShZ-2 cord charges.
"Kovrovets" already performed tasks off the coast of Syria last year.