The engineers of the Research and Design Institute of Electronic Equipment (NIKIRET) developed the Redan-125 system, designed to prevent unauthorized persons from entering military targets - headquarters, military camps, and airfields,
News
.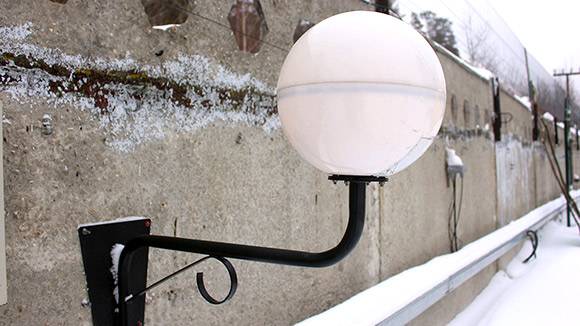 The system consists of a set of individual modules disguised as street lamps, which create an electromagnetic field between them that detects all violators approaching the object. Including those who made the dig, the newspaper writes, citing the press service of NIKIRET.
"Each detecting element of the complex looks like a round ceiling of an ordinary street lamp. It can be mounted either on a lamppost or on a metal rack directly on the building. Depending on the location, the diameter of the flashlight can vary from 20 to 40 cm. Inside each module there are transmit and receive blocks that create detection zones duplicating each other between the two elements of the complex. The lights of the guards "see" each other at a distance of 150 m ", - told the publication at the institute.
"Currently, all the work on the product has been completed, it has passed all the tests and confirmed its characteristics. Negotiations are underway on the supply system of the Ministry of Defense. "Redan-125" also aroused interest among other power structures, "the press service reported.
According to the developers, "Redan-125" works "according to the principle of a radar system, creating a field between modules and checking its indicators every few seconds". A person caught in such a zone causes a disturbance of the field. It is registered by the receivers and transmitted to the console by the operator, who sees the contours of the intruder and the property with it.
"Currently, surveillance cameras and the so-called laser perimeter are used to protect the objects - invisible laser beams that cover the object's perimeter and the most vulnerable spots. Redan has significant advantages over such systems. Surveillance cameras have dead zones, and the effectiveness of lasers, if they are on the street, is strongly influenced by weather conditions, in particular rain and snow. "Redan" creates an electromagnetic field that has no dead zones and is not dependent on the weather ",
- Military expert Oleg Zheltonozhko told the newspaper.