A diplomatic scandal is breaking out between Britain and Israel. It began with the fact that the reporter of the Al-Jazeera TV channel recorded a hidden camera conversation with the Israeli embassy employee Shai Masota with the British official Maria Stritzolo (ex-assistant of one of the ministers of the government of the United Kingdom). During a conversation over a glass of wine, Masot called British Foreign Secretary Boris Johnson an "idiot," and then added that it would be worthwhile to remove the Deputy Foreign Minister of Britain, Alan Duncan (Duncan), who is known for his criticism of Israel.
The reporter for Al-Jazeera, who, as it turned out, is working in Britain under the guise of the journalistic profession, has been with Masot and Stritzolo at one table all this time and recorded the conversation. It was after this that Al-Jazeera published scandalous statements by the representative of the Israeli embassy. It is noted that the conversation, filmed on a hidden camera, was conducted in October 2016 of the year.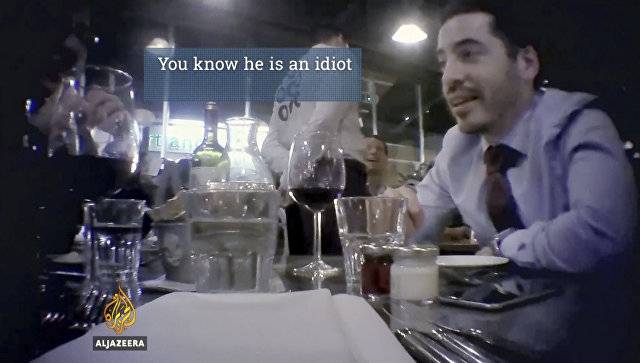 Official Jerusalem apologized for Masota's words:
The Israeli Embassy condemns statements against A. Duncan. Such statements are not allowed. They were made by a junior embassy non-Israeli diplomat (in Britain). In the near future, he (Masot) is completing work in the diplomatic mission.
Britain insists on the immediate completion of the work at the Israeli Embassy, ​​Officer Masot, and on making a formal apology.
In all this
stories
Attention is drawn not even to Masota's statement, but to the activities of people calling themselves Al-Jazeera journalists ...