Petro Poroshenko signed the law "On Amendments to Certain Legislative Acts of Ukraine regarding the improvement of the procedure for military service."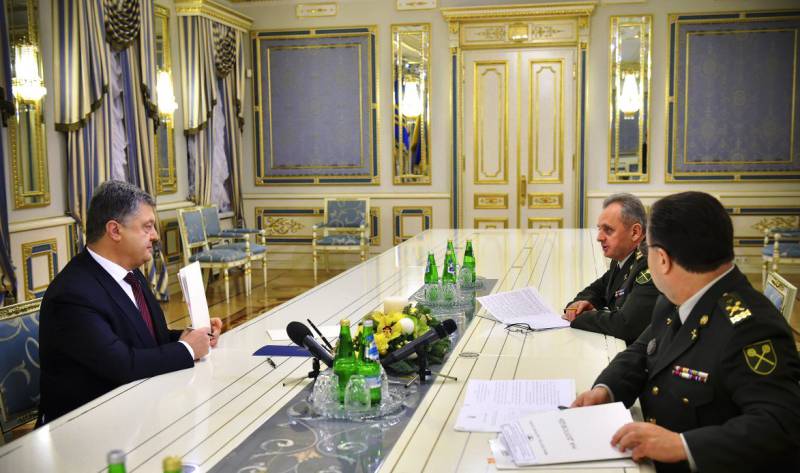 According to the press service of the Ukrainian president, "the implementation of the law allows the rationing of some issues related to the adoption, continuation and release of citizens from military service." In particular, the document provides an opportunity for servicemen serving on various contracts during a special period, at their request, either to continue serving under a new contract, or to resign.
"This gives you the opportunity to complete the contract with those who decided to return home, but at the same time - not one iota to reduce the combat capability and combat readiness of parts and divisions, primarily those that are in the area of ​​the ATO, military operations to protect our state ", - said Poroshenko at a meeting with Defense Minister Stepan Poltorak and the Chief of General Staff Viktor Muzhenko.
"To those citizens of Ukraine who have concluded an almost indefinite contract with a special period, we give an opportunity to restore justice and give the opportunity to the commanders to ensure their dismissal," he added.
It is assumed that the replacement of personnel will be carried out in stages.
"The law establishes that the right to exemption from military service is acquired by military personnel under military service under a contract, which has been extended beyond the established deadlines for the period prior to the announcement of demobilization and having served at least 18 months from the date of its continuation. Also, soldiers who have signed a contract for the period until the end of a special period or until the announcement of the demobilization decision and have served at least 24 months of military service under the contract have the right to free themselves, "the press service said.
The President also stated that the conclusion of contracts is on schedule. "We are rapidly approaching 70-thousand, and this indicates a very high level of both patriotism and readiness with
weapons
in the hands of defending Ukraine. We can really say that in 2,5 of the year we built a new Ukrainian army, "he said.