The command of the ATO strengthens the previously occupied positions in the "gray" zone on the Debaltsevsky direction, Andrei Marochko, a representative of the People's Militia of the LPR, said today.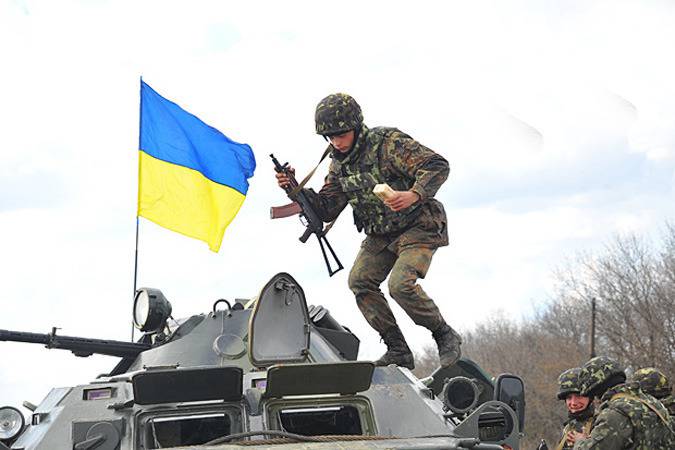 "The servicemen of the 54 Brigade, who criminally occupied the settlement of Novoluganskoye (neutral zone), are carrying out engineering equipment for positions for placing heavy weapons," said Marochko.
According to him, personnel are being transferred to the area,
Tanks
and artillery APU.
"We once again appeal to the representatives of the OSCE SMM (Special Monitoring Mission) demanding an impact on the political leadership of Ukraine, whose criminal mercantile interests contradict common sense and agreements on the settlement of the conflict,"
- added Marochko.
In addition, a division of the Right Sector volunteer corps has been redeployed to the line of contact (the organization is banned in the Russian Federation).
"A unit of up to forty militants has been deployed to the 14 position of the mechanized brigade in the area of ​​settlements of Sizoe and the tracts of Sharov Kut. ... Despite the relative lull, our intelligence continues to record the strengthening of the positions of the Armed Forces of Ukraine near the contact line," said Marochko.
He also reported a mortar attack on the positions of the People's Police: "The cease-fire of the Armed Forces of Ukraine is not being observed, 3 shelling on the positions of the People's Police in the areas of Kalinovka and Yellow was recorded in a day."
According to the military department of the LPR, when firing at positions in the Kalinovka area of ​​the Armed Forces of Ukraine, "millimeters of 82 caliber of millimeter and grenade launchers (AGS, RPG)" were used. In the area of ​​Yellow rifle applied
weapon
.
In just one day, more than 20 mines and shells were fired on the territory of the Luhansk Republic.