There is an answer to the question of how Ukraine can get American
weapon
soon. Recall that for a long time, American President Obama blocked the initiative to send US-made lethal weapons to Ukraine. Now the information comes from Kiev that Ukrainian manufacturing enterprises are ready to start production of American weapons under a license granted by the USA.
Initially, negotiations touched on the production of the American M16 assault rifles. These negotiations and consultations are currently being conducted by the Ukrainian company Ukroboronservice with Aeroscraft, which received the appropriate license from the US administration.
The head of the Ukrainian concern Sergey Mykytyuk:
The first weapon that the pilot project will be made in Ukraine will be the M16 automatic rifle. The manufacture of weapons according to the NATO standard is part of the development and reform of the Ukrainian defense industry.
At the same time, Mikityuk said that we are talking about the WAC47 model (such a model for production in Ukraine is indicated on the website of the Ukroboronprom state concern).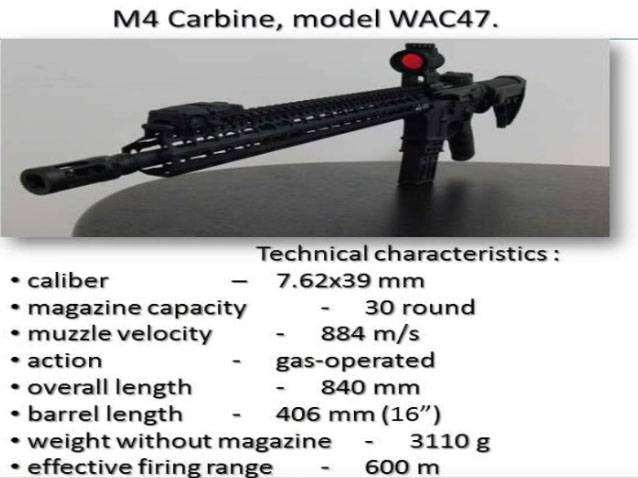 During the presentation, it was stated that the WAC47 has a caliber of 7,62 x39 mm, the capacity of the store is 30 of cartridges, the mass is 3,11 kg. The initial speed of a bullet departure is 884 m / s.