Today, Antonio Manuel de Oliveira Gutterish officially assumes the post of Secretary-General of the United Nations, replacing Ban Ki-moon in this post. Recall that the Korean Ban Ki-moon has been in office since January 1 2007.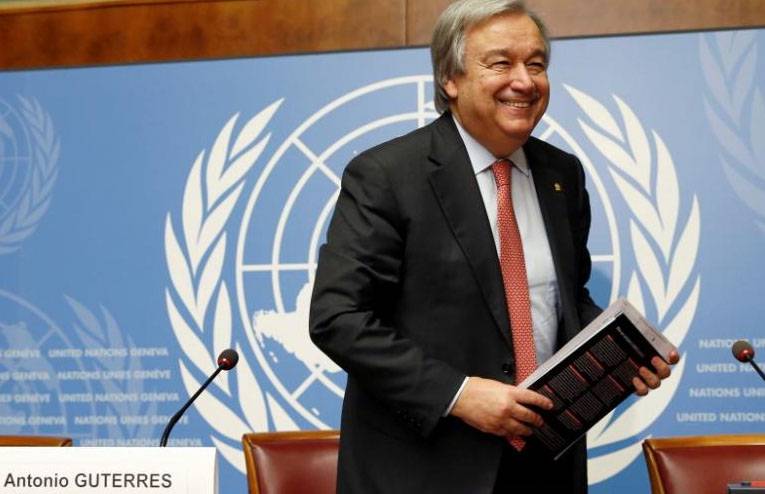 Previously, Gutterish held such posts as the Secretary General of the Socialist Party and the Prime Minister of Portugal (up to 2002), Chairman of the Socialist International (up to 2005), UN High Commissioner for Refugees. It is worth adding that it was under Gutterish that the number of refugees in the world reached an absolute record since the collapse of the USSR.
UN Secretary-General António Guterresch was sworn in on 12 on December 2016 of the year, and the Organization was left to observe the last formality - to introduce Gutertish to the post, which will happen today - on January 1 of 2017. While taking the oath, Gutterish said that the UN "must be made more operational by an international organization," clearly making it clear that the Organization today has become a cumbersome mechanism through which it is possible to solve problems much less often than to escalate them.
Guterresch:
We need to think first about people, not about bureaucratic processes.
Identified and members of the team Gutertisha. Thus, the post of UN Deputy Secretary General is occupied by the representative of Nigeria, Amina Mohammed, who is a rare guest in Nigeria, as she is a professor at Columbia University. Brazilian Maria Luís Ribeiro Viotti, former Brazil's envoy to the UN, becomes the head of staff.
It remains to wish success to Antonio Guterres in such a significant international post.