Interfax
referring to a source in the commission investigating the causes of the crash of the Tu-154 of the Russian Defense Ministry, writes that after deciphering the flight recorder data, the version of the terrorist attack finally ceases to be considered among the causes of the tragedy. From the statement of the source:
The first data of the transcript of the flight recorders, as well as the analysis of the state of the debris, including the absence of traces of explosives, leaves no grounds for further development of the version, which could potentially be qualified as a terrorist attack.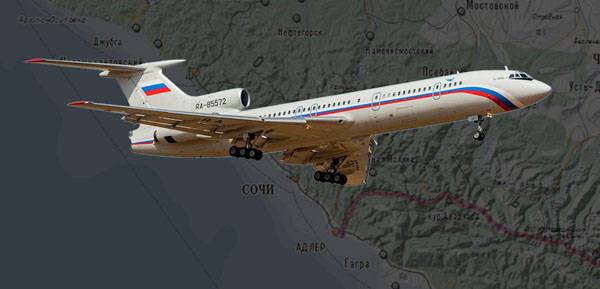 The investigative commission did not reveal any evidence that an explosion could have occurred on board. At the same time, it is reported that a combination of human and technical factors is now being carefully studied, which together could be the cause of the crash of an airliner heading for Syrian Lattakia.
Particular attention, as noted by an unnamed source, is given to the technical condition of the Tu-154. In particular, the parameters of aircraft servicing, the qualifications of technical personnel from the airfield services are specified. Confirmed information that the fuel samples taken at the moment did not show any "impurities" in its composition that could affect the operation of engines.