A year ago, on the eve of 2016, hardly anyone could have imagined that these two names would stand against each other. And on the eve of 2017, they got up! Miracles happen even in politics! It follows from this that it is fundamentally impossible to predict what will happen next year.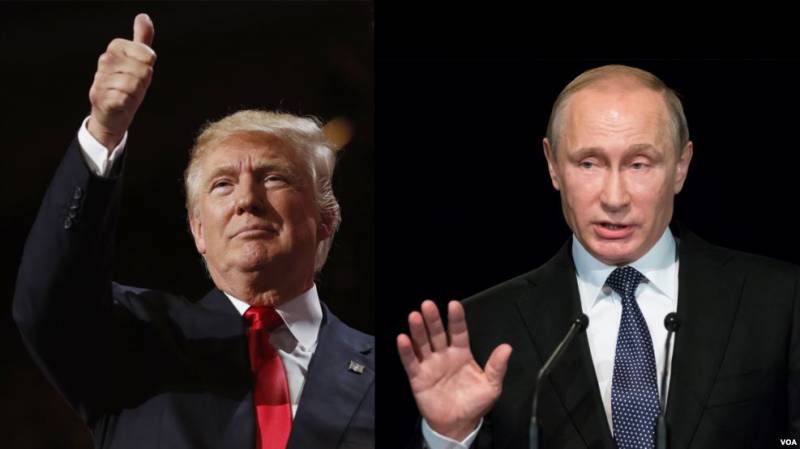 Presidents Putin and Trump are not yet personally acquainted, but the world commemorates them together. Indeed, it unites them a lot. Combined these two names, made absentee friends, in general, their common enemy - Hillary Clinton, the ex-US presidential candidate. And the Nobel (or Orwellian?) Laureate standing behind her, the ex-president Barack Obama. No wonder they say: there is little that unites as much as a common enemy, in this case a political one ...
Even Putin and Trump are united by the American and world press and media, with some irrationally malicious persecution. In general, it's clear what kind of thing is liberal, because if anyone doubts, and even more so, these priests will be in the way of liberal homosexual truth, even if they are presidents, they are outlawed and subject to media lynching.
What unites them is that they are winners in the fight against this extremely deceitful world media, each in their own diocese, and in the general world field. It unites that they are pointedly polite, follow the rules of good taste in relation to each other, and even the liberal media, towering above their poisonous criticism.
There are also more serious unifying motifs - ideological ones. Putin and Trump are political conservatives, and do not hide this, supporters of traditional values: families, women and children, and therefore rebel against the liberal "it" of the third sex. They, like millions of their supporters, do not understand why the destruction of a normal family is an indispensable condition for progress? That is, they draw strength from one, in general, spiritual and moral source.
Finally, Putin and Trump are patriots, albeit from different countries. But since they are patriotic statists, they speak in support of the sovereignty of their countries in the face of globalist and financial world elites, that is, liberals of all countries who have thrown their Fatherland to build a cosmopolitan, multicultural universal and free from all prejudices, including God and Love, progressive, in the sense of a liberal society. Once Western intellectuals put forward the slogan "Workers of all countries, unite!", And today they put forward the slogan: "Liberals of all countries, unite!" Putin and Trump have become symbols of the struggle against this liberal-globalist multiculturalism.
In general, they oppose the new construction project of the Tower of Babel, the western version of the communist tower, in which "internationalism" was replaced by "multiculturalism". The Bible says that the builders of the Tower of Babel built, after all, Sodom and Gomorrah, and came to these cities as punishment for the corruption of their divine fire. How surprisingly modern is the biblical analyst, and she helps to understand the Putin-Trump phenomenon! And he speaks of the dangers awaiting our world.
The common cause of Putin and Trump could be the fight against LIH, about which a preliminary agreement has already been reached. Here they are probably doomed to success. However, more than anything, Putin and Trump will continue to unite the struggle with their common adversary — world liberalism and its project of the new Tower of Babel. This supposedly tolerant monster is still full of strength, and is preparing to continue the fight.
The unexpected failure in the presidential elections in the United States only weakened his grip, and he is now catching his breath: the main battles are still ahead. Putin and Trump will need each other to successfully resist aggressive media attacks and covert globalist backstage activities.
Trump's problem is that the liberal-democratic government in the United States acted anonymously, through its puppets like Obama and Clinton. The puppets lost their posts, but the real power figures remained unaffected. It can be assumed that they include, for example, John Brennan, the director of the CIA, and many of his staff, many of the head of the department of the State Department and the US Treasury.
They make key decisions, like Brennon in Ukraine, where he arrived in person, and immediately after his visit, Turchinov declared war on the Donbas in the form of ATO. Rather, Obama listened to their decisions, rather than they to his speeches. Obama plays golf in Hawaii, and the powerful liberal machine continues to persecute Trump without him, and continues to set traps for him wherever he can.
Trump will have to somehow solve this problem, transfer power from an anonymous to a public sphere, and it can be predicted that the liberals will immediately accuse him of authoritarianism. Actually, the "democratic nature" of the liberal government lies in its anonymity, which is very convenient, because irresponsible, you only need to change the puppet Obama in time. Making Putin public can be helped by the experience of Putin, who is acting in the public sphere, for which he has long been awarded the title of "authoritarian leader."
It will be difficult for the two presidents to negotiate nuclear programs, strategic weapons, the future of US missile defense and Russian strike weapons. However, it is obvious that the nuclear arms race is contrary to the plans of both Trump and Putin for the economic development of their countries. The solution of economic problems that have accumulated both in America and in Russia requires limiting the arms race.
Of course, much separates them, a specific policy will dictate to them the priority of the national interests of their countries, and here disagreements are inevitable. Both in Europe, and in China, and all kinds of trans-partnerships, but we will leave these problems to the political science community, they are already plowing hard this field.
Many say that the whole world today is divided into two presidents, but the problems of this world are also entrusted to them. Somehow they will cope with them? ...