The ceremony of laying a small rocket ship of the 22800 "Storm" project took place at the Pella enterprise.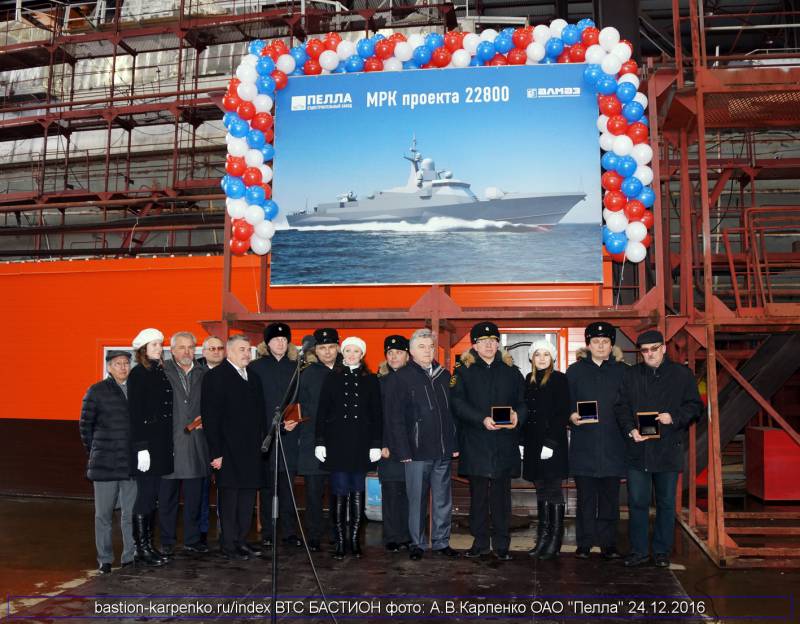 "Exactly one year after the launch of the first two small rocket ships of the 22800, Uragan and Typhoon project, a solemn ceremony of laying down another ship of this project was held at the new shipbuilding complex of Pella," the company said in a release.
"Underestimating the importance of this ship for the Navy is impossible. The experience of building small missile ships is the experience of the mature shipbuilding of the Soviet Union, the maximum cost-effectiveness ratio for these ships was reached. Such ships, recently tested in combat conditions, have proven their effectiveness in the Mediterranean Sea. The arrival of such ships is a long awaited event, the fleet they are needed, "
- said the chief of the General Staff of the Navy Andrei Volozhinsky.
According to him, "ships of this class were in all fleets, their divisions were always called" bad weather "divisions, and the tradition to call ships in honor of those who have served their time and fulfilled the task has been preserved".
Designed by the Almaz design bureau, the 22800 project ships will have a displacement of about 800 t, speed - more than 30 nodes. They are armed with high-precision rocket complexes.
weapons
and modern artillery complexes. Among the advantages of the IRC data, the developers call high maneuverability, increased seaworthiness, as well as the architecture of superstructures and hulls made according to the technology of low reflectivity.