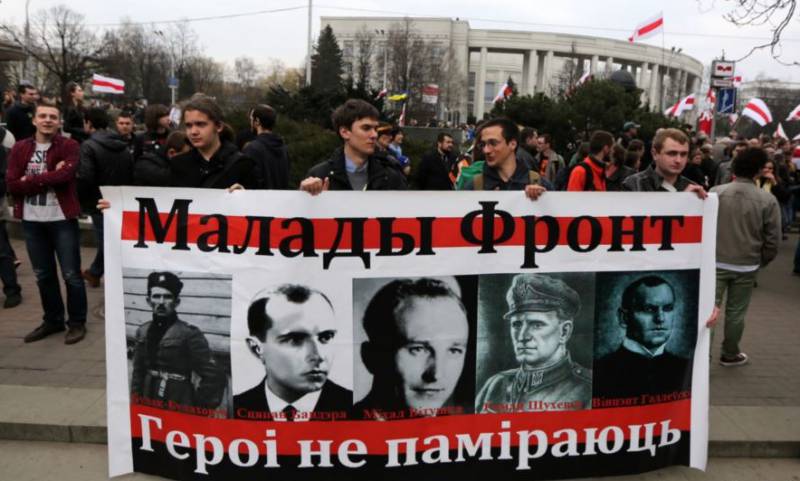 President of Belarus Alexander Lukashenko regularly cites his country as an example of a stable and friendly state. It seems that the representatives of the nationalist organizations of the republic do not share the peace-loving presidential ideas and have long been thinking of "jumping" on the Belarusian Maidan.
So, in early December, members of the opposition Belarusian National Congress (BNK) announced the formation of a military commission. The decision, apparently, was another step towards the creation by the opposition of paramilitary units aimed at fighting the current leadership of the Republic of Belarus.
Recall that in the past 30 days this is the second attempt to create militarized units in the country. At the end of November, the Young Front movement organized an event, according to the results of which the fighters took an oath of allegiance to the union and its ideas. It should be noted that this organization for several years engaged in the preparation of "jumping patriots" of the republic. At the same time, in the workshop for the production of radicals, two main lines can be distinguished, one of which is located inside the country, and the other on the territory of Ukraine.
One of the main links in the chain of training of nationalist personnel are sports and patriotic organizations, the most notable of which the Vayar club is considered. With the help of social networks, the Vayar people attract young people to their ranks, train with them to assault and defend buildings, and train them to use firearms.
weapons
. In addition, on the community page on the social network "Vkontakte" there are videos that teach users how to install grenade-extensions and other military tricks. However, nationalist circles are just the tip of the iceberg. The base of the Belarusian militarized glacier is still on Ukrainian territory.
In particular, immediately after the start of the conflict in the South-East of Ukraine, many radicals of Belarus moved to the aid of their spiritual mentors - representatives of the Right Sector (banned in the Russian Federation). It's quite a known fact that in the ATO zone there is an armed formation "Chase" consisting of Belarusian citizens fighting on the side of the punishers. To be honest, there is no doubt even where and for what purposes it is planned to use the combat experience gained.
Analyzing the above, the conclusion suggests itself that Belarus can go along the "glorious path" of Ukraine with a delay of 5-10 years. Most bewilderment is the fact that the sad Ukrainian scenario, it seems, did not teach anything to some residents of the brotherly state for Russia.