Japan de jure ceases to exist as a peaceful power. The National Defense Directorate is abolished and a standard ministry appears along with it, intelligence is established - as if it had not existed before, the army and navy become the army and
fleet
.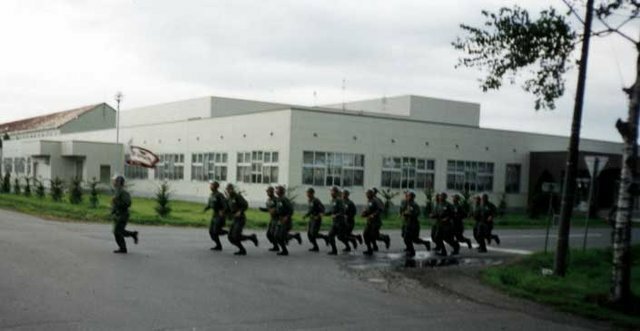 The Japanese army has always been a serious force. I managed to verify this personally by visiting the only one in it
tank
the division.
The 7 Panzer Division, which is part of the Northern Army of the USSR, is stationed, naturally in the north of Japan - on the island of Hokkaido, south of Sapporo, on the territory of the Higashi Chitose military base. The base itself is one of the largest in the country, more than 5000 people serve on it, and the tank crews are part of the main contingent. From 1954, the division's main task is to "maintain high combat readiness for combat operations". Against who? I dont know. But the emblem on the tower of pride of the Japanese tank forces (that is, the 7 division) - tank "Type 90" led me to some embarrassment. The very plausible island of Hokkaido depicted on it looks like a launching pad for a bull, frantically jumping somewhere to the northeast.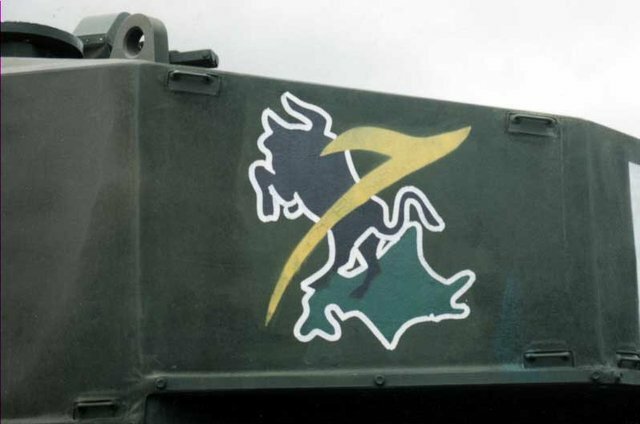 "But isn't it in the direction of the" northern territories ", or even, God forbid, this bull jumps in the direction of the whole of our Far East?" We asked the accompanying lieutenant colonel Nakamura. After some reflection, the officer assured us that the bull is figurative, the island is also very stylized, and you shouldn't take this emblem too seriously - it "has remained since old times".
However, the second task facing the division struck us even more: "security, including border guards, in the southern part of Hokkaido". Looking at the map, we realized that a tank barrier in this direction could be set up, most likely, on the way of the landing from Aomori, but there are no tanks in Aomori ... Only memories of military youth reassured me: in the card of native guard No. XXUMX, where I from time to time he started to dress, "special attention in the protection and defense" was given to all directions. And rightly so: who knows where he is this mysterious and cunning enemy?
What really inspired respect was the third part of the division's task: "helping the local population and civil authorities to cope with the consequences of natural disasters". In the country of earthquakes and typhoons, volcanic eruptions and typhoon support tanks may not be too much. And this help may be needed much sooner than a barrier on the southern coast of Hokkaido. For this, the locals love and respect tankers - this is not a secret.
In general, the military secrets of the 7 division were not concealed from us. The staff structure of the division was uncovered, military equipment was shown, a video with the record of the participation of tankers in the exercises was scrolled. Unless they didn't let them into the barracks, but what would we see there - in the Japanese barracks - would they see something that would shock us more than Japan itself? Cool Japanese tankers? We saw them even without, sorry, pants, because the base is the pride of the Japanese army - especially the deep pool, where "you can even drown" and where only "brave Japanese tankers" can swim. Evil tongues say that in some places the depth of this pool reaches as much as 2 meters - I do not know, did not check.
The crew members themselves made a somewhat strange impression on us. Middle-aged people, many with a noticeable belly and simple workers and peasant faces, didn't look like the brave descendants of samurai and kamikaze, with whom we had imagined them before. It seemed that the ordinary Japanese laborers went to work. Only dressed oddish - in green overalls and steel helmets, and even mobile phones on belts dangle in protective color covers. Many on the phones also have fashionable key chains: small tanks, soldiers, and other military paraphernalia.
The similarity with ordinary clerks and tractor drivers also turned out to be economic: the initial amount of money for an ordinary tanker is 155 thousand yen, a senior officer like our lieutenant colonel Nakamura exempt 400-500 thousand. Everything is "at large". The situation with vacations and processing is the same: they seem to be there, but they almost do not use them, usually 7 walks days in a year, plus "Golden Week" in May and the same at Christmas and New Years. More than half of the personnel are from Hokkaidos, many from Sapporo, but they don't go home, even if there are families - the service goes around the clock, bars and restaurants are on the outskirts of Chitose, and it is easier to spend the night in the barracks. About 80 percent of personnel serve on contracts with non-fixed terms: on the one hand, you can quit at any time, on the other - for life.
The sad faces of the tankers were somewhat alive when we were taken to the exhibition of a division's armament. We were not allowed inside the combat vehicles, but we were allowed to sit on top without hindrance. Corporal Yamada gave a small lecture with an indication of the tactical and technical characteristics in front of each piece of equipment, and the last one — the 87 Type combat reconnaissance vehicle — stood with a pointer in its hands, waiting for questions.
What to ask, we did not know, so we went to the performance characteristics: "Tell me, why is it so high? It can be seen from afar. " The corporal thought for a second and ran after Lieutenant Colonel Nakamura. When they returned, they talked a little, after which the corporal reported: "There are tall trees in Japan. Can not see". We were interested in the logic: "Why on wheels and not on tracks? After all, the caterpillars are more reliable. " Again, a small meeting between themselves and a clear report of the corporal: "These are Japanese wheels. Very reliable. Bullets do not make their way. " "Well, well," we got excited, "and does she swim?" This time the meeting lasted longer, and finally, unbending, the corporal announced: "Mr. Lieutenant Colonel asked me to convey that he is swimming, but slowly and if there is no high wave."
"Yeah, and it flies still - low-low, if there is no wind," we sniffed, but it was just a joke. The sky was buzzing on the head almost continuously: fighters with nearby
aviation
the bases now and then crossed out the blue sky with the Andrew crosses turned inside out. Well, something, but the military training of the Japanese is in full swing. And no matter who they call themselves - the army or the Self-Defense Forces. They are.
Main battle tank "Type 90": Crew 3 people, weight 50 tons, dimensions: length 9,76 m; 3,4 width, m; height 2,34 m, power reserve: 350 km, armor: by specification. Armament: 120-mm gun, twin 7,62-mm machine gun, 12,7-mm anti-aircraft machine gun, two smoke grenade launchers Engine: direct injection diesel 102RU-10 with power 1500 hp Driving performance: max. speed on the highway 70 km / h; overcome ford 2 m; surmountable wall to 1 m; overcome moat to 2,7 / V. Produced from 1986 to 2004.
Main battle tank "Type 74": Crew 4 people, weight: 38 tons, dimensions: length 9,42 m; 3,2 width, m; height 2,48 m, power reserve: 470 km. Armor: 110 shell forehead mm. Armament: 105-mm gun, twin 7,62-mm machine gun and 1 2,7-mm anti-aircraft gun, two smoke grenade launchers. Engine: Mitsubishi diesel 1 02P V-1 0 with liquid cooling capacity 750 l. with. Driving performance: max speed on the highway 55 km / h; overcome ford 1 m; surmountable wall to 1 m; overcome moat to 2,7 m. Produced in 1974-1986.
Self-propelled howitzer "Type 75": weight - 25,3 t; speed-47 km / h; Armament: 155-mm howitzer and 12,7-mm anti-aircraft machine gun; power plant power - 450 hp; power reserve - 400 km; Obstacles: climb - 30 degrees, wall height 1 m, ditch width 2,7 m, ford depth 1 m; calculation - 6 people.
Combat reconnaissance vehicle "Type 87": weight - 14 t; speed - up to 100 km / h; Armament: 25-mm KVA gun, 7,62-mm machine gun, powerplant power - 308l.s .; power reserve - 500 km; length - 5990 mm, width - 2480 mm, height - 2800 mm; calculation - 5 people.
The 89 Type infantry fighting vehicle is a further modification of the older 73 Type armored personnel carrier. For many years, the BMP "Type 89" was considered the world's best armored vehicle of this type. Equipped with a twin turret equipped with a KDE 35-mm cannon, manufactured by Oerlicon Contraves (Italy), and a paired 7,62-mm machine gun. A single launcher for anti-tank guided weapons with an 4000 projectile range is installed on the turret. Like all Japanese infantry fighting vehicles, the 89 type machine is not exported. Available with 1989.
35-mm paired ZSU "Type 87": Produced by the concern "Mitsubishi" on the basis of MBT "74" (see above); the main armament is the automatic guns of the GDF of the Swiss company "Erelikon"; end xnumx's).