In Lithuania, a scandal erupted around a gantry container crane purchased from the railway administration in Russia, according to MIA
Russia today
.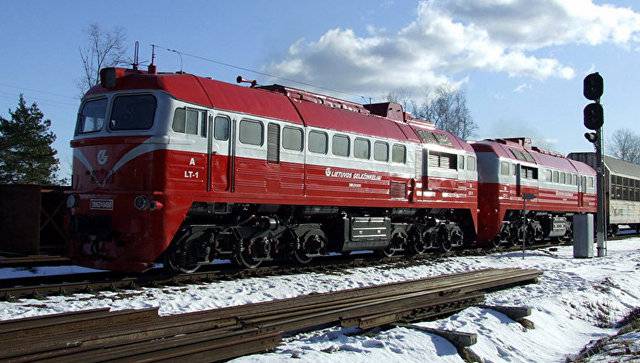 "Seimas deputies and other Lithuanian officials oppose the Lithuanian railway (LVL, Lietuvos gelezinkeliai), which recently acquired a batch of locomotives and a heavy-duty gantry crane in Russia (41 t). The two-console container crane on a rail track raised concerns from NATO counterintelligence agents at the installation stage, "writes columnist Alexander Khrolenko.
The locomotives were supplied to the Lithuanians by the Russian Transmashholding. Its products have been successfully used in many countries, including in Poland, Finland, China, and others. Here, it seems, there are no particular complaints about the LC.
But there were serious complaints about the second delivery, which carried out "Baltkran" involved in the construction of the Crimean bridge across the Kerch Strait. Here, "the leadership of the Latvian Railway fell victim to a witch hunt," the author writes.
The deputies claim that this transaction threatening the national security of the country was conducted "bypassing the official foreign policy of Lithuania".
The agency reminds that in 2015 the Baltkran won a tender for the supply of a container crane to Lithuania, which it installed on the railway a year later. station Sestokai Lazdii district of Lithuania.
Installation of the crane coincided with the arrival at Sestokai train station with NATO military equipment for large-scale Saber Strike-2016 maneuvers.
"A modern, computerized crane with a remote control system, equipped with four powerful video cameras, made an indelible impression on military personnel from 13 countries of the alliance. Probably, someone imagined the hidden functions of scanning containers and transmitting data to the Kremlin through the orbital constellation of satellites of the Russian Defense Ministry, "the author writes.
According to him, "NATO specialists scanned the metal beams of the crane, checked the electronic equipment, did not find anything, but the bitter sediment and suspicions remained, especially since Lithuanian President Dalia Grybauskaite, the State Security Department and the Lithuanian Ministry of Defense did not know anything about the dangerous transaction of the Russian Railways ".
In general, a military-political scandal erupted.
"December 13 intelligence service agents and audit came with searches in the LC, and revealed a violation of anti-Russian sanctions and work against the country's image. It turned out that LC was connected with the Power Units - GAZ Group plant in Yaroslavl, the Russian concern Transmashholding and the military-industrial concern Kalashnikov, "the article says.
The head of the Ministry of Transport of Lithuania, Rokas Masiulis, in one day changed the whole board of the Latvian Railway. And December 16 to Lithuanian railway workers presented a new leadership.
Now the Lithuanian Seym decides what to do with the Russian gantry crane, undermining the national security of the country.