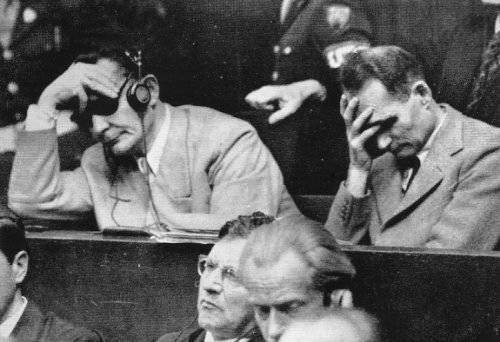 For the first time, the letters of the Deputy Chief Prosecutor representing the United Kingdom at the Nuremberg Trials were made public, the Guardian reports. "Today marks the 63 of the year from the day when David Maxwell Fife began to interrogate the defendant Hermann Goering," - said Alexander Topping. According to the journalist, the letters are striking in their looseness and candor: the author calls Goering "fat" and "German-fighter", and makes fun of the "weirdness" of the American prosecutor. Now the letters found in the grandson of Maxwell Fife in 1999 were donated by the Churchill Archives Center at the University of Cambridge, the newspaper reports.
"Goering gave testimony very well, that's just too long and with grotesque egoism." The Führer and I "sounds a little silly when others are justified mainly by the fact that they couldn't contradict Hitler - this, by the way, is not at all a reason," wrote Maxwell Fyfe wife
"These letters are a very fascinating reading, as for Goring and for Maxwell Fife, this was a turning point in life," said Allen Peckwood, director of the Churchill Archive Center, in an interview. "Goering recovered from the shock caused by the arrest, realized the imminence of the execution and realized that this was the last chance to come up with excuses for Nazism. Maxwell Fife was obliged to challenge Goering. Thus he secured his career," he explained. Maxwell Fife, the son of modest teachers, eventually became one of the developers of the European Convention on Human Rights, the newspaper notes.
It also appears from the letters that their author did not get along with the American prosecutor Robert H. Jackson. For example, Maxwell Fife didn't like the fact that Jackson didn't come to the reception hosted by the Soviet representatives on the occasion of November 7. "Prosecutors tried to demonstrate their cohesion, but each of them represented their own legal tradition," Peckwood said. He also said that the process, which lasted a whole year, was very difficult for the prosecutors and their families psychologically: "They were locked up in a bombed-out city, where corpses lay on the streets."
The trial was also the materials of the case - for example, viewing documentary filming in Auschwitz. "When you see the clothes of the dead babies, it becomes clear: it's worth giving a year of life to fix the well-founded shock of humanity forever and with practical consequences," Fife wrote to his wife. "My grandfather's victory was that he not only created the impression of Goering's guilt, but also made him feel remorse," said lawyer's grandson Tom Blackmore.