In the city of Uman, Cherkasy Oblast of Ukraine, radical nationalists staged anti-Jewish pogroms. A spokeswoman for the city's police reports that a group of unidentified masked thugs broke into a local synagogue and began to smash everything that came their way. The walls and floor were covered with red paint. It is reported that on the floor the vandals scattered the bloody pieces of pork and left the pig's head with Nazi symbols carved on it.
Informational portal
jewishnews.com.ua
, referring to the Uman police, reports that the radicals carried out an act of vandalism against the grave of the spiritual mentor of the Bratslav (Breslov) Hasidim - Nachman.
For reference: Rabbi (Rebbe) Nachman was born in 1772 year. He is the founder of Bratslav Hassidism. In 1991, the grave of Nachman in Ukraine received the official status of the Historical and Cultural Center. At the same time, the land on which the grave is located, by the state of Ukraine, was sold to the Bratslav Hasidim. The corresponding decree was then signed by Leonid Kravchuk. Every year tens of thousands of Hasidic Jews from different countries of the world come to the tomb of Nakhman in Uman as pilgrims.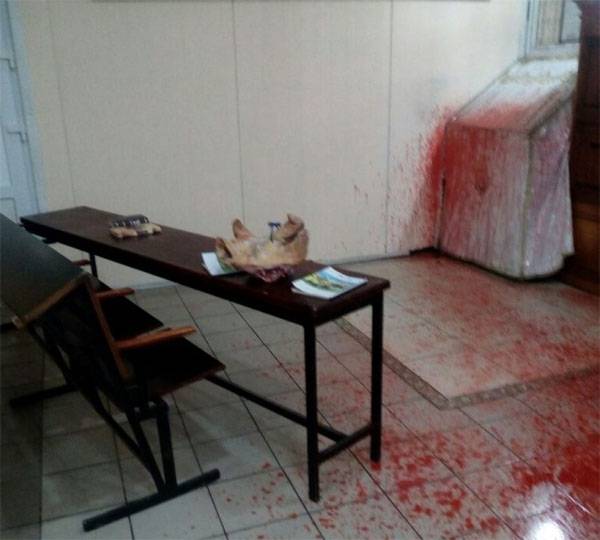 The people who were in the synagogue were forced by the radicals to kneel in front of them, then tear gas was sprayed into the synagogue. Several managed to escape and report on what is happening to the police.
From the message of local law enforcement agencies:
The police are now conducting investigations and search for intruders who managed to escape.
Until now, none of the attackers on the synagogue in Uman have been detained.