Turkish media spread a message about an armed attack on the ambassador of the Russian Federation. The report says that Russian Ambassador Andrei Karlov was seriously wounded and there is a real threat to his life. Turkish newspaper
Hurriyet
reports that the Russian ambassador was present at the exhibition held in Ankara. An unknown person rushed into the building.
weapons
in hand and opened fire. Among the injured and other visitors to the exhibition.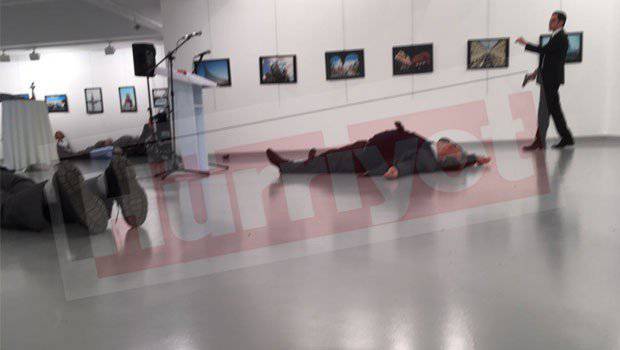 Shooting was conducted from a pistol. Unknown fired several bullets at the exhibition visitors.
Information agency "Sputnik" reports that Andrei Karlov in serious condition was taken to the clinic. Turkish media claim that this is a clear provocation aimed at disrupting the visit of Turkish Foreign Minister Mevlut Chavushoglu to Moscow about coordinating further actions on Syria.
The ambassador reportedly opened the exhibition "Russia through the eyes of the Turks." The offender shot in the back Andrei Karlov.
The comments of Turkish users of social networks are dominated by statements that today received another proof that the security services of Turkey are clearly not able to create security conditions in the country.
Turkish special services offer strange excuses. One of the security officials said: "A man in a black suit entered. We thought it was our employee."
Around 20: 20 Moscow time, it became known that Andrei Karlov died in Ankara clinic.