Militants with their families continue to leave eastern Aleppo, who formed
weapon
radicals are moving to the southwest of the province,
RIA News
message source in the Syrian militia.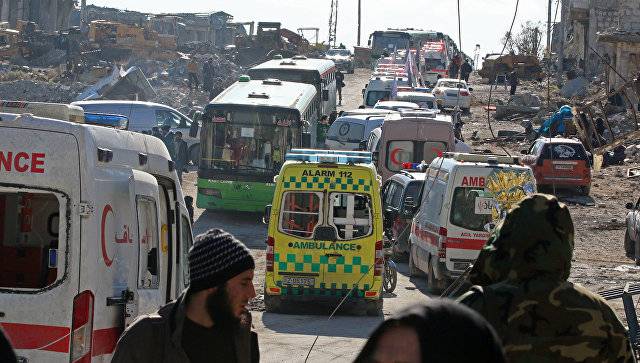 "382 people have left Eastern Aleppo - they are militants and members of their families. Of these, two wounded and three people expressed a desire to stay in Aleppo and got off the bus, "said a source.
The withdrawal of the remaining militants was postponed 2 of the day. "All this time, bus drivers have been awaiting orders at the evacuation point in the Ramus quarter," he said.
In just the last two days, 9,5 thousand people were evacuated from the eastern quarters. At the same time, part of the militants refused to evacuate.
But the evacuation of civilians from the cities of Foix and Kefrai in northern Syria was frustrated - the terrorists burned 7 buses heading for people.
"Militants again broke the agreement. They burned seven buses that were heading to Foix and Kafraya for people, "the agency's source said.
As the newspaper notes, the cities of Foix and Kafraia are already surrounded by militants for more than 3 years, with about 20 thousand people still under siege. There are reports of death from starvation. In the settlements there are no basic necessities. According to some information, about 2-thousand people have already died at the hands of militants, incl. 400 children.