In St. Petersburg, at the Pella shipyard, the launch ceremony of 2 patrol boats of Project 03160 Raptor, being built for the Russian
fleet
, Said
press office
Ministry of Defense of the Russian Federation.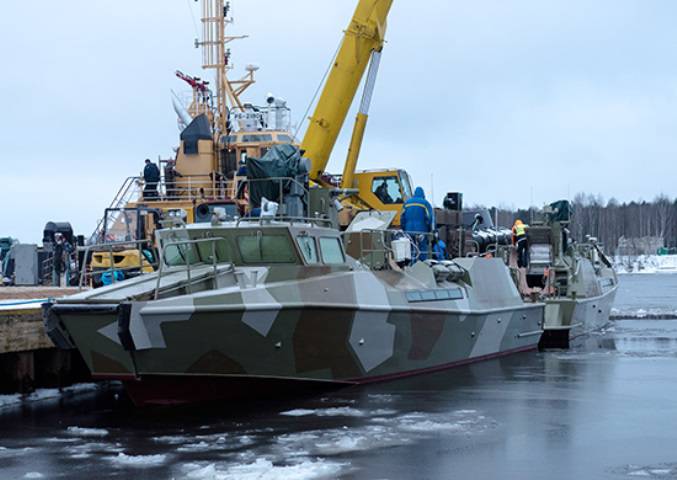 Earlier it was reported that the "Pella" in the coming 2 year, build 6 boats of this type.
"These boats are designed to perform tasks in the near zone during daylight and at night. They have capabilities for the delivery of a Marine unit (up to 20 people) to their destination and their mobile disembarking on the shore or on any other object, "the message says.
Also, boats can carry patrols, intercept and detain small targets, participate in search and rescue activities.
It is noted that "the navigation area of ​​boats is the coastal zone of the seas, straits, estuaries in the ice-free navigation period in the daylight and at night with the distance from the base to 100 miles."
Help of the press service: "The length of the boat is 16,9 m, the width is 4,1 m, the draft is about 0,9 m, the crew is 3 person, the speed is 50 nodes. Armament: a combat module consisting of an 14,5-mm machine gun, a gyro-stabilized opto-electronic module and a fire control system; Two 7,62-mm machine guns "Pecheneg" on swivel installations ".