The number of fighters in the composition of combat regiments VKS in the future should be at least 700 units, transmits
Lenta.ru report
message source in the Ministry of Defense.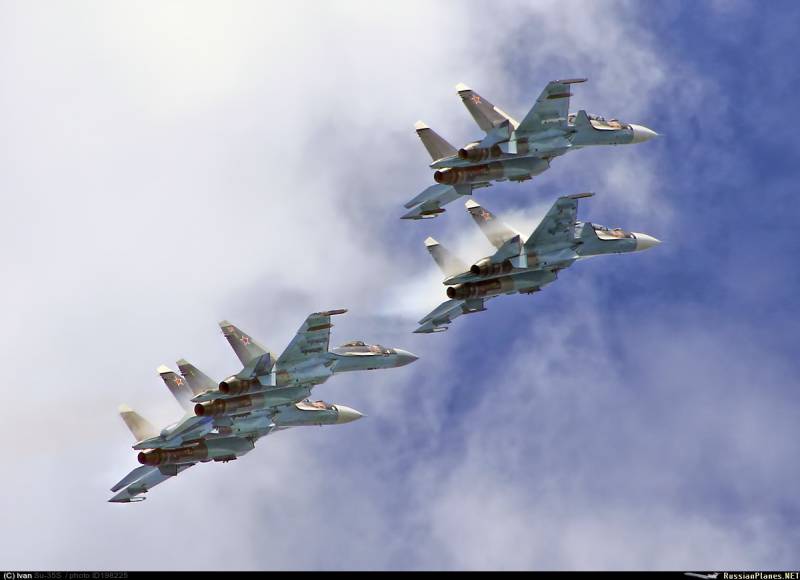 "This figure is achievable by 2025 year. Fighters will be about 40 percent of the total number of aircraft in the Air Force fleet, the rest - shock - attack aircraft and bombers, as well as reconnaissance, transport, training and special machines, "said the source.
According to him, the basis of the fleet of fighters will be the Sukhoi Design Bureau cars.
"Su-30, Su-35, a number of upgraded Su-27 will still remain, in addition, will be in combat parts of the fifth generation machine. The rest is modernized MiG-31, MiG-29 and new MiG-35 ", said the source.
He also noted that "the total number of combat-ready fighters in the Air Force should increase by more than a third."
Bmpd blog comment:
"From the text of the material it is not clear whether we are talking about the number of fighters only in the Russian Air Force, or the Russian Armed Forces as a whole, including the Marine Aviation Navy, as well as whether only aircraft of the "combat regiments", or all parts of the airborne forces / Armed Forces (including combat training centers and training and test units) are counted. With any numbers of ratings, you should know how the planes of the 45th Army of the Air Force and Air Defense, which now formally refers to Naval Aviation, are counted.

Speaking about the current state of the fighter fleet of the Russian Armed Forces, including both the VKS and Naval Aviation, it should be noted that now, according to known data, it has 246 new fighters with a lifetime of less than 10 years (58 Su-35С, 79 Su- 30M, 20, 30, 2, 12, 27, 3, 44, 29, 29, 23, 29, 440, 180, 27, 20, 33; 120 MiG-29, 120 MiG-31).

Of this number directly to the VCS include 210 new fighters (58 Sioux 35S, 66 Sioux 30SM, 20 Sioux 30M2, 12 Sioux 27SM3, 44 MiG-29SMT ten MiG-29UB) and 370 old fighters, including upgraded ( approximately 160 Su-27, 120 MiG-29, 90 MiG-31), and almost all the "old" MiG-29 (with the exception of the air group in Armenia) are already used for training purposes or are terminated by operation.

While maintaining the current organizational structure of the VKS (without new transmissions of their units and formations to the Navy), the number of fighters in 700 looks quite achievable for the Russian Navy to the 2025 year, although it will require maintaining the supplies of Su-35С and Su-30М fighters to the average overall rate 25-30 aircraft per year during the 2021-2025 period. "