In Vilnius railway station, in the Russian book store Knygų pasaulis, toy sets of "modern Russian infantrymen" polite people "appeared,"
Delphi
.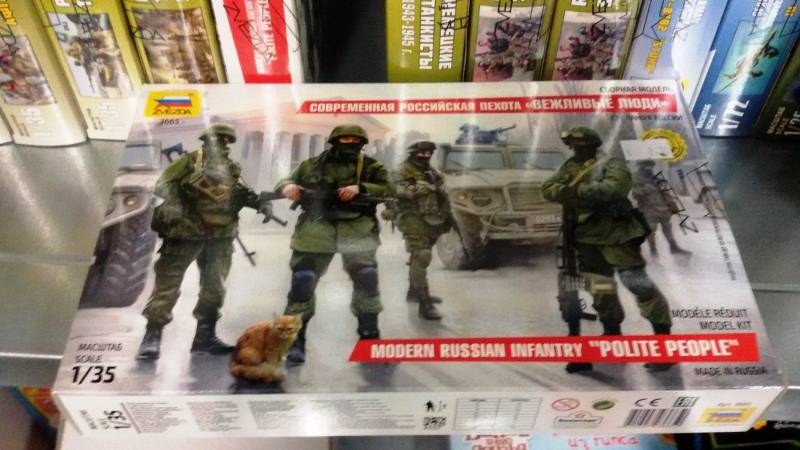 "Imagine - you come to the bookstore, go to the games department, where models of vehicles and military figures are sold. True, these figures are Soviet soldiers, and alongside them are quite modern "polite men", Delfi quotes Lietuvos rytas newspaper.
The deputy of the Lithuanian parliament, conservative Arvydas Anushauskas: "With such toy" polite people ", from an early age, they strive to bring up a distorted look at Russia's chauvinistic aggressiveness, and the distributor of goods perfectly understands that behind" toys "lie on book stores."
In his opinion, it is impossible to sell such "children's toys" in Lithuania. "If it was about collectibles, as some people collect figurines or any military badges, I would say that you can trade them. However, we are talking about toys. Moreover, the modern concept of the context of the last two years is used by "polite people". As we know, this concept did not come from the void, it is a reflection of the annexation of the Crimea, "said Anushauskas to the publication.
He suggested that these kits were designed for the Russian market, but, somehow, leaked to Lithuania.
"In fact, in Lithuania it is not forbidden to sell various garbage and we have something to do. We do not have a mechanism for how to react immediately in this case - to collect these toys in a bag and return them to Russia, "said the parliamentarian.
"Either they (sellers) do not understand what it means, which is likely, or they understand, they know what they are doing. (...) I would like to hope that they, most likely, did not go deep into what they are selling, what it symbolizes and what it means for children, "Anushauskas concluded.