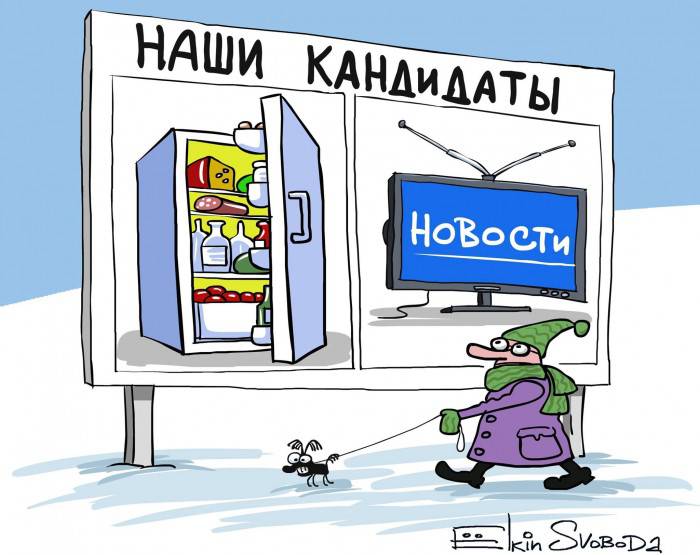 There was such a funny expression: TV against the refrigerator. And the answer was implied, therefore, the question is ironic: of course, an empty stomach will inevitably triumph over propaganda campaigns from the screen. And everyone seems to be clear and understandable, and there seems to be nothing to argue about here.
That is why politicians, one way or another, are advised to get acquainted with economic theory. Because if it seems to you that you do not use in your activity
no
economic theory, then some kind of you all use one. This is simple
not
are aware of. The same trouble with ideology. No major political or even economic activity is possible.
without
ideology.
After 91, it seemed to us that it was possible, but it was an illusion. The rejection of communist ideology did not mean freedom. Even the medieval illiterate peasant in the field was not free from ideology. Citizens
any
States can not be free from it. It does not happen. When we say that we abandon ideology, it looks quite funny. The main thing, say, money? Oh well.
All
история
the foreign policy of the Russian Federation after 91, refutes this bold theory. We, as if abandoning the very "communist" ideology, decided to build relations with our neighbors solely on the principles of mutual benefit, because any chatlanin will understand that one hundred bucks is better than ten "wooden" ones. Well at least
us
it was absolutely clear. But for some reason we didn't meet any understanding among our neighbors.
No, wait, you say, they have a market and democracy, and we have a market and democracy, and the two powers with McDonald's toilets in the capitals will never mate on the battlefield. Well, in theory, yes, but the same Yugoslavia sanctified by Ronald Macdonald was smashed up by the adepts of the Big Macs. Again, the theory does not work.
You see, to fight without ideology (like building a state) is absolutely impossible. Because it is ideology that explains to us why those who should be killed should be killed. No other way. After all, we are all good, law-abiding citizens. And nothing funny: remember Aleppo, from our point of view - this is the fight against terrorism, from the point of view of the Western media - "war crimes".
And now there is such a paradoxical situation, when it suddenly turned out that the ideology is just there, and it is "universal", and even very, very correct. And it is the only one, and there are no others, nor can there be. So it goes. To enumerate what the essence of this "most wonderful" ideology is is absolutely pointless: we have heard this already thousands of times. In the ears imposed.
And, it is clear that this ideology denies that it is an ideology, and thus denies the right to the existence of some other ideologies. Approximately how Western politicians say that the era of "spheres of influence" has passed. Yeah, the whole planet should be in their sphere of influence. That's why it passed. NATO absolutely openly declares its readiness to act anywhere in the world. A sort of global security provider. But Russia is not threatened in any way. This is what they also say.
You see, what is the ficus of ideology? It makes people see events in a certain light and at a certain angle. There is a Marxist ideology: the bourgeois exploit the proletarians. There is the Nazi: the superior race / inferior race. There is an Islamic one: there is no God but God ... Yes, there are many of them. To challenge and discuss / condemn them is useless. Or you are "inside" or "outside."
European is confident that NATO ensures its security and that
good
. He lives in the right democratic country. And the security of this "right" country is ensured by the right NATO bloc - everything is very good, healthy and wonderful. From his point of view. And he does not see any problems here. And do not see. As long as the average European is doing well and well, he will not notice any problems and will not experience any moral torments.
And this is not "disgusting." They have such an ideology. While Gaddafi was being bombed, all eurochelles didn't give a damn about the suffering of the Libyans, but when refugees flooded from the African coast ... It was then that they broke through. And these people want to: "speak firmly with the Kremlin." In fact, they are not magic "superheroes", ordinary inhabitants. But they have an ideology.
That is why the adventures in Syria and Ukraine
no
emotions do not cause them. There is an ideology that correctly explains all this, and being a "nonconformist" is unprofitable. Here we are frankly surprised by the behavior of Europeans against the background of refugees and terrorists "already at your house" - the support of some "Syrian oppositionists" and sanctions against Russia to the bitter end. Meanwhile, everything is logical and correct, according to
their
ideology. Ideologies as a belief system and political preferences.
And by the way, yes, they seem to have two ideologies: one for export, the other for its own. Those in Russia who actively reproach the West for "immorality and not following their own principles," just do not take this into account. It's like any international corporation has a set of widely proclaimed official goals, but there is a real policy. And between them often have little in common.
The problem of Russia of the last decades is just in the underestimation, and often ignoring the "ideological moments". It seems to us that ideology is a thing of the past, it seems to us that everything is clear to everyone. It seemed to us that everything can and should be solved "through money." Life has proved the inadequacy of such conclusions.
This is about how to argue that, they say, honest people do not need laws or expensive lawyers. Yeah, only they need a prosecutor. At the moment (as a result of European integration), the standard of living in Ukraine has fallen two to three times, crime has increased three times, to four. Theoretically, Ukrainians should have been disappointed in Europe and turned to the East. Based on the logic of the "refrigerator". The stomach is not fooled!
Nothing of the kind! And even in Byelorussia, all Ukrainian "insinuations" are perceived somehow strangely. Europeans and Americans are reforming and reformatting Ukraine, and for some reason, Belarusians have complaints about Russians ... It's such an ideology. It makes you see things not as they are.
The problems of relations between Russia and Belarus lie in the ideological field. And one should not be surprised: there were serious ideological contradictions between the British Empire and the United States during WWII (their coverage is beyond the scope of this article), the same contradictions were between the regimes of Hitler and Mussolini. Although for us the difference is insignificant.
Until a certain point, these contradictions were stolen, but after 08.08.08 it got to the surface. Whether we like it or not, Belarusians see themselves in Europe. With this we must accept. It just happened that once we saw ourselves in Europe. We have over time passed, due to a certain set of circumstances. Belarusians do not. Whether we like it or not, Belarusian young people are looking in the direction of Europe, and not in the direction of Russia. The chase, she is.
Of course, here you can argue a lot of things at once. First of all, Belarusians are Russians, for a German or a Frenchman this is exactly the case, and the attitude towards them will always be appropriate - precisely as "Russians", that is, people of the fifth grade. Get away from this is impossible in any way. Europeans are inborn nationalists. And the gradation of nations in each country is different and very tough. So for most northern Europeans, Russians (Belarusians) are even worse than blacks and Arabs in the form of refugees. That is why our emigrants often defiantly despise Russia (it's bad to adapt to the environment where being Russian is).
That is, it seems that Russians (Belarusians) are quite Northern Europeans with a high cultural and educational level. But we think so. Europeans think otherwise. In the case of European integration, Belarusians will have to play according to the rules of Europe, and not based on their own ideas about them. So when Belarusians declare that: "We are not Russians, we are Belarusians". I want to ask to meet: "And who cares?"
Secondly, the economy of Belarus is closely tied precisely to Russia and is of a very specific nature: at the entrance there are cheap energy resources, at the output goods that can only be sold to Russia. With European integration, such an economy will die immediately and the outright Bangladesh will begin.
Yes, a lot of things can be objected, but the Belarusian youth is not interested in it categorically. They want to "try", and Russia is unattractive for them. Ideology, however. It is somehow not customary to say (for reasons of political correctness) that most people are not very intelligent and educated, and even those who are intelligent and educated are easily manipulated. That's it for them and invented ideology. People are actively brainwashed, and they believe, even if it is absurd.
For some reason, we always proceed from the assumption that an ordinary citizen can add up "two plus two" and understand what is good and what is bad. Unfortunately, this is not the case. Mr. Kara-Murza wrote a lot about this ("Manipulation of consciousness"). An ordinary person is easily manipulated, as, incidentally, a crowd of ordinary citizens. And, by the way, the basis of Western states is not just "the market and democracy", but the skillful manipulation of the consciousness of their own citizens.
True, they are not interested in principle: Sochi-2014 was an absolutely positive event, but from the very beginning it was doused with mud, and then a coup in Kiev parallel to the Olympiad was organized. Somehow Putin did not invest in the "war in Ukraine", but in a completely different way of developing relations. After all, it was possible not to give money to Yanukovych, to close the Russian market for Ukraine and the Ukrainians, to support the radicals, to push the country into the chaos of civil war, and then cynically to take the Crimea.
"But that's exactly what happened!" - you will say, but the trick is that the scenario of the destruction of Ukraine was prepared, financed and launched by no means Putin. Putin, until the last second, actively fought
против
"Return of the Crimea" and for the preservation of Ukrainian statehood. But now you can't prove it to anyone. Those people who destroyed the Ukrainian state on two Maidan, insist that Putin attacked Ukraine.
Notice that none of those who talkatively talk about "Russia's aggression" categorically do not want to discuss the topic of two Maidans. It does not fit into the ideologically correct picture. Twice foreigners by force changed the power in Ukraine. What is sovereignty here? That's the plus of ideology, that it forces citizens to turn a blind eye to the obvious facts. Absolutely no one in Europe, in Ukraine, in Belarus, is embarrassed by the fact that the government in Kiev is frankly puppet.
Nobody notices this. Russian notice, the Chinese, by the way, notice, but in general lepotta. No one even stutters about the return of sovereignty to Ukraine. That is a situation when the main politician in the country - the US ambassador seems to all quite normal. The country is occupied, the country is being robbed (under the cover of a puppet government), Ukrainians are openly killed.
But
even in Minsk nobody sees this. See only "Putin's aggression."
If we compare the level and quality of life in the neighboring regions of Russia and Ukraine, then there will be no limit to surprise. At one time, all interested parties actively compared the standard of living in the Federal Republic of Germany and the GDR. And they made political conclusions: "There is Germany and there, Germany, there are Germans and there are Germans. But what a difference! Conclusion: socialism is ineffective! "But nobody is in a hurry to apply the same logic along the Kiev-Moscow or Moscow-Minsk line. It's completely different here, you can not compare ...
Why not? In today's Germany, living standards are higher than in Russia, and this is very actively used in various discussions (for some reason
not
the Germans). But to compare Russia with Poland, Spain or Portugal in terms of living standards is no longer so interesting. That does not compare. Why - it is not clear. Compare with Ukraine? Not interesting at all! Therefore - "ignore"! But if the people of Kiev lived better than the Muscovites, we would have ears in all our ears ... Today Ukrainians are telling us about that ... that the Germans live better than the Russians ... It would seem, what does Ukraine have to do with it?
So the theme of "standard of living", it is so ... specific. If it is profitable to mention it - it is mentioned and actively "forsat", if it is not profitable ... they put it in "ignore". Just do not consider in any way. And it would be okay
only
journalists / politicians / propagandists - that would be understandable. "The oldest profession" - they are the oldest. But ordinary Ukrainians / Belarusians do not see
no
advantages in the "Russian model". They just have "oil and gas" ...
Germany and the GDR, by the way, also could not be directly compared for various reasons, but
whom
did it bother you? Compare and draw conclusions. On the "lost economic competition." AND
all
it seemed correct and logical. Ideology, gentlemen, it is everywhere. By the way, in the USSR the standard of living was no worse than in the countries of Southern Europe (if we compare all the parameters), but who cares? Only store counters were compared.
In fact, the USSR simply did not know how to "sell" properly. Propaganda was frankly miserable. And now we know about the USA and Europe
much
more. And we treat them much calmer. Only this knowledge is bought at a very high price. Moreover, the Americans themselves openly admitted in Soviet times that a poor person lives in Cuba in something better than in the United States. But who is with us
then
could understand the meaning of this phrase? Why did the Americans win the Cold War? One of the reasons: building communism is difficult and expensive, and Hollywood is much cheaper.
As the sad post-Soviet practice shows, "a fairy tale and a dream" even for adults can happen
more important
than something real and tangible. And any schemer will confirm this to you. People are "led." The richest Soviet republic is Georgia. One of the poorest post-Soviet republics is also Georgia. That is the most drastic decline in the standard of living occurred in Georgia.
But it is the Georgians who are very pro-American and anti-Russian. Speak "TV against the refrigerator"? Oh well. In principle, the exchange of political loyalty against economic assistance is interesting to Russia was already in 0-e. However, it did not work anywhere. That is, people were very willing to take money, but Hollywood and California preferred to love.
The author was most seriously impressed by the "Vakhtang Kikabidze phenomenon": the man was a star of the all-Union scale, swam in fame, was very popular and loved in Russia. It all ended with an open call: to destroy "this country." Literally shock. And if you were born a man in a poor / independent Georgia - what would he have become? Would you sing in restaurants? And he said it is not at a tender age. It seems that a person lived, saw a lot, some wisdom must come ...
It seems that "filling other people's refrigerators" is not the best strategy. It did not work either in the "Ukrainian refrigerator" or in Georgian. People
can not
see their obvious benefits or do not want to. So, oddly enough, serious ideological propaganda work is necessary. And you thought the USSR was gone and everything died with him?
Ideology and propaganda were actively used and were brought to a very refined level during the times of Augustus, the emperor of Rome and Shi Huang-di, the emperor of China. Ordinary people are not able to add two plus two, it does not matter if they buy or sell. They are waiting for ready-made answers, so no need to "spit and laugh."
"Telling the truth" is not a strategy. For example, ten years ago the Russians treated the Ukrainians and the Georgians very well, considered them their own and were ready to help in every way. And it is true. Remind me how it ended? People are easily manipulated and programmed. To count on their "rationality and independence in decision making" is quite naive.
And do not tell fairy tales that ordinary Lithuanians, Georgians, Ukrainians crave friendship with Russia and only the evil ruling puppets of the State Department prevent this. Beautiful, but not true. War today is fought not only in the military or economic sphere. The sphere of propaganda is no less important; ideological questions are no less important.
Why precisely "ideological"? The fact is that when discussing the situation in Europe and Russian politics with representatives of Europe, they very often declare: we do not understand you. Not in the sense of language, but in the sense of general. It is because within
their
ideology our actions look absurd and criminal. And they worked on their ideology for themselves and for themselves. Houston, we got a problem.
In Russia, it is customary to be offended by Russophobia and anti-Russian propaganda. Allegedly, this is not good. This is not "bad" - this is war. Long, multistage military operation. Some kind of morality is completely absent. They say that a nuclear conflict is now impossible. Well, who knows, but the information war is already in full swing.
For some reason, they like to hysterically: "they are waging an information war against us!" And they are waging an ideological war too. And they didn't stop at 1991. And now what? We must not be offended, but act in accordance with reality. It is just necessary, step by step, to abandon the logic of "cooperation" and move on to the logic of "confrontation". No matter how insulting, but this is the case. Information pressure on Russia will increase. If not for nuclear weapons, the conflict
long
I would have already decided on the battlefields, but due to the presence of the SNF in Russia, we have a "storm in the informational glass." And this is not an "accident", it is a conscious decision of the Western elites.
That is, Russia needs an information strategy designed for confrontational conditions. It is a strategy and precisely confrontational. It would be different, but, as we see, it did not work out. As already mentioned, even such a "super-positive" event as the Olympics in Sochi became a negative informational occasion. There, they say, too much money was spent / stolen. Listen - this is our money, what do you want? What is your concern? We want and spend.
No, bad everything is bad ... That Pussy Rayot, the scandal with the Russian Olympians ... This is a war. Informational. And yet the war. And to count on a fair, adequate attitude is not necessary by definition. Our success in engineering or economics is absolutely not interesting to anyone in the West. Non-rated topic.
It should be understood that we are not dealing with some "free-thinking citizens", but with a deeply ideological system, to prove something which is fundamentally useless. So there will be a military confrontation in Europe (especially in the Baltic and Black Sea basins), and, most importantly, informational / ideological. That is, as it were, in the field of information, not so much confrontation as war.
And in a war, it is somehow decided to fight, not "seek justice." And yes, in Ukraine, the TV won, won with a crushing score. "We do not need fat, we have an angel shining, we do not need bread, come on tires ..."
The foregoing does not imply that you have to start hysteria, lie, introduce censorship and engage in psaking. This is just impossible to do. But the "winter" will be long, and we must seriously prepare for this.