The press service of the Government of the Pridnestrovskaia Moldavskaia Respublika reports on a bill initiated by the Ministry of Justice of Transnistria regarding the use of the flag of the Russian Federation. The bill proposes the use of the Russian tricolor at republican events, as well as in government bodies, on a par with the PMR flag.
In the coming days, the bill proposed by the Ministry of Justice will be considered by the Supreme Council of the Pridnestrovskaia Moldavskaia Respublika.
The head of the republican government, Pavel Prokudin, said that such a measure would protect the Russian flag from attacks by certain radicals. The point is that at a recent concert in Tiraspol an act of vandalism and abuse of the Russian tricolor was committed. This action in the government of the PMR was called a clear provocation, the aim of which is to try to embroil Tiraspol with Moscow.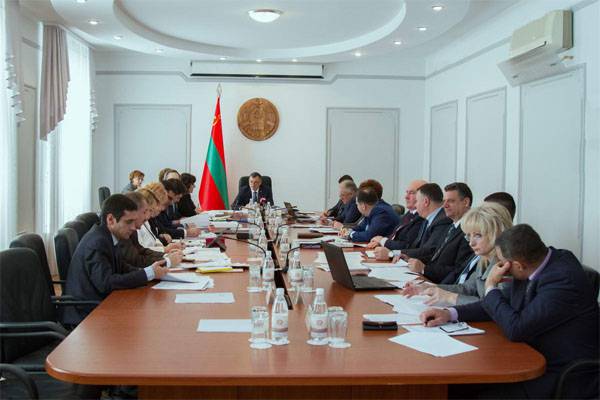 From materials
press service
PMR:
In this regard, it was proposed to make changes to the Code of Administrative Offenses, providing for liability for violation of the procedure for using state symbols, including a foreign state in the territory of the MRT. The proposed changes (...) will approve the procedure for using the Russian flag as an official symbol, and emphasize the adherence and desire of Transnistrians to reunite with the Russian Federation.
Recall that earlier, as a result of the referendum, the overwhelming majority of the residents of Transnistria expressed themselves in favor of independence from Moldova and joining the Russian Federation.
The official flag of the PMR is a red rectangular panel with a green horizontal stripe in the center and a sickle and hammer, topped with a star, in the upper left corner. This is an exact copy of the flag of the Moldavian SSR.