The Russian Center for Reconciliation of the Warring Parties in Syria reports that within a day, about 8,5 thousand people, including almost 3 thousand, are children, came from Aleppo-controlled areas of Aleppo. At the same time, 14 militants from eastern Aleppo laid down
weapon
and were amnestied on the basis of the current law, approved by the Syrian President Bashar Assad.
Against this background, the mission continues to include Russian specialists in Syrian settlements in the reconciliation regime. Representatives of four more towns and villages signed an agreement that join the regime of complete cessation of hostilities. These settlements are located in the provinces of Damascus and Latakia. The total number of groups that have joined the disarmament and reconciliation regime in Syria is currently 94. Populated areas - more than 1000.
At the same time, information is received from the United States that the current President Barack Obama has decided to lift restrictions on the supply of arms to representatives of various groups operating in Syria. Reports about it
RIA News
. A representative of the Obama administration called Syria "the state sponsor of terrorism" and lifting the restrictions on arms supplies "explained" as follows:
This withdrawal, requested by the Minister of Defense and signed today by the President, allows equipment supplies to partners who are preparing the campaign in Raqqa, as we build up and strengthen relations with forces opposing the IG (prohibited in Russia). Syria is a state sponsor of terrorism and, therefore, from time to time the president should lift the restrictions, because otherwise the US military will prohibit supplying arms to our partners who conduct counter-terrorism operations in Syria.
The main sponsor of international terrorism (USA) called Syria a "sponsor of terrorism." Already not surprising ...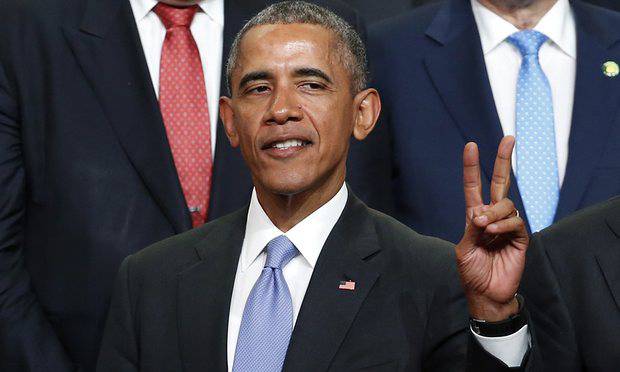 The term "military equipment" in the interpretation of Washington implies any weapons for the supply of militants, stubbornly referred to as "moderate opposition." In all likelihood, the winner of the Nobel Peace Prize, Obama decided on something that he hadn't decided all lately - on supplies to the militants, for example, man-portable air defense systems.