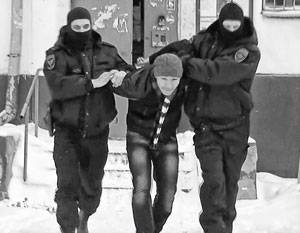 "We are in the process of seizing mosques by people from Central Asia," say religious scholars, commenting on the detentions of Islamic extremists in Russia. Experts tell how Islamic preachers of a religious persuasion successfully deceive Russian officials, receiving their support for the spread of radical Islam.
On Wednesday, at a meeting with officers and prosecutors on the occasion of their appointment to higher positions, Vladimir Putin praised the work of the FSB:
"In ten months of 2016, thanks to the Federal Security Service, more than thirty terrorist crimes, including ten terrorist acts, have been prevented," the RIA President quotes "
News
».
A kind of confirmation of these words was a joint operation of the Center for Countering Extremism of the Main Directorate of the Ministry of Internal Affairs of the Russian Federation in Moscow, the Ministry of Internal Affairs and the Federal Security Service of Russia, held on Tuesday night, during which more than twenty people were detained Moscow
As reported by TASS, citing a source in the State Ministry of Internal Affairs, the detainees in the capital "according to preliminary data ... organized campaigns to involve citizens in the activities of an extremist organization banned in the territory of the Russian Federation ... the fact of a criminal case under Art. 205.5 of the Criminal Code of the Russian Federation (organization of the activities of a terrorist organization and participation in the activities of such an organization) ".
Russia as a breeding ground for Islamism
According to the doctor
historical
sciences, Islamic scholar Roman Silantyev, which he expressed in a conversation with the VZGLYAD newspaper, the current detention indicates that the problems of Islamism and Islamic terrorism are extremely relevant for modern Russia:
"Such detentions occur in large cities of Russia weekly. And prevents a large number of attempted terrorist attacks. The most interesting thing is that those migrants from Central Asia who are arrested here for belonging to Islamic groups banned in Russia do not come to Russia with similar ideas. As practice shows, most of them are radicalized by us ".
According to Islamic scholar, "recruitment" of immigrants from Central Asia and Transcaucasia, as well as Russian citizens, often takes place in mosques where such agitators feel comfortable.
"This fall, there was a precedent case in the capital, when Shiites were first expelled from the Moscow Cathedral Mosque, and afterwards a Tajik preacher, who opposed ISIL * (banned in Russia by an extremist organization - note. many Tajik tribesmen left him, "says Silantyev. - It turns out that in the Moscow Cathedral Mosque are not happy to those who are fighting against LIH? By the way, hatred of Shiites is a sign that has always distinguished Wahhabism's adherents. "
The root of the problem is the Islamist sees the weakness of Russian legislation concerning extremist religious movements, and that in the mosques of the Muslim clergy no one is seriously engaged in the Islamists.
Officials do not distinguish shades
The President of the Information and Analytical Center "Religion and Society", orientalist Alexei Grishin is in part in solidarity with his colleague, but he believes that Islamism is taking root in Russia also because there are few specialists in the country who could deal with this issue:
"Do you know what claims the representatives of the Central Asian countries constantly express to Russia during the summits of the CIS special services? They say that we "sheltered" their extremists. In these countries, there are the most severe laws in relation to the Islamists, where you can sit down for 15 – 20 years just for belonging to a banned organization. And all these people flee to Russia. It is not by chance that we are now in the process of capturing mosques by immigrants from Central Asia. This process is still not so noticeable in Central Russia, but it is in full swing in the Orenburg region, Western Siberia, and the Urals. "
According to the expert, it was the desire to protect traditional Islam from the influence of extremist movements that determined the decision of the Spiritual Board of Muslims of Tatarstan to read Friday sermons exclusively in the Tatar language. What was perceived in Moscow as almost a manifestation of chauvinism.
"In fact, I fully support this decision of Tatarstan, because, paradoxically, the language of communication for Islamists from different regions and countries is Russian," says Grishin. - For the last five to six years, extremists have successfully deceived Russian officials. For example, they come under the guise of a traditional Muslim organization and offer a plan for working with Muslim youth, programs to counter terrorism. And in different cities and regions bring almost identical plans. And the officials cannot recognize the trick, because there is no mechanism for evaluating such applications, a state body where the official could apply in order to check what was brought to him. But from above he has been assigned the task of combating terrorism, interacting with Muslim organizations, and he clutches at a proposal from "social activists". Moreover, "successful work" can turn into awards and promotion. And the new friends are also ready to give information on extremists acting by the side, by which they, of course, mean adherents of traditional Islam, patriots of Russia. And at the prompting of new "friends", the government begins to crush the latter. This happened more than once. "
According to the expert, in Russia it is necessary to urgently train specialists in interaction with Muslim organizations who could distinguish "white from black". Otherwise, in ten or fifteen years Russia will turn into one large Kosovo and "will have to go to work with machine guns in their hands".
"We need to streamline the structure of Russian Islam," Alexey Grishin is convinced. - In Russia, there is only one globally recognized Muslim leader with the title of Sheikh-ul-Islam - this is Talgat Tajuddin, but for some reason he is not the only mufti in Russia, in our country they are 78! In Azerbaijan, where there are Shiites and Sunnis, there is one that is authoritative for those and for others. And with us each of 78 can publish its own fatwa, and where can an ordinary Muslim find out? ".
"Syrians" have not woken up yet
In a conversation with the newspaper VIEW, the doctor of historical sciences, orientalist and Islamist Alexander Malashenko called another problem related to Islamism, but until now it has not manifested itself:
"It is known that a decent number of Russian citizens left for Syria and Iraq. And the last six months, they began to return. While these people are quiet. But they have a certain military potential, as well as religious and ideological. And you need to be on guard with them. "
Malashenko notes that migrants arriving from Central Asia and Transcaucasia, falling under the influence of Islamist movements, interact with the citizens of Russia - residents of the North Caucasus, Tatarstan, Bashkortostan. Therefore, delayed migrants are only part of the problem. And the situation can be aggravated, since "it is simply impossible to make Islam fully controlled."
Recall that on November 12 in Moscow and St. Petersburg, the FSB detained a group of ten Central Asian immigrants who planned to carry out terrorist attacks in both capitals in the Paris scenario. A November 7 in the Volgograd region was neutralized by an organized group involved in the financing of international terrorist organizations, including those operating in Syria.