Since its inception in 1947, Israel has been in the hostile environment of the Arab states, with whom it fought seven times, not counting the permanent confrontation with the Palestinians on its own territory. Because of this, being quite small in territory and population, Israel possesses the Armed Forces of the top five in the world.
They are recruited to the call, to which even women are subject, while all persons liable for military service are constantly retrained in the units to which they are assigned. The level of combat and moral and psychological training of personnel is considered to be the highest in the world.
Israel is the exclusive partner of the United States, receiving from them the latest military equipment. A certain amount of weapons and military equipment is acquired in other Western countries, and, in addition, the country has a very powerful own military-industrial complex producing weapons of all classes. At the same time, due to the country's constant readiness for a large storage war, there is a significant amount of old equipment, including the captured Soviet one.
Not to mention one more factor that strengthens the military potential of Israel - the stressed disregard for the norms of international law and the readiness to strike anyone at any time. This provides such useful things in military affairs as suddenness and initiative.
The Land Forces of Israel are divided into three military districts - Northern, Central and Southern, and it is their command that directs the actions of the forces subordinate to them. Command SV performs only administrative functions. Each district has several divisions.
It is believed that the ground forces are armed with most of the Israeli nuclear arsenal, the existence of which is not officially confirmed, but it is beyond doubt. Available from 50 to 90 MRBM "Jericho-2» (range - 1500-1800 km warhead weight - 750-1000 kg) and to 150 OTP "Jericho-1» (500 km CU - 1 t), enters the arms MRSD "Jericho-3" (4,8 – 6,5 thousand km, to 3 warheads with a total weight up to 1,3 t). The number of nuclear warheads, according to various estimates, from 100 to 400, the number of PUs for all "Jericho" - from 23 to 50.
Tank
The Israeli army's fleet includes up to 2226 Merkava tanks of four modifications (up to 216 oldest MK1, up to 578 MK2, 775 MK3, 657 most modern MK4), some of which are in reserve. In addition, up to 350 old English Centurion tanks and up to 955 Magah tanks, which are modernized American M60 and M48, are in storage. Recently, at least 8 Magah-5 tanks (M48A5) have been converted to Spike-Magah self-propelled anti-tank systems, and these vehicles have been disguised as Merkava using a fake gun.
Israel became the first country to create an infantry fighting vehicle and armored personnel carrier on a tank chassis with an appropriate level of protection. The arsenal consists of 120 BMP "Timer" (on the Merkavy chassis), 276 BTR "Akhzarit" (on the chassis of the captured Soviet T-55), 406 BTR "Nagmashot" (on the Centurion chassis). In addition, there is up to 1800 American BTR M113 and 100 own "Zeev".
The artillery includes the American 350 109 (155 mm) 300 and X-NUMX own towed M-71 (155 mm) 764, 81 mortar (65-mm, self-propelled Card and M-48). In the ranks are 227 American MLRS (8 mm). There are several hundred domestic Spike ATGMs of various modifications, including at least 5 self-propelled guns on the chassis of the Magah-XNUMX tank.
Military air defense systems include 500 American Stinger MANPADS and 40 own Macbeth ZRPK (created by installing four Stingers on the American NXXX ZXMX).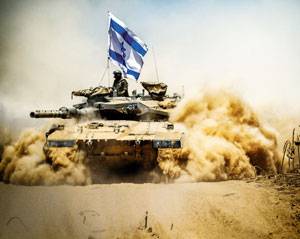 The Israeli Air Force as the main tactical units have the air base: 1-I (Ramat-David), 4-I (Hazor), 6-I (Hacerim), 8-I (Tel-Nof), 10-I (Bikat-Uvda) , 15-i (Sde-Dov, Tel-Aviv), 21-i (Haifa), 25-i (Mitzpe-Ramon), 28-i (Nevatim), 30-i (Palmachim).
The basis of the Air Force are American fighter F-15 and F-16. There are 57 F-15 (16 A, 5 B, 17 C, 19 D), 25 F-15I (similar to the American F-15E drum), 274 F-16 B (42 A, 9 B, 77 C, 48X I). Also, combat aircraft include American attack aircraft - the 98 of the newest anti-guerrilla AT-8F (officially considered fire fighting) and the 802 of the old A-20N, which according to the documents are held as training ones.
In the 7 reconnaissance system RC-12D, 3 of the EW Gulf Stream-550, 10 tankers (3 KS-130H, 7 KS-707), transport: 12 С-130, 2 VC-707, ZyXX, XyNXX, 1, 707 C-22 200 Beach-B22, 36 A-17. All of these aircraft are American-made. Training: 120 German Grob-20, American T-6А, 10 combat training TA-4 (1 H, 9 J) based on A-4 attack aircraft, 30 latest Italian М-346.
Attack helicopters: 50 AH-64 Apache (29 A, 21 D), before 32 AH-1 Cobra (7 E, 13 F, 12 S). Multipurpose and transport: 19 OH-58В, up to 10 СН-53А and up to 14 S-65С, 39 S-70A and 10 UH-60A. All helicopters are also American-made.
Israel is currently the only country in the world that has a tactical missile defense system (for more information, "Above the dome"). "Classical" air defense systems include 17 batteries of the American Advanced Air Hockey SAM (102 PU) and 7 Patriot XRUM batteries (56 PU), 105 US ZSU M163 and 60 of the Soviet ShSilka-23-4 Shilka, Zn-Zn-Zn Zen-Zn-ZN, Zn ZX-ZN, Zn-755. Soviet ZU-150, 23 American M455 and own SCM-167, 20 Swedish L / 150).
The Navy has 3 newest German submarines Dolphin and 2 with advanced Tannins (the 212 project, another 1 being built). It is believed that these submarines may carry nuclear SLCMs, although it is not entirely clear what type. Germany is building these submarines for Israel, either at half price or generally free of charge as compensation for the Holocaust.
The 3 corvettes of the Eilat type (Saar-5), 8 of the Hetz missile boats (Saar-4, -5), 36 – 49 of the patrol boats (21 – 23 Super Yard, 7 – 15) "Dabur", 5 – 7 "Shaldag", 3 – 4 "Stingray"). Corvette American built, the rest - own.
Marine
aviation
has 3 own patrol aircraft IAI-1124 of its own production and 5 French AS565 anti-submarine helicopters
Recently, there has been a certain erosion of the factors indicated at the beginning of the article, making the Israeli army one of the strongest in the world. This was manifested in the openly unsuccessful war against Israel against Hezbollah in Lebanon in 2006. A marked increase in the standard of living and the full orientation of Israeli society to Western values ​​led to the fact that pacifism and hedonism (although at a scale incompatible with European ones) began to gain momentum, reducing the level of defense consciousness and, accordingly, moral and psychological training. The Israeli Armed Forces are gradually losing the experience of the classic war (the latter was in 1982), although they are permanently in a state of war against the Palestinians and Hezbollah. In addition, the Israelis are increasingly borrowing American methods of conducting a contactless war, which is unrealistic in their conditions. Nevertheless, in the foreseeable future, the country is not seriously threatened.
Of course, for Russia, Israel is not a potential adversary. But he, firstly, the nuclear power, secondly, has a significant impact on the geopolitical situation in the Middle East. And it is rather contradictory from the point of view of Russian interests.
On the one hand, Israel is Russia's obvious ally in the fight against Islamic terrorism. Tel Aviv has always unconditionally supported the actions of Moscow in Chechnya and in the North Caucasus in general. Interestingly, he also fully supported Belgrade's actions against Kosovo separatists and sharply condemned NATO's aggression against Yugoslavia in the 1999 year, fully associating with Moscow. Israel was one of two allies of the United States (the second is South Korea), which did not even introduce symbolic sanctions against the Russian Federation in connection with the events in Ukraine. The Israeli experience of confronting terrorists is of great interest to the Russian military and special services.
On the other hand, anti-Iranian paranoia begins to create problems precisely in terms of the fight against Islamists. Sunni terrorism, financed by Arab monarchies led by Saudi Arabia, is an order of magnitude larger than the Shiite threat in the face of the small-town Lebanese Hezbollah, funded by Iran. Tel Aviv's assessment of Tehran's plans and capabilities is completely inadequate - based on the many years of statements by Israeli officials, it was supposed to create a nuclear
weapon
already 10 – 15 years ago. Because of this permanent struggle, Israel is currently supporting any Syrian opposition, including Sunni radicals, up to the banned "al-Nusra" here. True, he did not join the anti-Russian propaganda hysteria of the West.
To understand the causes of Tel Aviv's anti-Iranian paranoia is difficult. Apparently, the collective psychoses of small nations require a large separate study. And it is extremely doubtful that Moscow will be able to convince the Israelis of something.