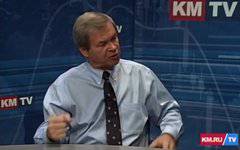 Recent candidate article
historical
Lydia Groth's sciences about inconsistencies in the theory of Normanism caused a discussion of our readers about who the legendary Rurik was. Recall that Lydia Groth, relying on the official data of archeology, made a conclusion that is extremely inconvenient for many followers of Normanism:
In Sweden, no vessels were found that could cross the sea. Found so far only those that were suitable for coastal navigation. What comes out of it: Ruotsi from the Swedish rowers, the names of the Dnieper rapids, attacks on Amastrida and Constantinople, control of the Baltic-Volga route - everything floats on the water and disappears beyond the horizon of iridescent fantasy. Sveon Bertinsky annals also lose their Scandinavian citizenship, and the unfortunate khans / kagans do not need to freeze in the north. And so it will continue until suitable vessels are found, on which the coast could cross the Baltic Sea.
The question of who Rurik was was again the subject of fierce debate. However, in addition to the chronicles and archaeological finds, nowadays there is an opportunity to involve in the historical research and methods of the exact sciences based on the study of human DNA. It was this topic that was devoted to TV KM TV with Professor Anatoly Klesov, who, drawing on DNA analysis data, reported a whole series of information about the chronicle "founder of Russian statehood."
Those who want to know what exact science (DNA genealogy) says about the origin of Rurik can get acquainted with the following material: