The Soviet army knew very well what kind of war awaited it and was accordingly preparing. We had one thoroughly developed branch of combat
tanks
and one side. There were linearly developing BMPs and armored personnel carriers with a clearly defined appearance and functions.
And then we got involved in the Afghan war and it turned out that we were preparing for some other battles. But as an adversary, we could at least choose ourselves as an adversary and could stop at any moment, which we took advantage of. We did not choose "spirits" in the Caucasian mountains and again we were not ready.
It is worth saying that confronting irregular forces dispersed in difficult terrain and receiving support from abroad is an extremely difficult task for the armed forces of any country. But the state needs the army just to solve complex problems, not to tread on their boots.
Over the past decades, the world has gained enough experience in fighting professional partisans, the main conclusion of which is that we must be able not to get involved in such a confrontation. Meanwhile, it was finally lost understanding of what will be the "Big War".
Today, it seems, it is obvious to any student of the history department how tanks should have been used in World War II. But then we were able to understand this only after undergoing thorough "training" from the German generals. We are still lucky, the French, for example, failed to complete this training.
That the military-tactical idea will spill out onto the battlefields in the 21st century is known only to the god Ares. We have to be ready for anything.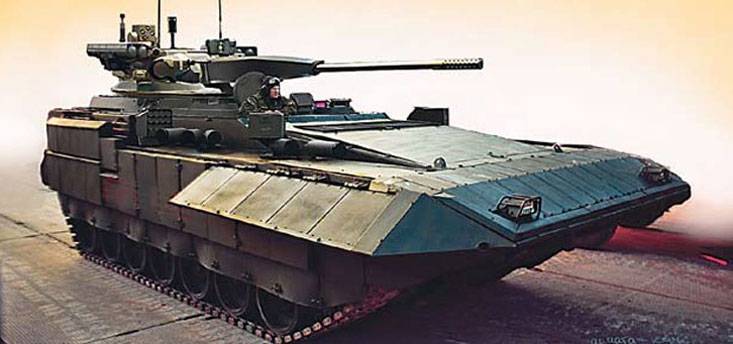 Developing plans for the protection of the Motherland for all occasions and storing them in top-secret folders is a feasible matter, but what about the technology? How to make the right choice in the direction of development? What to adopt?
The answer suggests itself: the Russian army must have a variety of victory tools: a superior tank, a tank-workhorse and even a light tank, a heavy BMP, a light BMP and even a wheeled armored vehicle, and various armored personnel carriers. And all this with the traditional machine-gun, anti-tank and anti-aircraft missiles.
How with such an approach not to empty the state treasury? After all, money is always not enough. Even Americans with their 596 billions of dollars in the military budget have to close promising projects. What can we do with 66 with billions of dollars, which the country has managed to allocate for the Armed Forces?
The answer is obvious - save and turn on the brains.
Today, when developing domestic weapons, design bureaus are guided by four principles: modularity, unification, unity of platforms, and the value of a soldier's life.
Using the combat module allows you to isolate from the crew of the tower protruding on the body of the car as the most vulnerable part.
We have a Boomerang-BM combat module, an excellent crewless system. Armed to the teeth. The 30-mm automatic cannon can "spit out" five hundred rounds in less than a minute, without interruption to cooling. Effectively affects lightly armored vehicles with one and a half kilometers, and air subsonic targets - at a distance of two kilometers. In the module's subunit - 160 armor-piercing sifting projectiles and 340 high-explosive fragmentation missiles to destroy enemy enemy personnel at a distance of up to four kilometers. Four launchers with ATGM "Kornet" - to destroy enemy heavy armored vehicles at a distance of up to eight kilometers. The anti-tank complex allows two missiles to be launched with a minimum delay to overcome the KAZ. The armor penetration depth is 1200 – 1300 millimeters behind dynamic protection. Launchers are reloaded manually and, apparently, out of combat. 7,62-mm machine gun Kalashnikov tank upgraded allows you to precisely destroy the enemy's manpower at a distance of one and a half kilometers. Ammunition - two thousand rounds. The fire control system has rich possibilities: independently search for any targets, fire at two of them at the same time, etc. The composition of the aiming equipment is not known for certain, but television and thermal imaging channels are assumed, an active optical system, a radar. It is possible that a complex of electron-optical active protection is installed. An excellent combat module that combines a variety of powerful weapons, a rich set of sighting devices and a modern fire control system.
Let's pay attention to another excellent feature of the "Boomeranga-BM": it is mostly assembled from ready-made components, which best affects the cost.
There is another combat module - AU220M "Baikal". It includes the 57-mm gun, which is based on the ZAK-60 cannon. The maximum range is 12 kilometers, the rate of fire is up to 120 shots per minute. This gun can pierce the armor of any modern combat vehicle with the exception of the main tanks. There is the same modernized PCT. Even less is known about the sighting equipment, but it is assumed that it will meet the requirements of firing from a cannon and not too far behind the Boomerang-BM. The combat module is armored around the perimeter from shots of the 7,62-mm machine gun and in the forehead from the 30-mm guns.
Now let's see what equipment these modules are installed on. They are armed with infantry fighting vehicles T-15, K-17, B-11 and not only.
T-15 - BMP on a heavy platform "Armata". This 50-ton is a first-class defended infantry fighting vehicle with a troop compartment and a speed of 40 – 50 kilometers per hour. In the presence of the already assembled corps, we get machines with various capabilities using the Boomerang-BM or Baikal combat modules. At the same time, the Armata itself has already served as the base for the T-14, TBMP T-15 tank and will become the mother for a number of combat vehicles. Of course, they are seriously different from each other, but they have a single tracked platform, which makes it possible to reduce the cost of both production and subsequent repair.
B-11 - BMP on the average track platform "Kurganets-24". This is an infantry fighting vehicle, close to the classic indicators of security. The weight is 24 tons, the troop compartment is eight fighters, and the speed is already approximately 90 kilometers per hour plus the ability to swim. And it can also be installed any of the two modules. On the basis of the platform it is planned to create, in addition to the BMP, an armored personnel carrier and, possibly, other vehicles.
K-17 - BMP based on the Boomerang wheel platform. This car is an innovation for our army. Mass in solid 25 tons, it develops speed for 100 kilometers per hour and has a greater range compared to the track-laying counterparts. When installing any of the two combat modules, we get a BMP with different characteristics. An armored personnel carrier will also be created on this wheeled chassis.
Any army for ground forces requires at least three types of combat vehicles: armored personnel carrier, infantry fighting vehicles, and tanks. What do we have today?
Three different platforms: the Armata heavy tracked, the Kurganets-24 medium tracked, and the Boomerang medium wheeled. Several types of machines are created on each of them, which makes it possible to reduce the cost of both development and subsequent production to some extent. When using two combat modules and three base machines, we get six infantry fighting vehicles, differing both in the characteristics of protection, mobility, and firepower.
Six models of BMP - from heavy to wheeled - a very diverse range for modest money.
An important detail: modularity and unification allow you to create unique offers. For example, African countries, where solid soils prevail, will be happy to buy wheeled BMP with good weapons. Naturally, after we fill our own Armed Forces with equipment and the corresponding decision will be made.
Some would say that six BMPs are unnecessarily wasteful. I believe that the case is not limited to two modules - "Baikal" and "Boomerang-BM" and using the third one, we will get nine cars.
Investing in the army in peacetime is always expensive. But it is even more expensive to invest in it in wartime.