The names of the special forces of the Federal Security Service of the Russian Federation who died during the counter-terrorist operation in the Republic of Ingushetia have become known. Recall that the KTO regime on the territory of one of the regions of Ingushetia was introduced on November 24. Special Forces officers surrounded the house, where two representatives of the terrorist gang underground were taking refuge. As a result of the battle, the militants were eliminated, but not without victims among law enforcement officers.
Blog
"Voronezh Region"
, referring to local sources, reports that during the special operation killed two officers of the special forces of the FSB of the Russian Federation - captain Denis Naletov, as well as Colonel Alexander Bogomolov. The article says that a bullet fired by one of the militants hit Captain Naletov under a protective helmet. Colonel Bogomolov, who had a reputation as an uncompromising commander, not accustomed to stand aside, was wounded in the arm and chest. The bullet that hit the colonel in the chest was fatal. The officer died on the way to the medical facility.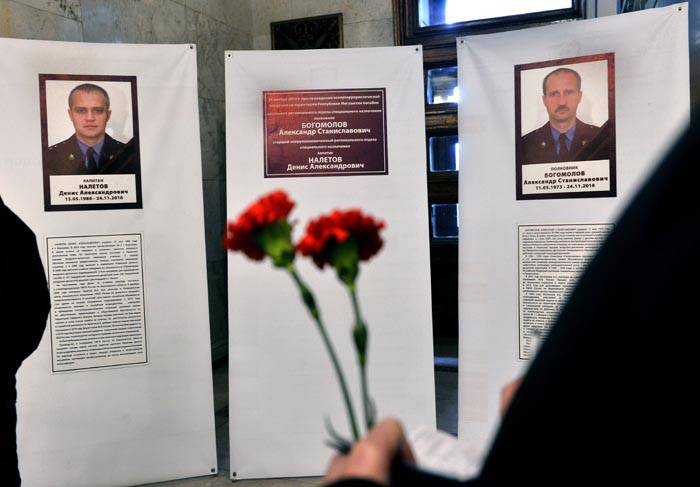 Mourning ceremonies were held in Ingushetia, as well as in Voronezh and the Moscow region city of Balashikha. Captain Denis Naletov was buried on the Walk of Fame cemetery of the Kominternovsky district of the city of Voronezh. In Balashikha they buried Colonel Bogomolov.
It is known that for officers this was not the first business trip to the North Caucasus. Prior to that, Alexander Bogomolov participated in operations in the territory of the former Yugoslavia. The track record and numerous counter-terrorist operations in the Caucasian republics.
It is known that Captain Naletov left a widow and two young children.
From the summary of the results of the operation in Ingushetia:
FSB officers confiscated two self-made explosive devices with a total capacity of about 20 kg in TNT equivalent, five TNT sticks, four Kalashnikov assault rifles, more than 1,5 thousands of different-caliber cartridges, a device for silent shooting and a flag banned in Russia's international terrorist organization. LIH.
Recall that the operation against the ISIL militants was last weekend in the territory of Dagestan. Fortunately, in its course there were no casualties among law enforcement officers.