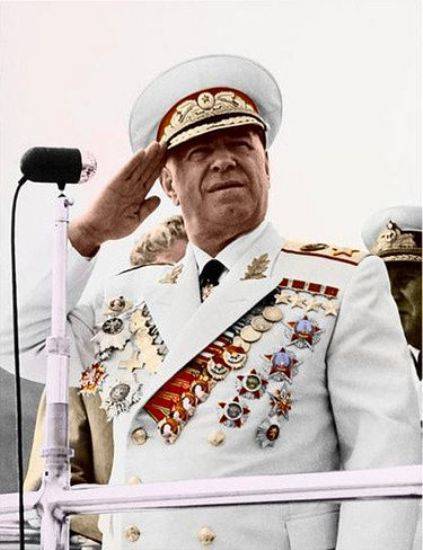 To the 120 anniversary of Marshal Pobeda Georgy Zhukov
"In recent years, my father loved to plant roses. From the Crimean state farm "Krasnoye" they wrote out different varieties, he planted them around the summer cottage in Sosnovka, where we lived, and when someone came to him, especially from the doctors, he would surely cut roses for them - nobody would let go without a bunch "- when Maria Georgievna Zhukova speaks about her father, her eyes are filled with a special light, and, peering at them, you see great love, and sometimes it seems that there are also tears.

Her birth was a special consolation, sent by the Lord to her father on the eve of a terrible ordeal. Maria Zhukova was born in June 1957 of the year, six months before Nikita Khrushchev at the October plenum of the Central Committee of the CPSU removed Marshal of Victory from the post of Minister of Defense and deprived of all posts. For Georgy Konstantinovich it was a heavy blow. Marshal was then 60 years old. In the family circle, he said that his wife, her love and the birth of her daughter helped him to stand up.

The book by Maria Georgievna "Marshal Zhukov - my father", first published in 2006 year and since then reprinted many times, was for many the answer to the question of what kind of commander actually was who led our country to Victory. After all, the marshal has a special destiny - beloved by the people, he was not only persecuted while alive, but was also slandered after death.
- Maria Georgievna, in all reference books it is written that Georgy Konstantinovich was born on December 1 of the year 1896. We will celebrate its 120 anniversary 2 December. Why?
- Because so the father himself celebrated his birthday. In my book, Marshal Zhukov - My Father, I touched on this topic. In the second half of 80, we received a call from some higher authorities - it seems from the Central Committee - and they said that now the official date of birth will be the first because, according to some astronomical calculations, the error per day is accumulated per day, and now it is necessary to fix. I do not know whose initiative it was, but it was done that way.
We also have a church calendar, and it is unshakable: Pope was born on December 2 and was baptized according to church canons, on the eighth day, which fell on December 9, when the memory of St. George the Victorious is celebrated, in honor of which he received his name. For Orthodox people, my argument will be clear, for non-believers, references to the church calendar do not say anything, but it may be that the fact that the father himself celebrated his second birthday was significant for them.
- In recent years, several television series have appeared, among the characters of which there is Marshal Zhukov. I want to ask you about them - because for many they have become a source of, if not knowledge, then impressions of stories, especially since they are periodically repeated. In the "Elimination" of your father played Vladimir Menshov, in the TV series "Zhukov" - Alexander Baluev. As far as the creators of these films tried to stick to the story?
- Not at all tried. I remember how one of the creators of the film with Baluev said: we are not obliged to adhere to historical truth, because this is a feature film. Nobody showed us the script. Shortly after the premiere, I learned that this role was initially offered to Nikolai Gubenko, but after reading the script, he refused for reasons of principle. I thanked him for that.
Of course, both of these roles are very far from the image of the father, which is in my memory. He was not at all like that. My sisters Era and Ella did not like it either.
I remember how I was upset, indignant, I read reviews on the Internet, of which there were many, the whole range, ranging from laudatory and ending with the most abusive, but what I understood was: in some unknown way, the Lord so broke everything in the minds of many people that they all I saw only good qualities, without paying attention to the distortions that I, as a daughter, noticed.
I, of course, have a heightened perception of everything connected with the name of the father, because for me he is a very high ideal.
My mother, Galina Alexandrovna, was the same - I remember how when we were already sick with my dad, we went to watch movies about the war, and she always earnestly said: "My husband is not shown very much!" - worrying that he was not paid his due. Zhukov was blackened and periodically recalled about him, but his mother was unchanged in her opinion that in the films he was presented inadequate to the contribution he made to the Victory.
- In your book, you can read amazing, heartfelt words written about Marshal Zhukov by Archimandrite Cyril (Pavlov): "The seal of the election is felt throughout his life ... God's providence chose him to be the savior of Russia in the difficult time of trials. It's not for nothing that Georgiy Konstantinovich is loved by all Russian people as his national hero. "

We also know that after the war the people are the people! - Called him Marshal of Victory. Do you remember examples showing the popular worship of Marshal Zhukov?
- I lived with my father 17 for years. On the one hand, this, of course, is very small. On the other hand, enough to see a lot. He was out of work, he did not need to go to the service, he spent more time at home working on the memories. I remember how my father communicated with people who came to him, to what kind of respect, respect and boundless love they had for his father.
In 1965, his disgrace virtually ceased, he was invited to celebrate the 20 anniversary of the Victory in the Kremlin, and, from that time until 1969, when he fell ill, his father went to the public: he lectured, gave reports on the war in universities, ministries. I remember how once we went to the exhibition, where his bust of sculptor Viktor Doumanian was presented. The father was recognized always and everywhere, although he walked in civilian clothes, though, sometimes he wore four stars of the Hero of the Soviet Union (he was the only four Heroes).
And from everywhere people began to run up to him, immediately the police came from somewhere, began to make a cordon so that they would not dare, they started pushing me away from my parents, I remember how my mother dragged my hand out of the crowd and shouted to the policeman: "This is Masha ! This is our daughter! "
I was nine years old, I was a little scared, but I think my father was all pleased. Because, no matter how hard the authorities tried to push him somewhere, there were times when he was not even called to ceremonial events on a particular date (I remember his letter to Brezhnev, in which he said bitterly that he was ostracized and they are not invited anywhere), in spite of this, the people remembered and loved him.
I remember another, a little funny incident. Every year, usually at the end of September, we went to rest in Gagra, where a beautiful white mansion on the mountain was provided to our father. Like all men on vacation, my father walked in a short-sleeved shirt, summer trousers, sandals — and still the people recognized him, always came up, spoke warm, enthusiastic words: people who were young or had personally communicated with him at the front, they either saw him from afar, or heard the words "where Zhukov is victory there" (there was such a saying from the Red Army men) and were inspired by his presence at the front.
Every morning, my father went down to the Soyuzpechat kiosk behind the newspapers — he always liked to be in the know. Sometimes fresh newspapers were brought later. Once he sat on a bench and waited, a man sat down next to him and complained: "They say that Marshal Zhukov and his family are resting here. I wanted so much to look at him, but everything is not working. " They talked for half an hour, finally, they brought up the newspapers, and, rising and looking around, that person sighed again: "Tomorrow we will have to leave - so I probably will not see Zhukov. It's a pity! "" No, no, "my father objected," You have already seen and talked! "He gasped, oh, how couldn't he recognize!
In this enthusiastic devotion and love for my father, I grew up and never once saw that the people showed malice and injustice towards him. But there was another.
In 1969, the epic novel The Blockade by Alexander Chakovsky was published. My father read all the news and especially about the war. I took a notebook with my father's notes today and, if I may, I'll read it. Here is what he writes about the "Blockade", on points:
"1. There were no minutes of meetings of the armed forces of the front, and there were no meetings themselves. What happened? Sharing opinions at lunch or at lunch.
2. Commander, Clement Yefremovich Voroshilov, and then I lived in Zhdanov's apartment in the courtyard of Smolny.
3. A.Zhdanov: At night I always went to sleep in a bomb shelter. There was no work done there, there were never maps on the walls, flags — all the more. A.A. lauded The Politburo evaluated his activity differently then.
4. Fedyuninsky during the Soviet-Finnish war was in Mongolia (Mongolia) - commanded 82 SD.
Why I remembered Chakovsky - maybe this is not such an important episode, but it shows a lot. When my father invited Chakovsky to himself and expressed his bewilderments to him - and he had fundamental remarks - Chakovsky didn't like it very much: he behaved, it seemed to me, arrogant. And when his father was no more, he wrote a large article, conveying the opposite: that it was not he who justified himself before Zhukov, but Zhukov before him.
Such unpleasant moments have always been and still will be, and it was Archimandrite Cyril (I revere him very much and are infinitely grateful that he took me in his cell several times) gave me a tuning fork attitude to such things: to love and dislike for my father. "And with respect to your father, and with respect to you," said the priest, "there will be many detractors. But those who experience love will be incomparably greater. " And when I see some attacks against my father, lies and sometimes diabolical anger, I remember the words of Father Cyril. He's gone through the whole war. His cell manager once told me: Father Cyril has two board books that he always reads. The first is the Gospel, and the second is "Memories and reflections" by Marshal Zhukov.
- I will quote once again your book. "And in the 20 complex century, the Lord Jesus Christ invisibly dwelt in the hearts of the generals." Inspiration - how important is it for commanders and state people in general? Sometimes it seems that it is quite enough, so to speak, professional qualities.
- Father's beloved saying "trust in God, but do not make it yourself" shows that the Lord helps people and enlightens them and instructs them and gives them strength, both physical and spiritual, and leads to the goal, but also man is also not an extra. The Lord sees the heart of a person, his aspiration, his desire, his efforts on the chosen path and gives his help accordingly.
I thought a lot about my father's life. Of course, much remains unknown and incomprehensible to me, and I think this is normal - there is always some secret of the person.
But look, for example, such an episode: during the battle of Moscow, when the enemy approached close, and the situation was desperate, the father did not sleep for 11 days. And, of course, the Lord gave him strength.
Now, after all, you can write and say anything: long ago those people who were with the father at the front, his associates — marshals, generals, officers, died. Many of them left their memories of Zhukov — I don't know why they aren't republished — but I remember evenings after his death, where they all spoke, and many of them spoke about intuition, about the gift of foresight, about the decision how to act in this or that case came to Zhukov as insight.
He said:
"I have always felt that I need people, that I constantly need them"
.
- Should? He said - should?
- Yes! It was his life setting.
And speaking of the relationship between the human will and the will and the help of God, we can probably say that, seeing the ability to realize their duty to others in this way, the readiness for sacrificial service and such a man's determination, the Lord Himself leads him.
I can talk about my father endlessly. I remember him and as a loving dad - the way he was at home. And he was awesome. The parental warmth that he gave me, his love and tenderness are always with me and always warm me. Sometimes I miss him very much.
Recently, I spoke with my friend about parenting. The topic was this: it happens that when children in adolescence form their addictions and tastes, parents take this strictly and intolerantly. And I began to remember how it was with my father.
When I was born, he was 60 years old - he was a wise man. At the country house in Sosnovka, where we lived, there was a huge "bandura" - a radio receiver on high legs, and on top under the lid - a turntable. In those years, the magazine "Krugozor" was published with such flexible blue plates - perhaps, remember, and on them - new items: "The Beatles", "Simon ...
- and Garfunsel ".
"My friends and I cut them out and listened." It was the seventh-eighth-ninth class. By 10-20 once twist different records. Come to father: "Dad! Come on - I really like the song, I want to lose it to you, and you listen! "I plant it next to this player and look for the Beatles, for example. "Dad, how are you?" - "Well, I liked it." Although, maybe he didn't like it very much ...
At the same time, he was quite strict: love, after all, does not exclude strictness. He vigilantly watched with whom I communicate, and cut off the evil influence.
There was one girl — my age-mate — who sometimes stayed with us at the dacha, and one day, after she left, her father told me: "Masha, you shouldn't communicate with her". "How is it, shouldn't it ?!" "Yes, after she leaves, you become different" (I started to cheat). But how I defended her then, resenting my father! And now, already knowing the further life of this girl, I understand that my father was right.
He knew what he was saying.
- It is thanks to him that you came to faith?
"Shortly before his death, he put me next to him and said:" I will soon die, but from the next world I will watch you and come to you in a difficult moment. " Many times later, I recalled this conversation, pondered over his words - it was with them that he spread the bridge for me from mortal life to eternal life.
I remember how I met hieromonk Tikhon (Shevkunov) - it happened in January 1992 in the workshop of sculptor Vyacheslav Mikhailovich Klykov. By that moment, I had already been baptized - I had been going to this for a long time and consciously - and for many years I had two questions in myself that I did not have an answer to. First, my father was burned against his will, and I heard from someone that the soul was suffering from this, and I wanted to find out if this was true.
The second question that worried me was probably more than one year - what do the above words of the father mean, that he will be watching me from the other world? How can a priest explain this? But apparently, I was dumbfounded so easily in the church to go to the priest and talk to him about it. And then there was such an opportunity - Father Tikhon came to Klykov and immediately arranged for a sincere conversation.
I asked him about the words of his father, he replied: "They say that as an Orthodox Christian he believed in the immortality of the soul, and you should pray for him." And he added that a group of officers came to the Donskoy Monastery, of which he was then, ordered a commemoration of Marshal Zhukov. "They pray for him," Father Tikhon said so meaningfully that I understood: he, too, has something to do with it.
When asked if his father's soul suffers from being burned (and he wanted to be buried in the ground, in a Christian way, but even the request of close relatives — I then called Brezhnev — was not taken into account), Father Tikhon replied that it was not true, pointing to many Christian martyrs who were also burned.
"Then, in the nineties, it was not easy for you — something they just didn't start writing about Marshal Zhukov." Why did this happen?
- Our enemies needed to destroy the self-consciousness of our people. Destroy spiritual supports, braces, if you want.
History shows that the people are not mistaken when choosing their heroes - although, of course, there may be some discrepancies in the details. When I was working on a book about Alexander Suvorov, I met with the fact that there are various legends, stories that differ in some particulars, but the most important thing is the spirit.
And the people always felt it - who deserved to remain in the people's memory in spirit, from whom it is necessary to take an example.
And we all tried to prove with this slander that, you say, you read these people, put them on a pedestal, but in vain. And everyone had to stick some terrible label. Then there was this set of myths about Zhukov, which can be counted on the fingers.
And this process has not ended and will never end, although in 90-s we were tried to convince us that Russia has no enemies, only friends are around. But the whole history shows that we have always had enemies, and according to the well-known expression of Alexander III, Russia has only two allies - this is its army and navy.
Call things by their proper names: we are faced with slander. Let's list these myths.
Myth number one - Zhukov "fought not by decreasing, but by number." "Butcher". We agreed to the fact that the soldiers allegedly called Zhukov a "hearse." Like, where Zhukov would not come to the front, - and he used to come to the front line before the attack, he personally checked everything, even crept in a crawl, was not afraid, and once almost fell under a mine, was seriously contused, - everywhere big losses. When I first read it, to put it mildly, I was very surprised.
Think about it yourself - to say that the word "hearse" was present in the vocabulary of the front-line soldiers during the war years is absolutely impossible. This is a highly specialized word. That is, it is clear that this was invented in 90-e years and thrown by some trolls.
Another accusation - Zhukov took out trophies from Germany. Recently, by chance — friends called — on TVC she saw the story about Zhukov: it said that Konev, and now it was proved, there were more losses than Zhukov — this is just to dispel the myth, that many soldiers were killed, then they still brought about the "trophies".
And although on the topic of "trophies" everything seems to have already been said, facts are given - including his explanatory note stating that the cars with furniture were going to equip state summer cottages of MGB - no, all the same: the historian Yury Zhukov sits and tells about 17 cars ... Not for himself, my father tried!
Or a story with a portrait of Vasily Yakovlev: allegedly Zhukov ordered to hang it in a prominent place in the museum of the Armed Forces. Oh my God! Zhukov didn't have been at that time before - 45-46 year, Victory, he is the head of the Soviet military administration in Germany. What did he order a portrait to portray himself beloved? Thought about who and where his portrait will hang?
Do you know where this is all from? The materials of the October plenum of the Central Committee 1957 of the year - the very one in which Khrushchev removed his father from the post of Minister of Defense. Now they are declassified, you can read - I mean that Zhukov "portrayed himself" in the portrait in the likeness of St. George. I think - how much is already possible?
Another myth is the words that he allegedly said to Eisenhower: "women still give birth." We have a translation of Eisenhower's memoirs in our library - father made a special copy - but these words are not there!
By the way, this myth was also debunked from the other side - and in fact they wrote a lot that Zhukov "sent infantry to the minefields" and spat on "great losses". And veterans were outraged and said, among other things, that human weight is not enough for an anti-tank mine to explode. This myth is born in the same place as the others.
When I first heard the phrase "women still give birth," it shocked me. After all, the father was not a cynical man! But only a cynic could tell such a thing, to whom human lives are absolutely indifferent
But I am very pleased with the historian Alexey Isaev. For many years he has been studying this topic, writing books about Zhukov. And here he, in particular, says - look at the orders!
Slanderers are counting on an audience that judges superficially and will not seek documentary evidence. But there are orders of the father, in which reality is reflected.
How did Zhukov stand above other memoirists when he wrote his memoirs? He very seriously worked with documents. Many copies of his orders were preserved in my archive; they were made for him in the Podolsk archive. I remember, for example, one of his orders - it seems, the beginning of 42 of the year - which says that an irresponsible attitude towards saving people should be burned with a hot iron. A lot of such orders can be given.
Slanderers do not cite references to their sources - because they are not.
And, thank God, there are such decent historians as Aleksei Isaev, who are capable of such as Rezun, with millions of copies issuing through his false books, to answer reasonably.
Isaev is a remarkable historian, also intuitive, as if he was acquainted with Zhukov, and this is also a gift, and a rare one.
- And what would you advise to read or see people who are confused by these myths?
- Those who do not say what they believed, but were embarrassed by them, the books by Alexei Isaev will be very useful - he perfectly dispels these myths. And to those people who want to find out how Zhukov really was, I advise you to watch the interview recorded in our country house by Konstantin Simonov in 1966 year - this record is on the Internet. Thank God, this film has been preserved.
Then Simonov wrote in the memoirs that on the eve of Zhukov went fishing - he was an avid fisherman - and twisted his leg. And in this record there are frames, as they walk along the path near our summer house - the father in a gray jacket, in his cap - and, frankly, when I look at them, I admire them. Firstly, he is in perfect physical shape for this age - after all, he was already 70 - and secondly, he was glad to see his face, always so enlightened.
And it is clear what kind of heartache he experiences when he talks about the war. He recalls the episode that occurred when he was appointed commander of the Western Front. The desperate situation was then near Moscow. And in some village, seeing a woman in the ashes — she bombed the house — he asked her for a way (he was looking for the front headquarters). The woman did not answer, but the neighbor said: do not ask her, she has such grief, her grandchildren died!
You can blame him as much as you like for being a "butcher," he did not spare the soldiers and so on. But look, with what pain he talks about this woman!
He let human pain pass through his heart. After all, only when he died, we learned that he had seven or eight heart attacks - such were the scars on the heart. And he only twice lay in the hospital with a heart attack - the rest, obviously, suffered on his feet.
- Tell us about the inscription that he made for you on his book.
"In the first edition, it was this - a thick brick in a red dust jacket, which, by the way, veterans valued most of all," he wrote to me: "In the hope that you will become a worthy patriot of our Motherland."
These are not only the words of the father - this is our whole life. And home, and school education, and education - everything was permeated with patriotism, that is, love for the motherland. Now, thank God, I see that this is returning, although for many years love for the Motherland was in every way possible denied, and the word "patriotism" in general almost became abusive.
Probably, before leaving this dedication, the father thought about the need to write particularly important words - as a kind of spiritual testament to his daughter. And of course, they mean a lot to me and mean a lot.
But the most important thing that teaches us is an example. Here in front of me was an example of a man who infinitely loved his homeland. No matter how pathetic these words may sound, but it is. He was driven by love for his people and for his homeland.
As the Gospel says:
"By their fruits you shall know them" (Matt. 7: 16)
. Its fruits and deeds will remain for centuries - this is a victory in the war. And not only that ... But this is the main thing.
In his book "Memories and Reflections" - he talked a lot about this in the last years of his life - he writes that again there may be a threat for our country, and now we see it: "
One should never forget that, as long as imperialism exists, the possibility of a new world war remains. Gunpowder, as they say, must be constantly dry.
And we are not the ones who gave all that they could in past battles, but the new young generation is the hope of the people. My word to you
young people - be always vigilant! The day of delay in the last war cost us very dearly. Now the score can go for seconds
».
And further: "...
Ex-soldiers live among you. Treat them with care. Many times I saw the soldiers rise to the attack. It is not easy to rise when the air is permeated with deadly metal. But they were rising. But many of them barely recognized the taste of life. Nineteen or twenty years is the best age for a person. All ahead. And for them, very often there was only a German dugout in front of them, spewing machine-gun fire. Of course, they also knew the joy of victory in battle, military friendship, mutual revenue on the battlefield, a sense of satisfaction from the consciousness that they fulfill the sacred mission of defending the Fatherland. The Soviet soldier then endured severe trials. And today the old wound spoke, health is naughty. The former front-line soldier will not complain to you - not that leaven of character. Be yourself helpful. Without offending pride, be sensitive and respectful - this is a very small price to pay for everything they have done for you in 41, 42, 43, 44 and 45.
».
And that's what I thought: the father calls us to be grateful.
I find it difficult to judge military operations, talk about military history. But one thing I know for sure: that we all, and I first of all, should be grateful to those who fought and won. This is the most noble feeling. It applies to all who have defended the world for us.
Anastasia Rakhlina talked with Maria Georgievna Zhukova