Turkey is currently the only NATO member that is actually preparing for war with several neighboring countries at the same time, and its main potential opponent is another member of the alliance - Greece.
Turkey retains the draft principle of manning the Armed Forces, which in terms of the number and quantity of weapons and equipment occupy the second place in NATO after the United States. At the same time, the personnel have combat experience (against the Kurds), and the Turks have much higher resistance to their own losses than any other NATO army.
The country has a powerful military-industrial complex, capable of producing military equipment of almost all classes. The weak point of the Turkish Armed Forces is a large proportion of obsolete weapons. In addition, recently, the high command has been subjected to mass repressions by the political leadership of the country, which by no means strengthened the army.
The ground forces have four field armies (PAs) and one command, as well as the 15 training infantry division.
1-I PA (headquarters in Istanbul) is responsible for the defense of the European part of the country and the Black Sea straits zone. It has three army corps (AK) - 2, 3 and 5. 2 th AK (Gelibolu) includes 4, 8, 18 th motorized infantry, 95 th armored and 5 th brigade commando, 102 th artillery regiment. 3-th AK (Istanbul) is considered part of the NATO RRF. It includes the 52 armored and 23 motorized divisions (6, 23, motorized infantry 47 regiments), 2 th armored and 66 motorized brigades. 5-th AK (Corlu): 1 and 3-I armored, 54, 55 and 65-I motorized infantry brigade, 105-th artillery and engineer regiments.
2-I PA (Malatya) covers the south-east of the country, the borders with Syria and Iraq, fighting the Kurds. It consists of three AKs: 4, 6, 7. The 4 st AK (Ankara) includes the 28 motorized infantry, the 1 and 2 th commandos (MTR), the 58 th artillery brigade, the regiment of the presidential guard. 6-th AK (Adana): 5-I armored and 39-I motorized infantry brigade, 106-th artillery regiment. 7-th AK (Diyarbakyr): 3-I infantry division, 16 and 70-I mechanized, 2 and 6-I motorized infantry, 20 and 172-I armored, 34-I border, mountain special forces, ZNUMX-I, special forces, I'MNHMX, I'MNIXX-I, 14 NNMX-I armored, 3-i artillery regiment.
3-I PA (Erzincan) is responsible for the northeast of the country, the border with Georgia and Armenia. It consists of two AKs: 8 and 9. 8-st AK (Elazig): 1, 12, 51-I motorized infantry, 4, 10, 49-I command brigade, 17-th motorized infantry and 108-th artillery regiment. 9-th AK (Erzurum): 4-I armored, 9, 14, 25 and 48-I motorized infantry brigade, 109-th artillery regiment.
4-I Aegean PA (Izmir) is focused on the south-west of the country, that is, the coast of the Aegean Sea, as well as the northern part of Cyprus (the Turkish Republic of Northern Cyprus is recognized only by Ankara). It has a transport division, 11 commando, 19 infantry, 1 and 3 infantry training, 57 artillery training brigade, 2 infantry regiment. 11-st AK is deployed in Cyprus: 28 and 39-i infantry divisions, 14-I armored brigade, artillery, 41 and 49-i special regiment.
Army Command
aviation
includes the 1st, 2nd, 3rd, 4th regiments of army aviation.
In recent years, Turkey has become the second (after Bulgaria) NATO country, which has tactical missiles in service. These are 72 American ATACMS (PU for them are MLRS MLRS) and at least 100 own J-600T, copied from Chinese B-611.
Tank
Park: 354 modern German Leopard-2A4, 397 Leopard-1 (170 A1T, 227 A3), 929 even older American M60s (168 Sabra modernized in Israel, 104 A1, 657 A3) and 1376 completely outdated , although the upgraded M48A5T1 / 2 (another approximately 665 M48A5T1 and 723 M48 of earlier modifications in storage).
Armed 772 BRM "Cobra" and 370 "Fasten" 650 BMP AIFV, more 6 thousand BTR - 1381 ACV-3000, at least 29 "Alger" to 100 "Pars" 465 "Kypri" 3064 M113 to 500 M59. All these machines are of their own production, except for the old American M113 and M59, and the M59 may have already been written off. In addition, the gendarmerie and police have 323 Russian BTR-60PB and 214 BTR-80, 25 German "Condor", 124 American V-150 and 228 "Dragoon".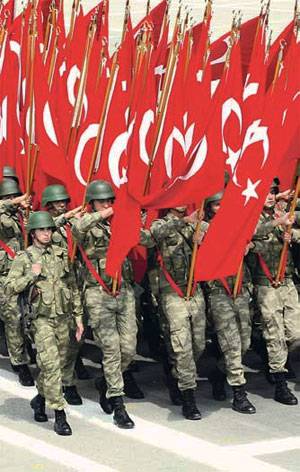 In service it has 1246 ACS - 26 M108T, 363 M52T, 222 M 44T1, 81 M55, 299 T-155, 36 M107, 219 M110A2 more 1800 towed implements - 180 M116 to 600 M101A1, 493 M114A1 / 2, to 400 "Panther", 162 M115 about 10 thousand mortars - M3500 19, 3792 M1 and M29, 1264 M30 etc. Almost all US-made artillery, except manufactured in Turkey by the South Korean license ACS T-155 howitzers and "Panther". . The composition of the rocket artillery: 15 American MLRS MLRS, 80 T-300 "Kasyrga" (newest Chinese WS-1), 24 own towed RA7040, 130 T-122 "Sakarya" (Soviet BM X-21 on the Turkish chassis, more than), more than Turkish, more than 33,000 over SX. -100 (old Chinese Tour 107).
ATGM: American Tou 390 (including self-propelled 173 M901, 48 ACV), 80 Russian Cornet and 70 Contest, 632 new Swedish Eriks, 392 old French Milan. 268 heavily outdated Soviet "Baby" and 186 German "Cobras" are in storage.
The 150 air defense systems Atylgan (8 Stingers on M113) and 88 Zipkin (4 Stingers on Lendrover), 1089 American Red Ay, 850 Stinger, and 40 Russian IZHRXs, 262 Russian Red I, 42 Stinger, and 1700 Russian Russian X-guns, 300 Russian X , 202 extremely outdated American ZSU M439 "Duster" over 01 anti-aircraft guns - more than 120 German Rh-001, 003 Swiss GAI-D803, of 40 the Swiss GDF-1 and GDF-XNUMX, XNUMX Swedish "Bofors", XNUMX T- XNUMX.
Army aircraft are armed with light aircraft, mainly American: up to 6 T-42, up to 9 "Cessna-421", 3 "Cessna-185", 1 CN-235, 6 "Beach B200". The basis of the strike power is combat helicopters: 9, the newest own T-129 (created on the basis of Italian А-129), up to 37 American АN-1 Cobra (up to 21 Р, up to 5 S, 11 W). There are also multi-purpose and transport helicopters: 3 OH-58, up to 160 "Bell-205" and UH-1H, up to 45 "Bell-206", up to 84 S-70, up to 23 AS532, 19 Mi-17. Before 38, Hughes-300 and up to 20 AB-204 are in storage. All of these cars are American, except AS532 and Mi-17, French and Russian, respectively.
Air Force include four command. All combat aircraft are part of two tactical aviation commands (TAK), transport - in the command of the Air Force headquarters, training - in the training aviation command.
1-e TAK (headquarters - Eskisehir) includes 1-th air base (Eskisehir), 3-th (Konya), 4-th (Akıncı), 6-th (Bandyrma), 9-th (Balyksesir), 15-th base Zour (Istanbul). 2-e TAK (Diyarbakyr): 5-I air base (Merzifon), 7-I (Erhach), 8-I (Diyarbakyr), 10-I tankers (Adana). Air Force Headquarters Command: 11-I transport Air Base (Etimesgut) and 12-I transport air base (Erkilet). Training AK (Izmir) includes 2-th (Chigli) and 3-th (Konya) squadron.
The basis of the combat power of the Air Force range from 240 to 246 F-16 fighter jets (183 -– 189 C, 55-57 training and combat D), most of which are produced under license in Turkey itself. Old American fighter aircraft remain in service - up to 41 F-4E and 21 F-5. There are 4 aircraft ARLO "Boeing-737", 5 aircraft DER, EW and communications (2 "Gulfstream-550", 2 CN-235, 1 C-130B), 7 KC-135R, 95, XNXX, refueling machines, 3, 400, 15, 160, 2; 560M, 2 German-French C-550, 3 "Cessna-4", 1 "Cessna-330", 48, "Gulf Stream-235", 21 European А130, 5, Spanish CN-13, XNHXXXXXUMUM, 2 European, CNNXX, CNNXX, CNNXX E, 1 N, 169 J), up to 40 training aircraft (1 South Korean KT-27T, up to 41 T-67D, 38 T-35, 260 French SF-116D), up to 22 helicopters (up to 532 French XXNXX XXNXX XXNXX XXNXX XXNXX XXNXX X94 X) -1H).
Ground-based air defense has the outdated American long-range air defense system, the Nike Hercules (92 PU), 8 batteries (48 PU), the "Advanced Hock" air defense missile system, the 86 English air defense missile system "Rapier", the 32 air defense missile "Atylgan", the 108 air defense missile system, and the XNUMX British air defense system "Rapier", the XNUMX air defense system "Atylgan", the XNUMX air defense missile system, the XMNUMX air defense missile system, the Rapira air defense system, the XNUMX air defense system Atylgan, the XNUMX air defense missile system, and the XNUMX air defense system.
On the VVB "Incirlik" are stored 70 nuclear bombs B-61 (50 - for the US Air Force, 20 - for the Turkish Air Force).
The Navy has 14 German submarines: the newest 8 / 209 Preveza project (1400 T4, 1 T4), 2 relative to the new Atylay project.
The basis of the surface
fleet
22 frigates: 8 of Gaziantep type (American Oliver Perry), 4 of Yavuz (German MEKO2000TN) and Barbaros (MEKO2000TN-II), 6 Burak (French D'Estien D'Or) ) In addition, 5 American Knox frigates are withdrawn from the Navy and are in the sludge.
There are 18 newest corvettes of their own construction: 2 type "Hell", 16 "Tuzla" (the latter are sometimes classified as patrol boats).
All German-built or local rocket boats, but according to German projects, are 9 of the type Kilich, 10 FPB57 (2 Yildyz, 4 Ruzgar and 4 Dogan, slightly different in equipment), 4 of the old Kartal ( another 4 withdrawn from the Navy). There are 17 patrol boats: 6 AB-25, 4 PGM71, 6 Karamürsel and 1 Trabzon, and also up to 80 small patrol boats on the coast guard.
As part of the Navy 25 minesweepers: 6 type "Aydin" (German project 332), 5 "Engin" (French "Circe"), on 5 "Sadie" and "Silifke" (American "Adjutant"), 4 "Foca" (American same "Cape").
Landing forces include the Ertugrul (American Terrebon Perish), 2 own Sardujabei and Osman Gazi, 25 MDK (17 EDIC, 8 "Yeni"), 63 landing craft.
In the naval aviation 9 Spanish base patrol CN-235M, up to 9 transport aircraft (up to 7 TV-20, 2 ATR-72), 23 anti-submarine S-70B, up to 29 multi-purpose and transport helicopters (up to 12 "Bell-212" 14 "Bell-412ER", to 3 "Bell-206").
The Marines include the 1 Brigade, as well as special forces: the 9 squadron SAT (combat swimmers, saboteurs), the 5 squadron SAS (anti-sabotage combat swimmers).
Turkey remains the strongest and most dangerous adversary of Armenia, our ally in the CSTO. Ankara is not just actively seeking the overthrow of the Syrian President Assad, but is (along with Qatar) one of the main creators and sponsors of the IG banned in Russia. Actively supports the Majlis of the Crimean Tatars, which occupies a radically anti-Russian position. In general, President Erdogan does not hide his desire to restore the Ottoman Empire at least in a reduced form. In this regard, the Kremlin's attempts to "tie up Ankara with a pipe," that is, with economic (especially energy) interests, are obviously untenable. Geopolitics was, is and will be more important, and here our interests are opposed. Therefore, Turkey is one of the main potential opponents of Russia (which was confirmed a year ago), and the opportunity to change the situation is not visible.
True, the personality traits of Erdogan are such that lately he has managed to quarrel with virtually the whole world. This led to his microcapitulation in front of Russia this summer. As a result, Ankara ceased to demand the immediate overthrow of Assad and began to imitate the fight against IS. The main victim of this process, however, became the Syrian Kurds. They made a common mistake - they too believed Washington and this summer, for the first time in the entire period of the civil war, they began to fight, albeit on a limited scale, against the Syrian army. The retribution followed instantly - Moscow and Damascus ceased to object to Turkey's attacks on the Kurds. And Washington, of course, did not help them with anything. Under current conditions, friendship with him is suicidal, the Kurds have become just another confirmation of this fact ("With respect to the partisans").
All this, however, does not negate the fact that Ankara is an enemy to us, and not an ally, and not even a fellow traveler. The next blow in the back she will inflict on us at the first opportunity. Moreover, microcapitulation in front of Moscow became Erdogan's strongest incentive for revenge. However, if the new US President Trump really decides to fight Islamic radicals, and not Assad, this will lead to a radical change in the situation in the Middle East. Ankara is unlikely to bring joy.