After the news that the authorities of the Donetsk People's Republic approved the request of Ivan Okhlobystin for obtaining the citizenship of the DPR, the Ukrainian special services decided to demonstrate their vigorous activity. The press service of the Security Service of Ukraine reports that a criminal case has been initiated against Ivan Okhlobystin under the article (attention!) "Creating a terrorist group or a terrorist organization".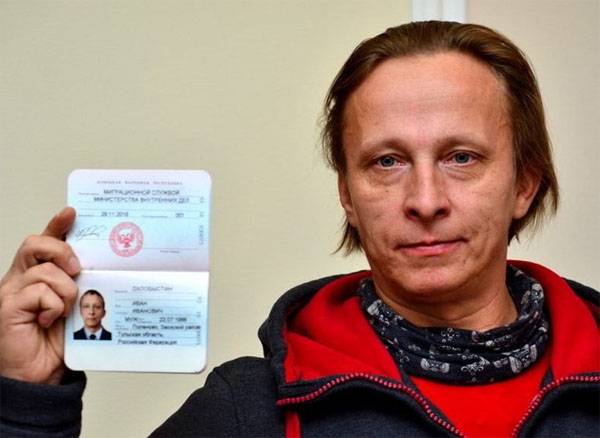 A spokesperson for the Security Service of Ukraine, Elena Gitlyanskaya, reported on the initiation of criminal proceedings against the Russian actor (translation,
copyright material
given unchanged):
The cultural exchange between the Russian Federation and the ORDLO terrorists (Separate areas of the Donetsk and Lugansk regions, - "VO") is reaching a new level. The Russian film industry "presented" the so-called. "DNR" famous actor and little-known in the past "father" of the Moscow Patriarchate Vanya Okhlobystin. The newly-minted "citizen of the DPR", having received a passport from the hands of a no less outstanding figure - the head of the "young republic" Alexander Zakharchenko, was noticeably moved and called the DPR "a stronghold and outpost of the Russian world." Comrade Okhlobystin also promised propaganda assistance to the militants through the implementation of relevant film projects. Look forward to.

According to the secret service, Ivan quoted himself saying: "Tell me please, but you never thought about such a common phrase:" meaningless and merciless Russian revolt. "But this is the Russian man he doesn't want to change anything, he will start, leave and go home This is the basis of all Russian statehood. " I hope that many Russian personnel soldiers and mercenaries will regard this as a "guide to action."

Jokes with jokes, but after Okhlobystin's public support for the ideas of the "Russian world", the joyful greeting of the "Russian spring" in Ukraine, as well as statements in support of the activities of the "DPR" terrorist structure, aggression against Ukraine by the Russian Federation and the annexation of the Autonomous Republic of Crimea criminal proceedings were opened into the fact of Okhlobystin II of the crime under Part 1 Art. 258-3 (creation of a terrorist group or a terrorist organization) of the Criminal Code of Ukraine.
When, according to the SBU version, Okhlobystin managed to "create a terrorist organization," the SBU does not report. Really, according to the SBU, we are talking about the "Interns" ...