Western edition
Financial Times
referring to representatives of the so-called Syrian opposition, writes that Russia allegedly maintains contacts with representatives of the "opposition forces" of Syria without participating in the negotiations of the American side. The newspaper reports that the negotiations are conducted through the mediation of Turkish representatives.
From the publication:
Russian and Turkish representatives are now having a conversation without the United States. Representatives of the United States are not included in the course of negotiations held in Ankara.
The same edition reports on its pages that the American side is not even informed about the conduct of such negotiations.
The newspaper notes that this is not the first meeting of the Russian representatives with the "Syrian opposition", however, it is added that this time in Ankara, the "opposition forces" in the negotiation process are represented quite widely. The authors of the material believe that in this way Russia and Turkey are trying to find a compromise solution on the Syrian issue. And this problem is aggravated by Erdogan's yesterday's statements.
Recall, the Turkish president announced that Turkish troops had entered Syria in order to "put an end to Assad's tyranny." The Kremlin asked Erdogan to clarify such harsh statements.
In the Financial Times published and the statement of the so-called head of self-government Aleppo Ali Sheikh Omar. Omar said that a "negotiating group" had been established in the "opposition" controlled areas of Aleppo, which was ready to directly discuss the "cessation of hostilities" with the Russian military. At the same time, there is no data in the material as to why Omar's wards (and others like him) have not yet stopped fighting.
weapon
.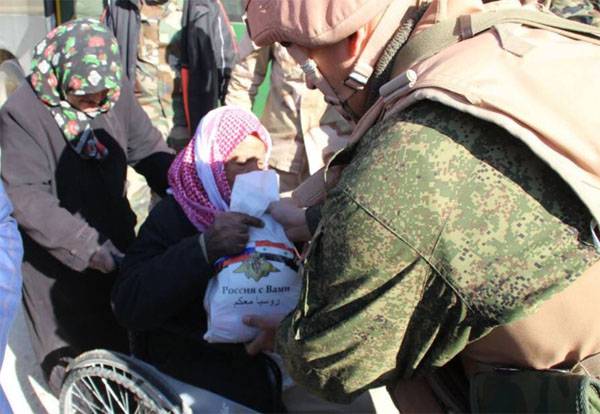 Meanwhile, the Russian military coordinating center for reconciliation of the parties continue to be engaged in the distribution of humanitarian assistance to needy residents of Aleppo in the neighborhoods freed from the militants. The UN does not provide any assistance to the people of Aleppo.