Today (on the basis of documents published by the Ukrainian side), the Ukrainian servicemen intend to begin conducting missile firing in the area of ​​the Crimea peninsula. From the documents, it became clear that Ukrainian missiles could enter the distance to 12 km in Russian airspace. In this regard, Russia informed ICAO about the emergence of new areas dangerous for civilian air traffic, and also sent a note to Kiev in connection with the inadmissibility of missile firing involving the airspace of the Russian Federation.
The Network has materials on the urgent strengthening of the air defense group of the Russian Federation on the territory of the Crimean peninsula. So, on the information
portal
the city of Kerch appeared materials on the transfer of additional anti-aircraft missile systems. Representatives of the Kerch Internet portal publish a video that captures a column of military equipment. As part of the column, on platforms, the C-300B4 air defense system is being transferred. According to some reports, the military equipment arrived in the Crimea from the Krasnodar Korenovsk - from the 77 th system (a separate anti-aircraft missile brigade of the Southern Military District).
Against this background, the Ukrainian media publish a letter received from the Ministry of Defense of the Russian Federation (there is no evidence from official sources about this content). Going into hysterics, "but we are for something," the Ukrainian side declared that Russia was "threatening Ukraine."
From published
"UE"
letters:
The Ministry of Defense of the Russian Federation warns that if they detect launching missiles in the specified area, they will be destroyed by air defense forces of the Armed Forces of the Russian Federation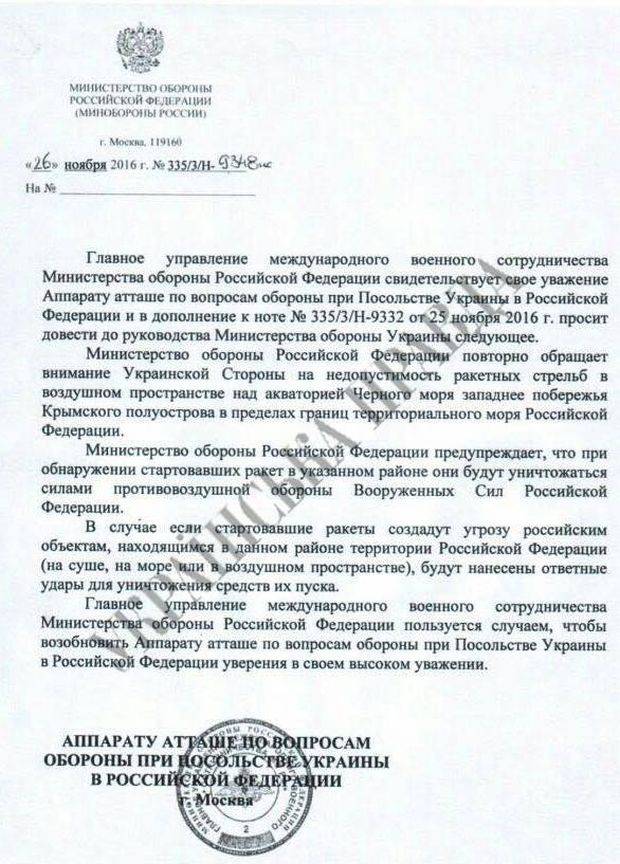 So that no one threatens and does not express anger, there is no need to go to outright provocations - conduct missile firing, for example, over the building of the Verkhovna Rada ...