In response to the conflicts occurring in the Mediterranean and the buildup of the presence of the Russian Navy there, Italy will spend about € 5,4 billion in the coming years to develop its naval forces, according to
News
.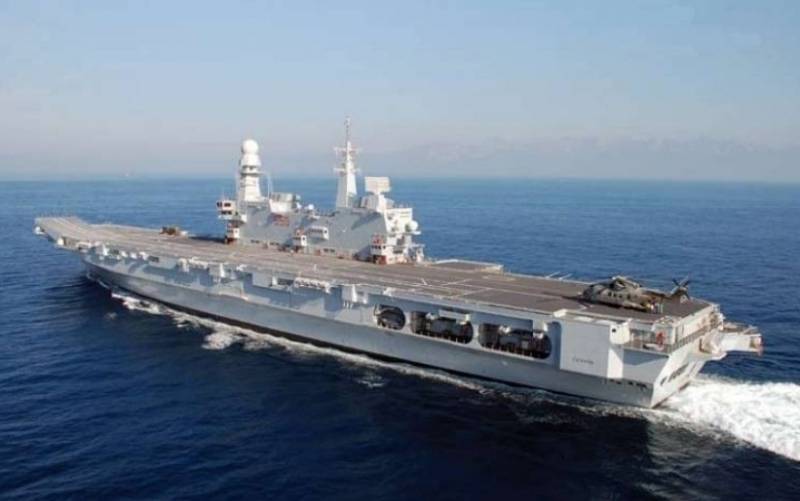 The aircraft carrier "Cavour" - the flagship of the Italian Navy
The Italian fleet will be replenished with another aircraft carrier, as well as the latest modular frigates.
"As a result of the implementation of an ambitious shipbuilding program, designed for a period up to 2026, the Navy of the republic will receive dozens of new military units that can compete with
fleets
European giants like Great Britain and France. Among the tasks of the renewed Italian fleet will be actions in areas of humanitarian disasters, the fight against terrorism and the containment of the growing Russian naval presence in the region, "the newspaper writes with reference to the report of the Italian analytical center L'Osservatorio.
According to Italian media, "the grand build-up of naval power is partly the result of frauds by the fleet command, and personally Admiral Giuseppe De Georges, who motivated costly rearmament, including the rapid aggravation of the situation in the Mediterranean Sea."
An admiral who was recently under investigation for a suspiciously luxurious lifestyle is also suspected of misleading the Italian parliament.
It is reported that he "managed to lobby for the construction of a whole fleet, supposedly intended for humanitarian operations, as part of a" humanitarian aircraft carrier "- a universal landing craft (up to 190 m long and displacement 20 thousand tons) and 10 patrol ships (132 m and 4500 t) ". However, after the signing of contracts, the admiral began to make changes to the technical design of the ships, taking advantage of the fact that the transaction has already been concluded, and it is not necessary to coordinate innovations.
Thus, the landing ship became a light aircraft carrier with the latest F-35B fighter jets, which will be larger and more powerful than the current flagship of the Conte Cavour aircraft carrier fleet, and the patrol ships turned out to be practically frigates (already 143 and 6200 and displacement) capable of modular design carry guided anti-ship missiles and a full-fledged air defense system, "the article says.
Russian military expert Mikhail Barabanov noted that the current rearmament program of the Italian Navy is in fact the largest in the EU, if you do not take into account the UK, which is planning to build two full-fledged aircraft carriers. "
According to him, "Italy seeks to play a central role in the efforts of NATO and the EU in the Mediterranean, which should enhance the prestige and importance of the country in these structures."