Photos from Kiev appear on social networks showing "feeders" for immigrants from Donbass and Crimea. In appearance - this is really a real feeding trough, which is larger than the feeding trough for birds. And this "miracle of Ukrainian thought" is intended for products that everyone can leave to refugees.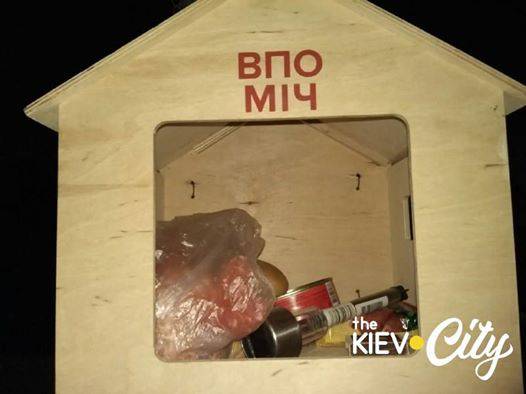 One of the materials describing the situation appeared on the Facebook page of Evgeny Rudenko's Facebook user. Eugene comes from the Donetsk region. Not so long ago, decided to move to Kiev. He's writing:
In the photo - the feeding trough "VPOMiich", intended for internal migrants from Donbass and Crimea. You heard right: it was the feeder. They are installed on the tram stops in Kiev by creative and socially responsible citizens. In the trough, you can leave food for those who did not work out with genetics. The capital press writes about the creative work of local artists: "Together with the guests and participants of the action, the organizers argued: can everyone accept and understand this call to draw people's attention to each other not through pathos slogans and statements, but through the most natural and strong human need? They said that "VPOmich" is not so much an exchange of food as an exchange of positive emotions (energy), and the tree from which the "houses" are made is more suitable for the realization of this idea, since this is the very first, and a close man stuff. "
The Ukrainian edition Inpress writes that the organizers of this action staged a different performance. "Creative" activists rented a Kiev tram following the route No. XXUMX and discussed with passengers the questions "the place of immigrants in the life of Kiev".
From the material:
In the tram there were performances and discussions. The tram moved to Obolon, symbolizing the movement of people. The spectators of performances and participants in the discussion were both ordinary tram passengers and invited guests. On the way, the place that the settlers occupy in the life of Kiev, the influence on the people of Kiev and the attitude of the residents of the capital to internally displaced persons was discussed. They also discussed the impact of such a new concept for Ukraine, like resettlement, on art.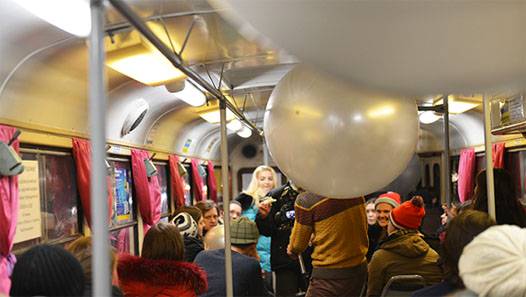 In the comments, one of the residents of Donbass (the city of Makeyevka) wrote that they who organized the rally once again showed that they did not consider people from Donetsk and Luhansk to be their feeders. From the comment:
They would give you some of the garbage cans ...
Another Facebook user (migrant from Gorlovka to Chernigov) writes:
Why be offended, then? The real attitude of the state is. To complete the installation under the tree you need a couple of traps and stretching to put.