The Syrian Coordination Center in Syria reports that Syrian government forces are making significant progress in eastern Aleppo. A newsletter issued by representatives of the focal point states that in the course of the operation to free the militants from the El-Qadisiy region of 42, militants laid down
weapon
and refused further resistance. It is noted that in relation to all the militants who refuse to armed confrontation of the Syrian army, there is an amnesty regime.
From the message of the center for reconciliation of the warring parties:
During 27 on November, CAP government troops freed eight neighborhoods in eastern Aleppo from terrorists. More than 2,5 thousand civilians were evacuated from the liberated quarters, of which more than 800 children. This includes 500 people leaving the El-Qadisiyah area, and about 1,5 thousand people from the Jabal-Bidaru and High es-Sakur districts.

Under the guise of civilians, the blocked areas attempted to leave several militants who were detained on the spot. In order to avoid civilian casualties, negotiations are being held in a number of districts of the city about voluntary surrender of weapons by militants.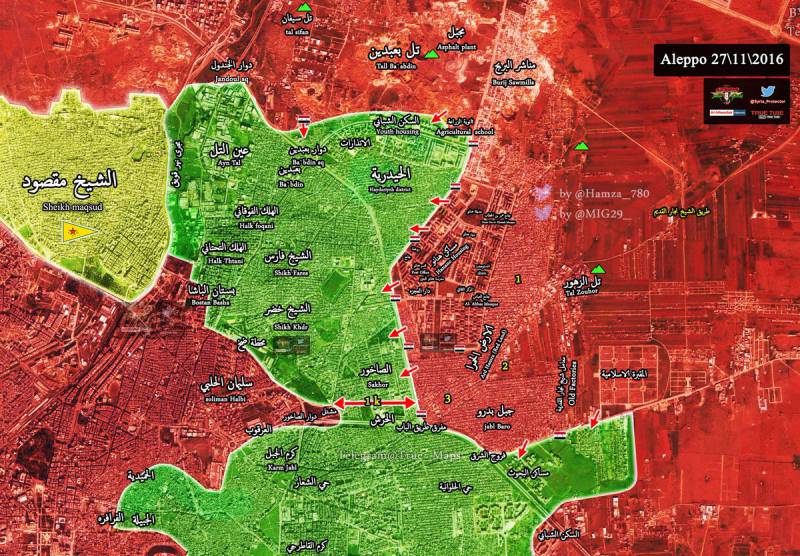 Reportedly and that continues to increase the number of settlements in Syria, the elders who sign agreements on reconciliation. In particular, on the eve of the agreement were signed with representatives of 4-x settlements in the provinces of Latakia, Ham and Suwayda. Thus, the number of cities and towns that joined the reconciliation process was about 1 thousands.