Russia is very often criticized for allegedly low levels of trust, unlike open and benevolent Europe / USA. Here they have, they say, not what is here. People are accustomed to trust each other. Trusting the authorities (which they themselves elect), trusting the police ... This, they say, is the difference, and this is precisely the advantage of a "free society" compared to dictatorial regimes. Something like this.
And besides, in the very "radiant world of freedom" there is a very extensive and developed legal system. And supposedly every citizen these same rights are guaranteed. The system is as follows. Clear, logical, understandable and fair. At the same time, at the beginning of 90, we were penalized that there were more lawyers in New York than in all of Russia. How to build a legal society without lawyers?
As for the level of trust, for some reason, the cardboard doors of Soviet childhood and the key "under the rug" are remembered (option - in the switchboard). That was, that was. And they explained to citizens that they could not do this, but they did it all the same way. It was interesting then that the American "movie" looked like: with fights, chases, burglar alarms in private houses and gangs of motorized criminals. As we then envied the Americans, who have a personal lawyer, a personal car, and a personal
weapon
...
And the police officer is obliged to warn him when he is arrested that everything he said can be used against him ... Lepot.
Then the iron curtain collapsed, then (not immediately) life in Russia settled down, and we learned a lot of new "about America". That a weapon is really necessary (but not always save) from armed robbers, that costly security alarms to a house are not a whim, but the reality of "one-story America". That justice is for someone who can pay for the services of a lawyer, is fundamentally different from the one who is not able to pay for these services. We learned a lot of things.
In fact, the "legal system" that we have been told about for so long really has a place to be. But not for everyone. If a person lives in the "good" quarter (respectively, has a good income), then yes, of course.
Here, you see, what the trick is: we all love to associate ourselves with something good, and it seems to us that we would earn good money in America and would not have problems paying for the services of a "good lawyer". How else? No, in Russia we are a good lawyer
while
they did not earn, but in America ... We would all be under two meters tall with a white-toothed Hollywood smile and earn a hundred thousand dollars a year.
Speaking seriously, yes, in the US there is a legal system that is much better than the one that was in the USSR. But this system is not for everyone, but only for those who can pay for the services of a "good lawyer." As one Russian émigré wrote: I earn ten dollars an hour, the services of a lawyer a hundred dollars an hour (if not two hundred), and where is the "rule of law"?
And "at one o'clock" does not mean that you pay specifically for the work of a lawyer in the courtroom. No, you can wait for your turn at the court hour, another, third. And all this time is paid, which is logical. The question is how much money you have. And will they be enough for the whole legal process? Poor Soviet, and then Russian citizens, like a mantra, repeated the phrase: "In a normal country, if
hire
good lawyer ... "
Great, just great! Key phrase: "Hire". And everyone likes this phrase. And for lawyers who are planning to drastically increase their incomes: an interesting interview met, they say, in England only children of wealthy parents can get a law degree, which, as it were, lays a high cost of legal services, and we, they say, have divorced these lawyers: the price is knocked down, providing non-kosher services. And in London 1500 ceiling euro per hour, and in Moscow
only
500 ... It's a shame, you know ...
But also our valiant citizens, who live from paycheck to paycheck and who are ready to take a pitchfork in their hands, in the event of an increase in prices for housing and public utilities, and so they, from some incomprehensible income, are willing to pay for "services
good
a lawyer ... "No, it all sounds just wonderful, on both sides: both by professional lawyers who are ready to defend the interests of clients in court, and by their potential victims, that is, excuse me, clients ... everything is fine until it reaches to "live money".
Well, here you are a simple Russian, you were "taken to the police" for nothing, with your salary card in your pocket, which you seized along with other personal things. Well, since you no longer go to work, the employer stopped you on that same card (lying in the depths of the police safe) to transfer the salary. Forgive me, of which Shishi pay "services
good
a lawyer? I just ask, without a trick.
We must proceed not from the cinema-Hollywood reality, but from the harsh reality surrounding us. Right here and now, and not in a hundred years, when you will be all so rich, famous and beautiful (like Nagiyev), are you ready now to pay for the services of a good lawyer? Then why
you
talk about a kind of "legal society"? There is it, this society, for those who have extra ten thousand greens and above. Only to you from this what use? Do you personally?
In British practice, when they talk about incredible human rights, a randomly selected subject suddenly turns out to be a gentleman and business person from the City. And yes, he turns out to be just a damn lot of rights. Just an incredible amount of them. Like dogs uncut ... most right. In Britain, society was, is and will be class. And in the English Lord already in the 16 century, rights were nemeryannom. But as we understand, this is not an indicator of democracy, since the Irish tenant (who plowed up the seventh sweat on the same lord on the land stolen from him by the lord) had significantly less rights.
And he didn't need any "jurisprudence": he decided everything ... landlord! Or a judge ... appointed by a landlord. And yes, the British bobby was very polite and correct. Is always. With gentlemen, of course. British literature and cinema reflect the vision of the world, of course, a gentleman, not a man of the people. Therefore, a kind of sweet illusion.
But life was far from being so beautiful. There was a gigantic gulf between the legal status of the farm laborer / worker and the noble man. Just do not like to talk about it. So the position of 70 percent of British before the First World War was not very different from the position of the "tax-paying population" of the Russian Empire. Even in something Russian, it was easier: for Russia, the most characteristic feature was "pofigism," but any British landlord squeezed everything from his "free" tenants to the last penny. And just try not to pay ... Such a "legal field" will show where Makar did not drive the calves.
The same (but in a different scenario) applies to the United States, created by immigrants from the very same England. As already mentioned, law and lawyers in the United States are business. The most such "indigenous" and solid business. And the American "loers" can literally
all
if you can afford it, of course.
It's about like with sweet
history
about "two cars in every American family": both parents are forced to work, and public transport is not very common. Here are two cars drew ... The problem is that there is no alternative in the form of a "three-tram tram".
So, with the "rule of law", where, on average, every American once a year is suing someone, the same cholera. it
not
voluntary choice. This is a very special (artificially created) necessity. And it is quite expensive. But without it, nowhere: condemn.
So a very, very significant part of Americans lives
out
framework of the rule of law. Simply, many of us did not know about it, but if jurisprudence is a business, that is, an activity aimed at making profit, then not everyone can afford its services. Like medicine in the United States. This is where the main dog rummaged: the rule of law is the alpha and omega of Western / American propaganda. And the American state, of course, is positioned as a legal one.
The deception here is this: the Americans themselves understand everything, they quite normally perceive the fact of limited access to legal protection.
But
most other countries are much more "socialist". That is, many are missing this interesting moment of exclusive justice (only for the rich). For some reason, everybody automatically begins to associate themselves with the successful character of the Hollywood "movie", who has a house, a family, two cars and a familiar lawyer.
And for some reason they all think that they live like this
all
Americans and the police greet them politely. I guess, yes. If you live in a rich suburb, then all this is so (they get paid from
your
taxes). But not everyone lives there, unfortunately. If you are poor in Russia, then this is bad. But if you are poor in America ... it's a disaster. That is, towards you, not only is the attitude of those around you changing (you sneezed on them twice
а
), but the attitude of the police ...
And now you don't sneeze on the police ... A normal classical scheme of a class society (class, first of all, according to the availability of money), where poor means
enemy
of society. And the poor are simply pressed for the fact that they are poor ... No, not homeless, not vagrants, not alcoholics ... just poor people from a dysfunctional quarter (work for them
Yes
, but renting another property is not affordable for them).
That is, on the one hand, they are actively "pressed" by local crime - on bezrybe and cancer fish. On the other hand, the police. How "unreliable" presses.
It remains to understand - where is the "legal society"? For many pro-Western Russians, the events in Ferguson (and not only) came as a surprise. American Paradise crashed. For millions of educated Russians, the United States is a model, a standard. You get used to living with it and suddenly ... Ferguson. And not just Ferguson. As it turned out later, killing blacks by police in America is the prose of life. Many of us in principle cannot understand what is happening there, for one simple reason: there were no slums in the USSR.
In the USSR, there was no social inequality. It is the absence of this "valuable experience" that mixes all the cards with us. In a decent neighborhood / suburb, a citizen pays the police from his own pocket and the police are polite to him. We love to write and talk about it, and this is true. But this is not the whole truth. A lot of honest, but low-income Americans have a completely different kind of relationship with the police. And by no means within the framework of: "To protect and serve".
If in Britain, in order for Bobby to be ridiculous, you had to be a gentleman, in the US, the "polite cop" service is paid. The very Negro who sold cigarettes by the piece, which the police strangled, apparently did not live in a decent quarter and could not afford a good lawyer. Because he was strangled. And the thing is yes, they brought on his friend, who uploaded this video to the Internet.
That is, all this is, all this is present on a huge scale, we just did not talk about it. For the time being. And then suddenly everyone was amazed. "So how is it, the same legal society! Shame on the jungle! "And how they liked to tell us that in America even children completely trust the policemen and ask them for a way ... And how they liked to emphasize that the activities of a police officer in the USA are strictly subject to the law ...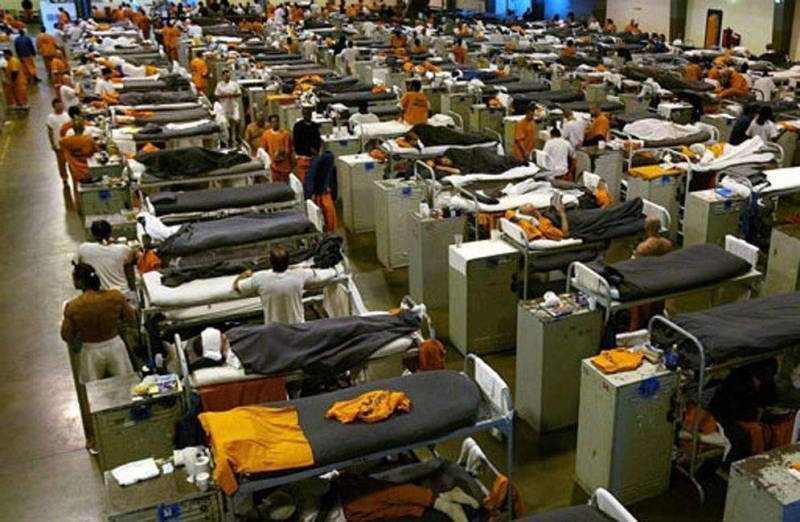 Around this: a professional American lawyer, an honest American police officer and an impartial American court - a whole mythology has developed in Russia. And then suddenly everything collapsed. Business, corruption and lawlessness, nothing personal.
The very negros in Ferguson are for the most part "rogue" sitting on a dole. And they have civil rights, but only in theory. Listen, what's the use of numerous and well-developed laws, if a policeman can simply shoot you like a dog on the street? You do not see this bitter irony in this? American law is very, very complicated and confusing to the limit (in order to be understood only "Loyer" and only in its own field).
But
You can easily be shot on the street without a trial (thereby saving pocket money for a lawsuit).
Those same policemen came to the service in Ferguson from other towns. They are not local, they did not live there. Their children did not go to the same school as the children of those "whose peace they protected". They never crossed locals at the same bar. They went to different shops. And that powerful legal protection that we love to talk about when talking about America, it certainly existed, but not for those same blacks.
It then fell upon us the shaft of information that blacks (African Americans!) Are regularly killed by the police. And, the funny thing is, the police for it is nothing. Well, why do we need all these "constitutional amendments" of yours and why do we need the term "African American" to make it funnier? After all, you can simply not live to the courtroom. Agree, but in the "totalitarian Russia" the murder of a suspect during the arrest is always a scandal and disassembly of the "third level". For this, no one will stroke the head, and no one will like it.
Moreover, the citizens of the "not free country of Russia" do not see anything wrong in that
и
given to the police. No one even thinks of a "weapon use case". Just the head does not fit. Scandals with the police ... fights with the police ... fights with the police ...
That is why I read recommendations in the liberal gazetzion to citizens of "totalitarian Russia" who are leaving for "free America". So, they start with the fact that the requirements of the police in the United States must be met
immediately and without question
. Exactly: delay and discussions are categorically unacceptable. Always keep your hands visible and do not make any sudden movements. Do not argue and do not argue. Do not try to get anything out of your pockets.
In case you were stopped on the highway: turn to the side of the road, turn off the engine and put your hands on the steering wheel. Get out of the car without asking the police is not worth it. Do not try
nothing
get out of nowhere. The author of the article describes how he slowed down near the police car, went out and resolutely moved in the direction of the law enforcement officers. And was
immediately
taken on the fly. And he just wanted to ask for directions ... And he wasn't even an "African American."
He was our man, he did not know then,
as
communicate with the American cops, and that is why the liberal newspaper makes it clear to its readers that the American policeman is a source of threat and should be treated with the utmost care. And these recommendations are given to the Russian tourist, that is, to a person whom the regime has spread rot all his life. And which should come to a quiet horror from one type of police cap, however ... however, the level of "totalitarian intimidation" of the former Soviet and now Russian citizens is such that they have to be specifically warned about the danger of contact with
American
by the police.
Dangers
any
contact. How we liked to talk about the "fascist state" in Russia / USSR. How to set an example of "normal states", where a policeman is not an enemy, but a friend, not a bribe taker, but a guardian of order. And then suddenly it turns out that all this "virtual happiness" was an artistic whistle. And we thought it was
we
we hate the police ... Naive. Agree, the love of law enforcement in Russia is not widespread.
It seemed that someone who a citizen
this
the country has prepared its whole life to be afraid of people in shape ... but come and see you. He is absolutely not ready for American realities. By the way, many of us have seen in the cinema such a version of justice as a deal with the investigation. Caught "on the hot" drug dealer admits his guilt and rents his accomplices, and they guarantee for him (they guarantee it) serious mitigation of punishment (even before the judge got into the judicial chair!). In reality (according to reports of our emigrants) everything is not so great: you are not shown any real evidence of your guilt. Nothing.
You
at once
offer a "deal" - just like that, without intro. Or you "admit guilt" (and there was no evidence, there wasn't any, unless it was a denunciation of a paid informant) and you have a full time for what you didn't commit. Or ... you "refuse to cooperate" and get just a fabulous time. According to the full program. And ... those who "mischievous" and "litigate", as a rule, receive it "in full". The system is one.
And crime must be fought. And the accused are just to hell (America is the first power in the world in terms of the number of convicts), and the investigators and judges have no time to speak with you. No, if you have magic dollars and a good lawyer you can afford ... then in most cases the situation
abruptly
changing in your favor. And if you can afford to hire
some
good ablokats, then you just play in god mode.
One famous black athlete (Simpson) in such a situation simply remained at liberty after the murder. He could hire
some
lawyers. And it's not just their "knowledge of the laws." If you pay good lawyers well, you pay lawyer mafia. And they
will
otmazyvat you, otherwise who them
then
will pay? Fine, but what does this have to do with
to justice
?
For most Americans, it is absolutely clear that justice for decent people is fundamentally different from justice for rogue women. Nothing to do at all. But we were told in Russia. They told some beautiful fables. They showed some beautiful films ... In fact, it turned out that Hollywood talks about the US legal system as truthfully as the film "Kuban Cossacks" about the fate of the Kuban Cossacks ...
In fact, there is a certain big country with a high level of crime, there is police lawlessness, judicial refusal, numerous overcrowded prisons and an "honest" lawyer business around it all. And, sorry, you are us
there
Was the name so insistent in the South Bronx?