The US Defense Development Agency announced its intention at the beginning of 2018 g to conduct a "tailsitter" test - a vertical take-off unmanned aircraft with a tail landing, reports
MIC
with reference to Defense Aerospace.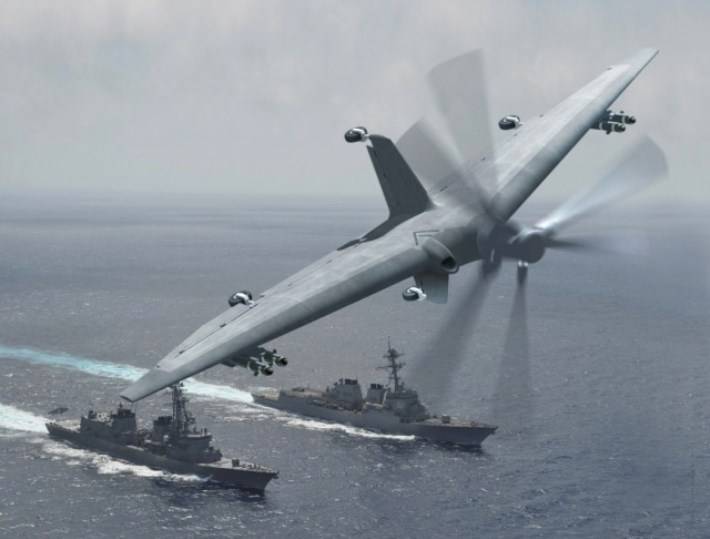 The first tests are planned to be carried out on land, then (by the end of 2018) the device will be tested on the deck of the ship at sea.
"The development of a new Tailsitter has been conducted by the American company Northrop Grumman since the end of last year. The military needs such an aircraft that could take off and land on the landing sites of the Arly Burk-type destroyers and warships of the coastal zone of the LCS project, "the resource writes.
It is noted that the need for "tailsitters" arose due to the inefficiency of the use of helicopters for long-distance destroyer campaigns. Due to the relatively small radius of flight, helicopters can not always reach the bases on land. In addition, they cannot develop aircraft speeds.
"For this reason, the Agency for Advanced Defense Development has ordered the creation of a new aircraft. Northrop Grumman decided to use the "tailsitter" scheme, since it allows you to create a fairly compact aircraft that could use standard helicopter landing sites for takeoff and landing, "the publication said.
Northrop Grumman is currently engaged in the assembly of two devices. "All the structural components for assembling the glider of the first vehicle are ready. The final build is scheduled for the first quarter of 2017. Then one of the existing General Electric turboprop engines will be installed on the device, "the author writes.
According to him, "the aircraft will be made according to the" flying wing "scheme with two coaxially located propellers in the nose, screws with a diameter of about three meters will rotate in opposite directions." Takeoff and landing will be performed vertically on the tail, while the flight will take place in horizontal mode.
The length of the device is about 12 m. It is declared about its ability to transport cargo weighing 226 kg over a distance of 1,1 thousand km. The possibility of installing suspension points for armament on a drone is also being considered.