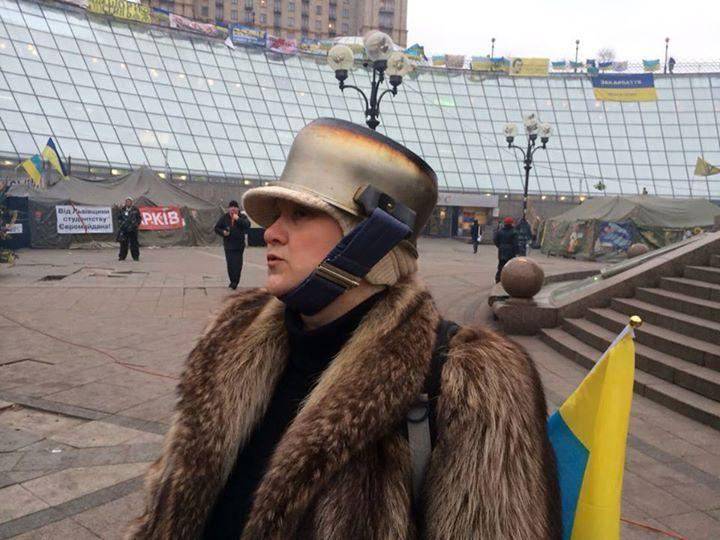 Exactly three years ago, the so-called Euromaidan began in Kiev, which not only completely changed Ukraine, but also greatly influenced the situation in the world. As a result of this event, the confrontation between the West and Russia sharply escalated. It would be naive to believe that only the "poor students" who came to the square could do this, the very ones who "onizhedeti" are "innocent victims of the regime" (as the Ukrainian authorities are trying to present today). Especially because
This Maidan was not the first link in the chain of "color revolutions"
, after which there were always disastrous consequences.
Practice shows that at the present time
Velvet revolutions do not flare up by themselves
. For many days of standing on squares, resources are needed that the masses themselves do not have. Under normal conditions, people need to go to work, something to feed their families. And without backstage arrangements of the organizers of the Maidan with people associated with the government, such an action will sooner or later be dispersed by the authorities. Unless in this way, the people themselves can shift the very rotten, completely exhausted power. What power Viktor Yanukovych still was not.
Victoria Nuland, who came to Kiev in those days and treated Euromaidan participants with cookies, is only the visible part of the iceberg. Her crowd will not be full of treats from a bag. It will not be possible to feed such a crowd with the help of "people's offerings" (as supporters of the "revolution of hydration" try to push us). But you also need to make a lot of posters, flyers, flags, banners ... Sooner or later, after such "revolutions", information about how much money was invested by Western (especially American) intelligence services in such projects emerges. But the main -
it's not just about cash
, but also about the organizational assistance of the opposition, as well as about external pressure on the authorities, about backstage negotiations with its individual representatives who are inclined to betrayal ... At the right time, the scene should appear and
weapon
.
Without all these factors, no Maidan fails, and the crowd remains a crowd
, even if she has something to feed on and she is stuffed with campaign materials printed for a good deal of money. And the Maidan fools for a long time continue to believe: lo, we went out, we overthrew, we "overcame".
And even galloping inflation, huge bills for a communal flat, switching off heating and everything else after three years, do not sober everyone. But even in every Ukrainian family, where a son is growing up, there is a threat that the guy will be sent to the so-called "ATO", from where he risks returning as 200.
However, the 21 day of November is celebrated in Ukraine as a big holiday: "Day of dignity and freedom". Dignity is, therefore, to accept those notorious cookies and beg for help from Europe. And freedom is when the number of absurd prohibitions grows every day: then you cannot watch certain TV channels, then listen to the artists - "Putin's spies", then - speak in any other language besides Mova ... Not to mention that Ukrainian prisons are overcrowded with political prisoners accused of "separatism", "high treason", etc.
Three years ago, the crowd came to Euromaidan under the influence of certain propaganda: as if the rapprochement with Europe was so close, but so-and-so Yanukovych at the last moment refused to sign an agreement on European integration. This, of course, is the fault of Ukraine's President Viktor Yanukovych himself, and people from his entourage who had previously tried to "sit on two chairs": the eastern electorate was promised rapprochement with Russia, and the western electorate was this very European integration. Then suddenly the authorities began to declare that European integration is the best thing that could happen to Ukraine. But at the last moment, they still bothered to carefully read what they were going to sign: there was no question of any equal cooperation with Europe.
But without financial investments in the opposition, without external pressure on Yanukovych, without those people who suddenly began to turn away sharply from him, the dreams of a part of the population about "entering Europe" would have remained dreams.
, and dissatisfaction with the refusal to sign the agreement would manifest itself, perhaps, in several meetings.
Three years later, the fanfare rings are not at all as joyful as the Maidan leaders would like. Psevdoprezident Petro Poroshenko, who came to power as a result of a coup, forced in his address on the occasion of the so-called. "Day of dignity and freedom" to apologize for the unpopular reforms that have reduced the standard of living. "
Important for us ... remains the support of the International Monetary Fund. And the Foundation never prescribes sweet drugs. Therefore, I understand that we have unwittingly hurt millions of families. For it is not a sin to apologize
"He admitted. Yeah, it was not so sweet to "get close to Europe" - instead of chocolates, with which Poroshenko fed the Ukrainians for a long time, they give out very bitter pills.
Only
Who will apologize for the suffering caused by this Maidan regime to the residents of Donetsk and Lugansk People's Republics?
People who had no choice but to rebel against the coup and pay a terrible price for it?
And from Donbass continue to come scary
news
.
On November 17, Ukrainian punishers bombarded hospital number XXUMX in Donetsk. This is a long-suffering hospital located in the village of Oktyabrsky, not far from the Donetsk airport area. She and so had to be repaired after numerous "acts of democratization", but despite this, she continues to work - someone has to provide medical care to people who actually have to live on the front line. Now in the building once again you need to change the glass. Only by luck no one was hurt.
The West, of course, will not scold Poroshenko's regime:
these are not the "Russian bombings of Aleppo hospitals" that were invented, but the real consequences of the "revolution of hydration"
. A November 19 in Gorlovka on the outskirts of the village of Zaitsevo a Ukrainian civilian killed a civilian ...
So, three years later, the pseudo-revolution of evobezumiya continues to demand new and new human sacrifices.