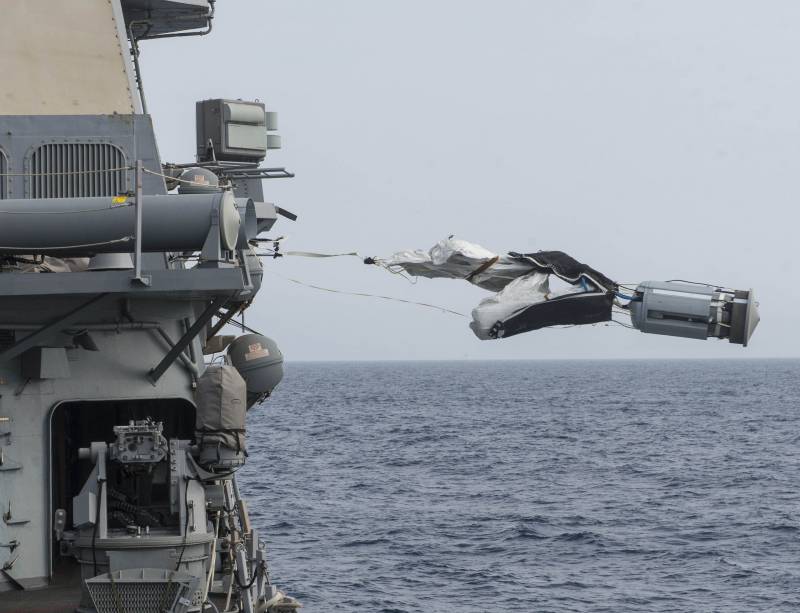 Missile destroyer Ramage class Arleigh Burke American fleet To combat modern anti-ship missiles, it is equipped with a system of radio-frequency false targets based on angular reflectors of a float type
In order to meet the ever-increasing level of the threat of anti-ship missiles, primarily related to their intelligence and quantity, electronic countermeasure technology, starting from October 1967 of the year, when the Termit (SS-N-15 Styx) rocket of this type was scuttled The Israeli destroyer Eilat, also actively developed. Indeed, rockets are becoming faster, less noticeable, more maneuverable and more and more "smarter" with respect to target recognition and overcoming the means of optical-electronic countermeasures.
According to a document issued by the British organization for the development of programs for complexes for the protection of sea vessels, starting with 1967 (by the way, the first in
stories
a case of successful use of anti-ship missiles (CRP) was carried out 241 attack CRP, of which 113 were not reflected, and the rest (with one exception) were repulsed using functional damage systems (optical-electronic countermeasures - OED). The technologies of extraeparable expendable funds of the EIA are trying to keep up with the times and maintain compliance with these threats. Not only launch systems are developed, for example, from fixedly mounted to rotating stations, but the payload is increasingly adapting to multi-tasking operations.
Chemring Countermeasures, being one of the world's leading manufacturers of 130-mm shells and false targets (LC), decided in 2009 to invest in the development of an advanced system, today known as Centurion. This rotary launcher with 12 mm 130 caliber minimizes the need for maneuvering a ship and at the same time provides a shortened reaction time. In addition, the installation is compatible with existing 130-mm electronic countermeasure (REB) anti-ship missiles with infrared and radar guidance, as well as charges of other types, for example with smoke-forming means. Along with the development of the Multi-payload Round family of different advanced shells of different range, its creation was specifically aimed at easy adaptation to combating future threats and integrating promising solutions. In addition, it also offers good opportunities in other types of combat use, including the deployment of anti-torpedo weapons and solutions in the field of combating asymmetric, terrorist threats and maritime piracy. In order to develop anti-ship capabilities during tests in 2013, Chemring, together with Raytheon, successfully launched a Javelin rocket from an experimental swivel system. The low mass and small installation area of ​​the Centurion system allows it to be installed on a variety of platforms, ranging from a patrol boat and ending with warships of the main classes. The combination of the rotary launcher and projectiles of different range allows you to control the setting of the REB funds on three axes. Positional accuracy is further enhanced by stabilizing the aiming point while simultaneously compensating for ship movements. According to Chemring, this allows you to more accurately copy the signatures (signs of visibility) of the ship in the homing missiles and qualitatively improve the parameters of the REP. Obviously, the Centurion rotary launcher, which is still being finalized and tested, was designed to meet the needs of the UK and other countries.
Brief description and first launches of the CENTURION rotary launcher from Chemring Countermeasures
Among the developers of the latest rotary installations are Rheinmetall, which presented at the Euronaval 2014 exhibition in Paris a new version of its popular Mass and Multi-Ammunition Soft-kill System complex with anti-torpedo capabilities, which are represented by four Canto false targets from DCNS. Existing launchers can easily be equipped with a new anti-torpedo kit without any modification, in fact, by adding an independent vendor system. Mass is positioned by Rheimentall as a lightweight, easy-to-install functional injury system with low signs of visibility and using a single type of ammunition with a programmable fuse. The system, based on a stabilized, rotating 32-barrel installation with a small effective scattering surface (EPR), uses the Omni-Trap 81-mm multispectral rotation-controlled spurious target, which covers the radar, infrared, laser, optical-electronic and ultraviolet (millimeter-wave a) frequency bands and is used in the modes of disposal for false purposes, distraction and disorientation. The Mass system is in service or ordered by more than a dozen fleets from different countries. Its latest customer was New Zealand, which ordered an extra-range configuration with two launchers plus a Saab laser warning system receiver to equip two Meko class frigates with an aim to combat a steadily growing asymmetric threat. Rheinmetall also collaborates with the Israeli IAI / Elta to integrate its radar NavGuard missile warning system, which can detect even small flying objects, which was confirmed during the demonstrative anti-tank missile firing of Milan.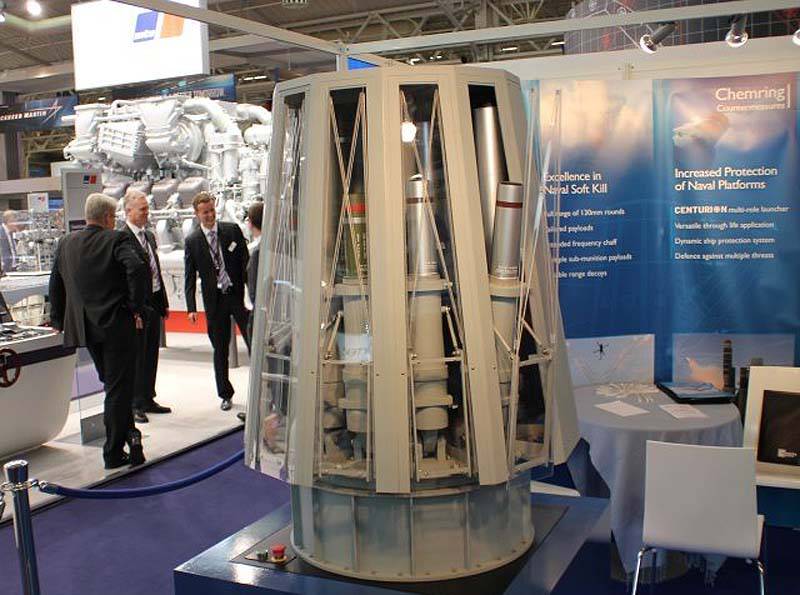 Chemring proactively developed the advanced Centurion 12-barrel rotary launcher, which minimizes the need to maneuver a ship. The high-speed system Centurion can easily adapt to future threats and new false targets.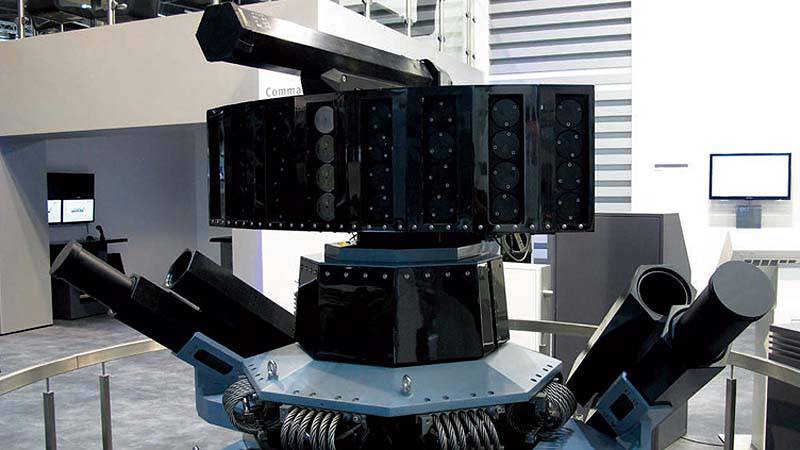 At Euronaval 2014, Rheinmetall showed a new version of its popular Mass (Multi-Ammunition Soft-kill System) launcher with anti-torpedo capabilities. The main unit stands on top of four launchers of Canto LCs.
Based on the success of its successfully marketed Dagaie and Dagaie Mk2 systems, developed in collaboration with the manufacturer of EIA systems - Lacroix, Sagem (part of the Safran group) developed the new generation system Dagaie NG. The new EIA complex, based on a modular architecture, is a two-coordinate installation rotating in azimuth and elevation. These complexes were acquired by the French fleet for new destroyers of the Horizon class and Fremm multipurpose frigates (also supplied by Morocco). 12-barreled guns are firing missiles at the false targets of the new generation Sealem and Sealir developed by Lacroix, which set traps in the radio frequency and infrared spectra. The company also developed outboard active LC Sealad and acoustic anti-torpedo LC Sealat. The fact that the version of the new generation 8-barrel launcher Dagaie NG is installed on board Formidable frigates of the Singapore fleet is an open secret. The French company is also promoting the Dagaie NG variant with 62 / 80-mm false targets Sealem and Sealir also developed by Lacroix.
Elbit has in its portfolio the launch system for the Deseaver Mk II LC, which, in addition to the platforms of the Israeli fleet, is on the flagship ships of the Indian fleet, including Kolkata class destroyers and Kamorta class anti-submarines. The rotating, stabilized 72-barrel launcher with a reduced EPR makes it possible to deploy false targets very quickly and accurately, even during abrupt evasion maneuvers. The latest version of the Deseaver system, featuring new computers, improved displays and advanced software, is capable of launching different missile targets before 10 in order to create a multi-level defense in all OEP modes (disorientation, distraction by using LC, moving away from the ship due to ejection of individual LC packs and scattering of LC around the vessel).
The development and production of false targets for the Israeli fleet is in the reliable hands of Rafael, which supplies a full range of tools, including long-range missiles for spreading long-range chaff rocket LRCR (medium-range missiles). Chaff Rocket), BT-4 short-range dipole reflectors, false Heatrap IR infrared targets and Wideband Zapping Anti-Radar Decoy wideband anti-radar anti-radar targets. These programmable false targets are also utilized by the Rafael Integrated Decoy System IDS (Integrated Decoy System), which has three lines of defense. The complex includes a fixed or rotary launch system that provides optimized real-time deployment of spurious targets, and a computerized LC controller. The IDS modular design easily adapts to platforms of all sizes. According to Rafael, a rotating launcher, including four side-mounted tubes for LC LCRCR and from 24 to 60 115-mm tubes for medium and short-range LC, provides effective ship defenses based on accurate setting of false targets and optimized protection using other means.
The Italian company Leonardo-Finmeccanica is promoting its false targets launcher Odls developed by Oto Melara, also known as Sclar-H. In it, Oto Melara is responsible for the launcher itself, and Selex ES for the launch control system. The Sclar-H complex is installed aboard the newest flagships of the Italian fleet, including the aircraft carrier Cavour, destroyers of the Horizon type, the Fremm frigates, as well as the landing craft recently delivered to Algeria. The complex, designed for high-precision deployment of 105-118 mm caliber missile targets against missiles with radar and infrared guidance, can also be used for coastal bombardment. The Odls complex includes an integrated launch control unit that interfaces with the ship's REP system interface, and one or two rotary launchers, each of which is equipped with 15 rocket-type devices and 4 mortar-type devices. Based on the requirements of the Italian fleet for the modern electronic warfare system for the new advanced ship for which the contract was recently issued, Oto Melara conducted a feasibility study and proposed a new version. It differs in the modified design of the Odls launcher itself, while the area of ​​its base and the general layout did not change. 20 mortar devices are capable of triggering not only the full range of 130-mm infrared (IR) and radio frequency (RF) spurious targets being developed and already available on the market, but also reactive media with increased payload compatible with 130-mm launchers. That is, in this case, you can use the widest selection of warheads, including anti-submarine warfare, setting up air curtains and other special tasks. The new Odls system is also designed to launch non-lethal countermeasures; it is installed on flagship ships without constructive modifications.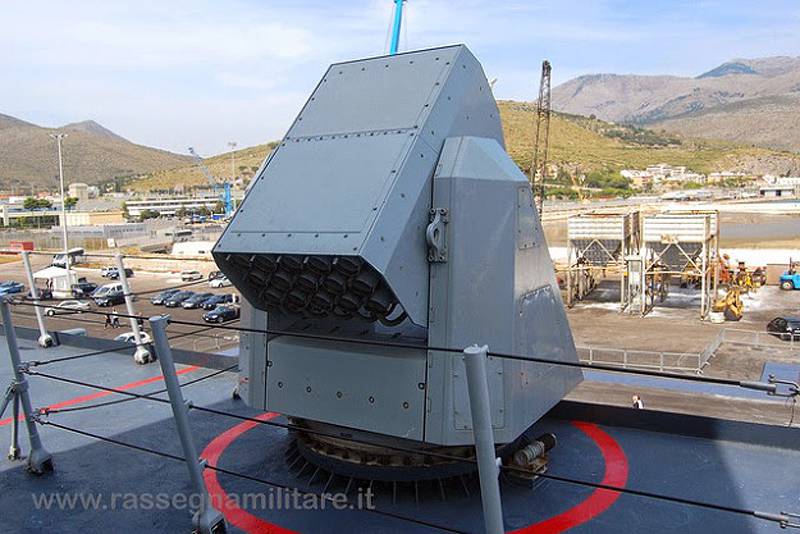 The complex set of false targets Sclar-H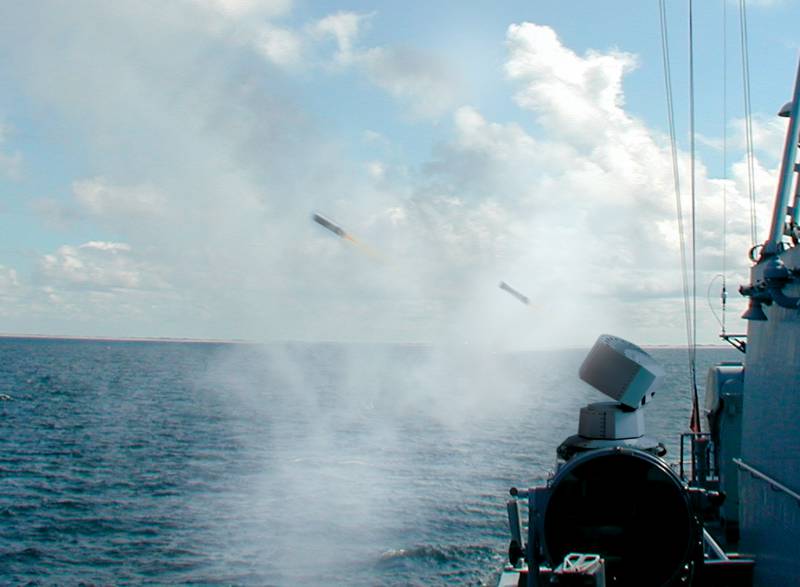 The Rheinmetall Mass 32 rotary launcher fires the 81 mm Omni-Trap multispectral false target, which covers the radar, infrared, laser, optoelectronic and ultraviolet (millimeter-optional) frequency ranges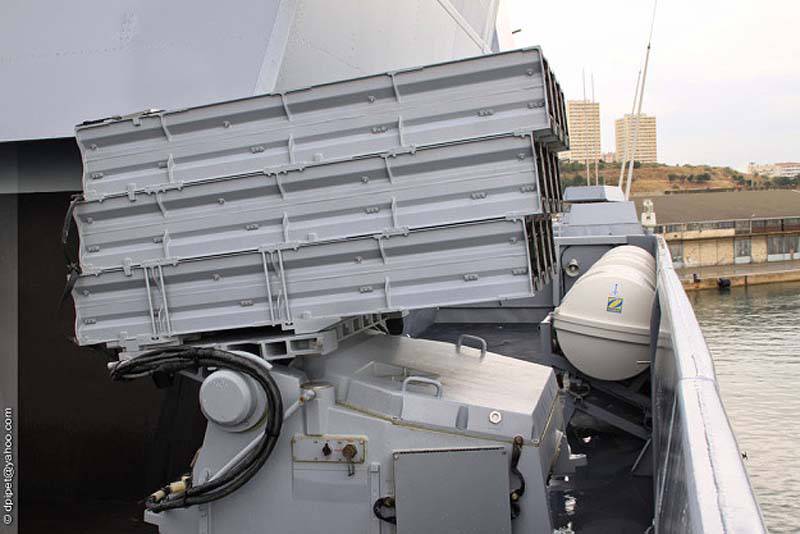 The Sagem family of modular systems from the new generation, Dagaie, includes a small ESR launcher that triggers the Lacroix 62 mm and 150 mm active new fake targets. The new destroyers Horizon and multi-purpose frigates Fremm French fleet (also delivered Morocco) installed systems in 12-barrel configuration
Launch systems of false targets with trunks fixed at a certain angle have become widespread in recent years. The most notable of these are the Super Rapid Blooming Offboard Chaff / Nato Sea Gnat Mk 36 system with 130-mm dipole reflectors and Terma's SKWS (Soft-kill Weapon System) system. The latter system, recently received a new designation C-Guard, is designed to protect offshore platforms from coordinated attacks of missiles and torpedoes from different directions. Shooting the false targets of the NATO standard tested in 130-mm combat is conducted by a mechanical launcher with no moving parts. These systems are already installed on more than 150 platforms. C-Guard is available in the six-pipe version of the DL-6T or in the 12-pipe configuration of the DL-12T. Dual launch pipes are installed at different angles, which allows the operator to apply adequate measures, using diversion and disorientation modes in order to best protect against rocket attacks from different directions. The system algorithm uses a secret customer database that is modified for new threats and tactics that may appear in the future. In combination with the correct false targets, the algorithm guarantees the exact placement of these false targets to counter any threat, including the latest missiles with a small selector pulse range.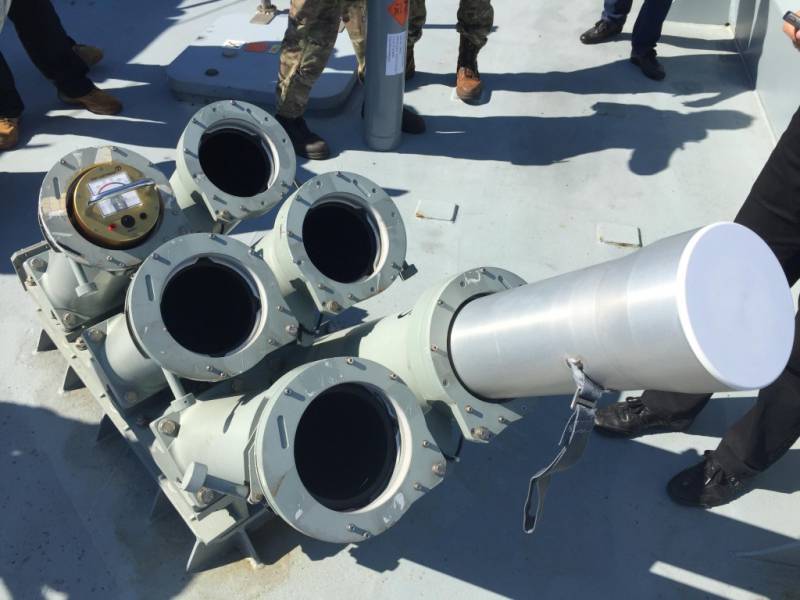 Launcher C-Guard with LC Canto
In the same sector of fixed launchers, the French defense group Lacroix offers its Sylena system, capable of capturing both airborne and underwater targets. The Sylena system can set a wide variety of LCs from the Lacroix portfolio: a family of advanced active countermeasures from Seaclad, spurious RF and IR targets of Sealem Corner Reflector RF and Salir Morphologic IR in combination with Canto electroacoustic anti-torpedo shells and Seamosc simulators setting the settings of the wake-wave wave Canto and Seamos settings, spectrum. According to the manufacturer, the family of light and compact launchers of false targets Sylena in the absence of complex interfaces with general ship systems has a very low cost of service life. Sylena is offered in four different versions: the Sylena LW lightweight model is capable of deploying false targets against radar / infrared missiles (up to 10 stations); The base version of the Sylena Mk1 is capable of deploying anti-missile weapons with radar / infrared guidance (up to 16 stations); the basic version of Sylena Mk2, which, in addition to the functionality of the Mk1 variant, can also deploy electroacoustic torpedo control systems (up to 16 stations + 3 anti-torpedo tools), and finally, the Seaclad variant. The Sylena LW system is fully integrated with Thales EW sensors in the DCNS Polaris combat system of the L'Adroit patrol ship of the Gowind class of the French fleet. The system was contracted in the base case for Al-Ofouq class patrol vessels being built by the Singapore ST Marine shipyard, ordered by the Omani fleet.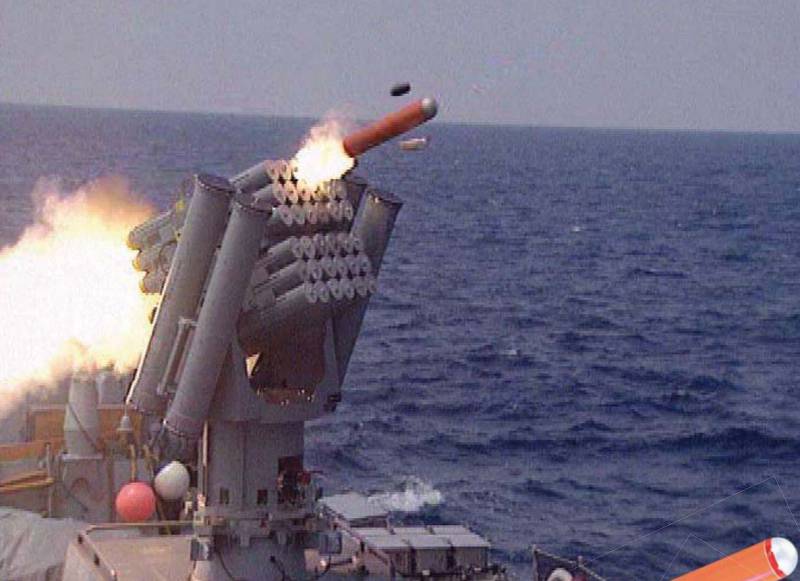 In addition to the latest generation of false targets, supplied to the Israeli navy (including programmable IR / RF spectrum projectiles), Rafael offers its Integrated Decoy System (IDS). It provides an effective defense of the ship, which is based on accurate setting of false targets and optimized protection using other means.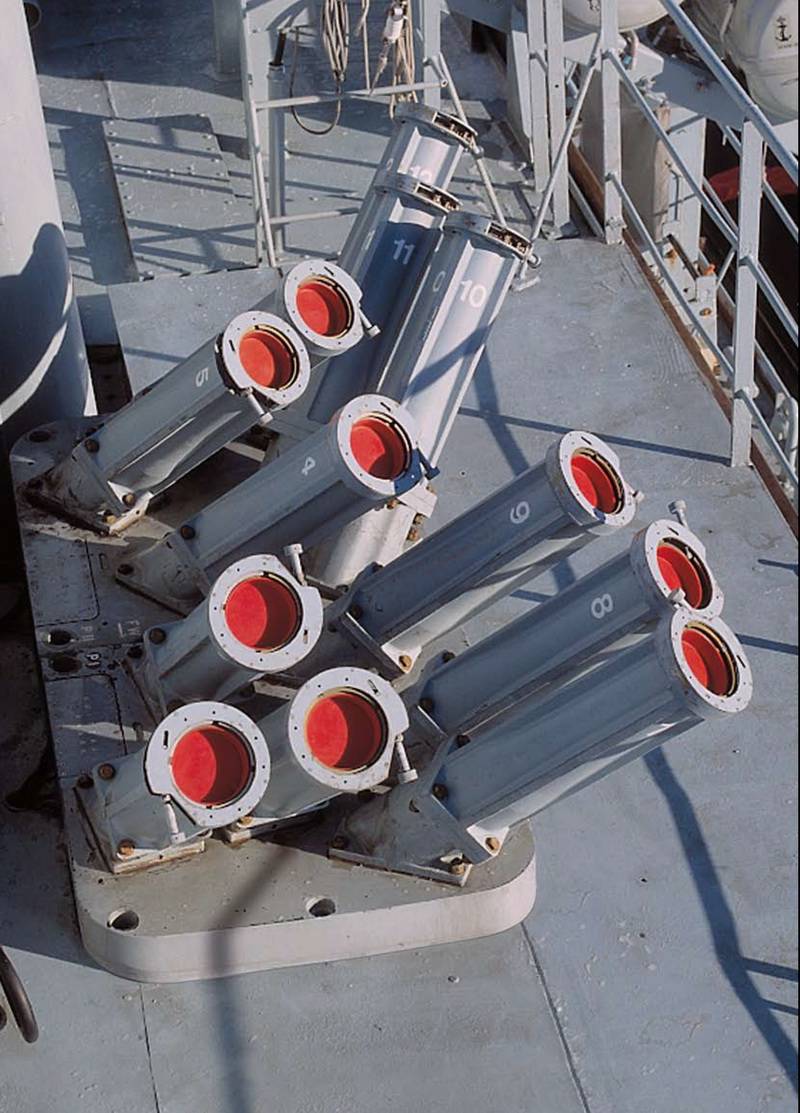 The Terma's Soft-kill Weapon System, recently renamed C-Guard, is designed to protect offshore platforms from coordinated missile and torpedo attacks from different directions. A mechanical launcher that has no moving parts shoots 130-mm NATO standard traps tested in actual military actions.