Major General Igor Konashenkov, spokesman for Russia's main defense department, reports on the successful deployment of the Su-33 fighter jets that are part of the Admiral Kuznetsov air wing. Of
statements
General Konashenkov:
As a result of strikes inflicted by deck fighters Su-33 from the wing of the cruiser "Admiral Kuznetsov", in the province of Idlib, a large gang formation of the group "Dzhebhat an-Nusra" (prohibited in the Russian Federation - note "VO") was destroyed.
According to the official representative of the department, as a result of the air strikes, at least 30 militants were eliminated, among them field commanders. Named and the names of the leaders of the gangs, who became known from intelligence data: this is some Muhammad Khelal, Abu Jaber Kharmuzh and Abu al-Baha al-Asfari. According to the data obtained, al-Asfari coordinated the implementation of the next offensive against the Syrian army in the direction of Aleppo.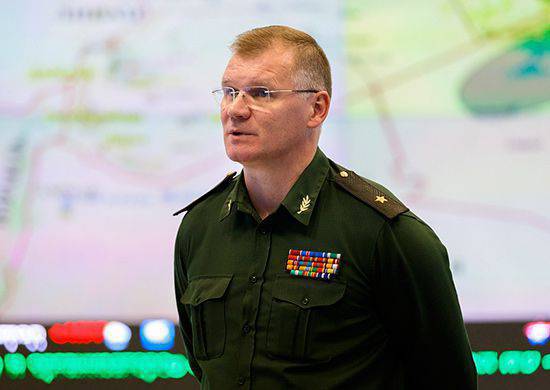 Against this background, the inadequate reaction of US State Department spokesman Kirby to the RT question during a briefing on why the United States, accusing Russia of attacking "hospitals and hospitals" in Aleppo, did not present any evidence of its words draws attention to itself. The journalist RT heard a real hysterical response, during which Kirby announced that they would not submit any data to the United States, that he personally did not intend to respond to RT, as this would "put the channel on the same level with independent media" and that Russia Today correspondents "should contact the Ministry of Defense of Russia".
Kirby:
Let's see what data you get from there.