The official ceremony of laying the next 12700 mine defense ship will be held next spring,
press office
Middle Nevsky Shipbuilding Plant.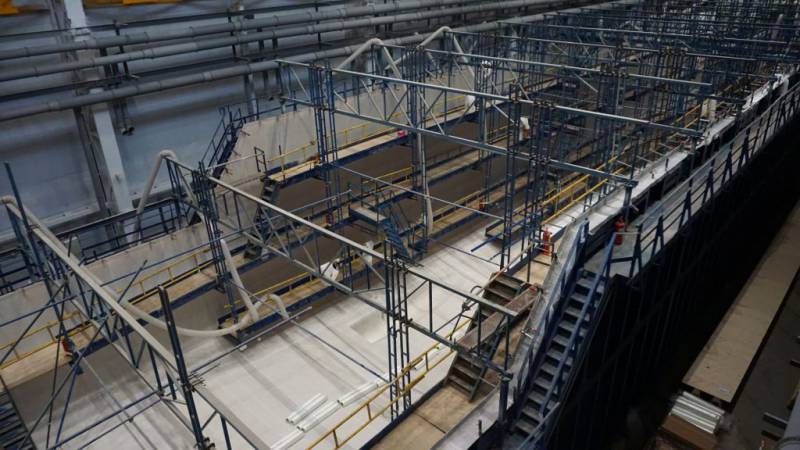 At present, "work on laying composite fabric into the matrix of the third serial mine defense ship (PMO), which is being built for the needs of the Naval Forces, has begun at the SSSZ (part of the USC)
fleet
Russia, "the report said.
It is noted that "the technology of displaying reinforcing fabric in the matrix is ​​one of the important and time-consuming steps to create the shell of the ship hull."
"The technology itself depends on the thickness of the fabric, its surface density, the type of weaving and other parameters. The difficulties that arise when laying the fabric, increase significantly if the matrix has such a complex shape as the hull lines of the ship, "said the press service.
"After laying out the reinforcing fabric in a matrix in several layers and preparatory work, the process of vacuum infusion will begin, during which a binder will be fed through the tube system under pressure into the formed" package "under vacuum," the release says.
It is reported that the ships of the 12700 project are "designed to search and destroy mines in the waters of naval bases on a safe distance for the ship; the ship can use various types of trawls, as well as remote-controlled and autonomous uninhabited underwater vehicles, to combat mines. "
The displacement of the ship is 890 T, the length is 61 m, the width is 10 m, the speed at full displacement is 16,5 of the node, the crew is the 44 of the person.
The lead ship of the mine defense "Alexander Obukhov" began state tests in September of this year.