The press service of the Ukrainian president reports on telephone conversations between Poroshenko and the elected President of the United States Donald Trump. As it turns out, the essence of the conversation revolved around one topic - this is "the need for joint action against Russian aggression". It was on this that the president of Maidan Ukraine insisted against the background of the fact that on the streets of Kiev, ordinary Ukrainians protested against the tyranny of those same Maidan authorities.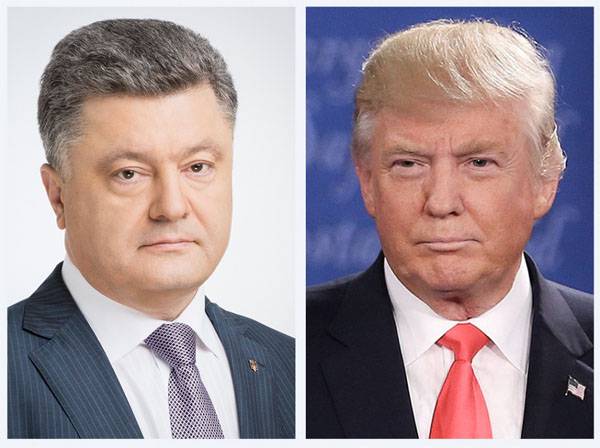 From the material
press service
Ukrainian president:
The head of state congratulated Donald Trump on his victory in the presidential election and assured him of his willingness to actively cooperate with the new administration in order to strengthen the strategic partnership.

Petro Poroshenko noted the importance of continuing strong support for Ukraine from Washington in countering Russian aggression and implementing the necessary reforms.

The interlocutors agreed to continue contacts, including the holding of a bilateral meeting.

The head of the Ukrainian state invited the elected President of the United States, Donald Trump, to visit Ukraine at a convenient time.
Donald Trump answered that these statements and invitations during telephone conversations were not reported by the press service of the President of Ukraine.
But it is known that the so-called "hawks" have become more active in the United States, saying that Trump should support Ukraine and not "reset" relations with the Russian Federation. Such a statement was made, in particular, by John McCain. Quote from
«Radio Svoboda»
:
Such statements should not be trusted any more than any other words by a former KGB agent who turned his country into a tyranny, killed his political opponents, invaded neighbors, threatened the allies of America and tried to undermine the American elections.
McCain's statements are understandable, because a real reset in Washington's relations with Moscow will strike at his profitable business based on selling
weapons
.